Abra USMs Nominee for Mississippi Humanities Council Teacher of the Year
Mon, 12/03/2018 - 12:23pm | By: David Tisdale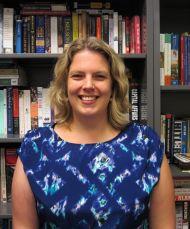 University of Southern Mississippi (USM) Associate Professor of History Dr. Allison Abra, a fellow in its Dale Center for the Study of War and Society, is the school's nominee for Mississippi Humanities Council (MHC) Teacher of the Year. The MHC will host a ceremony in Jackson in April 2019, along with the nominees from Mississippi's other state institutions of higher learning, when the recipient is announced.
The MHC honors outstanding humanities instructors annually from colleges and universities in Mississippi through its Humanities Teachers Awards, which celebrate these educators and promote continued interest in the humanities. With funding from the National Endowment for the Humanities, the MHC sponsors, supports and conducts a wide range of programs designed to promote understanding of our cultural heritage, interpret our own experience, foster critical thinking, encourage reasonable public discourse, and strengthen our sense of community.
"It's such a great honor to be the university's nominee for this award," Dr. Abra said. "There are so many incredible teachers in the humanities disciplines at Southern Miss, and I am really proud to represent them this year. I love teaching history, and sharing stories from the past with my students, but also hopefully helping them to better understand issues and events in the present."
A native of Winnipeg, Canada, Dr. Abra earned her Ph.D. from the University of Michigan and joined the USM faculty in 2012. Her areas of expertise include modern British history, and the histories of popular culture, women and gender, and war and society. She is the author of Dancing in the English Style: Consumption, Americanisation and National Identity in Britain, 1918-50.
In conjunction with her nomination for the MHC award, Dr. Abra will give a lecture entitled "Overlooked No More: Women's History in the Classroom and Beyond," March 19 on the Hattiesburg campus, with time and location to be announced later.
"Dr. Abra is perfect as a Mississippi Humanities Educator of the Year nominee. She cares deeply about her students, and brings a passion to her teaching, both here and on our overseas studies programs," said her colleague, Dr. Andrew Wiest. "Her main research area centers on World War II and popular culture, a fascinating field that informs her teaching in a wide variety of ways. She is an exemplary scholar poised at the breakout point of her career — exactly what our students need."
For more information about Dr. Abra and her work at USM, visit https://www.usm.edu/history/faculty/allison-abra.