ESPN Analyst to Keynote NCS4 Commercial Sports and Entertainment Facilities Summit
Tue, 12/18/2018 - 01:57pm | By: Alison Crumpton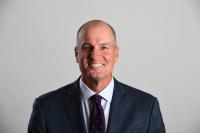 Jay Bilas
The University of Southern Mississippi's National Center for Spectator Sports Safety and Security (NCS4) and Duke University will bring together top safety and security industry leaders representing commercial sport and entertainment facilities during the week of Feb. 19-21, 2019 at Duke University in Durham, North Carolina.
The Summit will address critical issues facing those responsible for safety and security preparations at commercial sport and entertainment venues. Attendees will discuss best practices in a collaborative environment with the goal of developing the fourth edition of the "Safety and Security Best Practices" Guide.
A highlight of the event will include a keynote speech by Jay Bilas, college basketball analyst for ESPN. Bilas' is widely recognized for his thorough knowledge of his game and his professional, clever style. He provides expert color commentary from courtside on college basketball games as well as the studio as co-host of ESPN's popular College Gameday. Since 2003, Bilas has provided in-depth player scouting and analysis for ESPN's coverage of the NBA Draft.
For the Summit, Bilas will return to his alma-mater at Duke University. A prep All- American from Los Angeles, California, the 6-7 Bilas was a four-year started at Duke from 1982-1986. A year later, he was drafted by the NBA's Dallas Mavericks, where he played professional basketball overseas. Bilas returned to Duke in 1990 to serve as an assistant coach, while earning his law degree at Duke Law School.
"We are pleased to have Jay join us at his former stomping grounds at Duke to share his knowledge and expertise," said NCS4 Director Lou Marciani. "Our Summit attendees will enjoy his candid and clever personality, as well as hearing about his extensive career in the sports industry."
In addition to keynote speakers and panelists, attendees will also have the opportunity to dive deeper into designated issues during breakout sessions for the following topical areas: event day safety and security, crowd dynamics/management, emergency action planning, risk and threat assessment, training, and communications. Other critical issues to be discussed include cybersecurity, traffic management, and weather.
Limited seating is available. To register or for more information, visit http://www.ncs4.com/professional