Mississippi Polymer Institute Celebrates 25th Anniversary with Open House
Thu, 11/15/2018 - 03:15pm | By: Van Arnold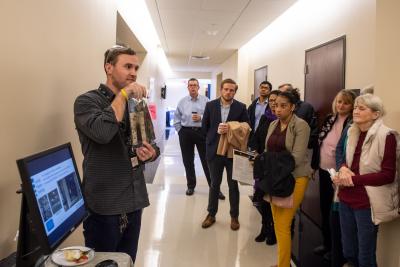 A representative with Scigenesis LLC explains the company's research during the Mississippi Polymer Institute's open house on Thursday, Nov. 15. (Photo by Kelly Dunn)
Visitors to the Mississippi Polymer Institute's (MPI) 25th anniversary open house were treated to a fun-filled agenda packed with interactive workshops, company demonstrations, facility tours and more. The day-long open house was held on Thursday, Nov. 15 at MPI's headquarters in The University of Southern Mississippi's Accelerator.
Established in 1993, MPI was originally housed within USM's Department of Polymer Science with the goal of assisting polymer and advanced-material businesses and entrepreneurs in their growth efforts. The Institute has since grown exponentially with capabilities that include, but are not limited to, several aspects of material science: polymer synthesis, composite manufacturing, testing, compounding, extruding, molding, design, CAD modeling, 3D printing, workforce training, and educational outreach.
MPI Director Monica Tisack welcomed attendees by noting that the institute had compiled impressive credentials over the past 25 years.
"We serve as a non-profit industrial outreach arm of the University. No. 1 for us is workforce training and to date we have trained more than 4,000 employees," she said. "We have also managed more than 3,000 projects in the last 25 years that includes such things as development and testing. And we have completed more than 17,000 3D print projects. We are certainly quite proud of the work being conducted here at MPI."
It was through the initial work of MPI that the University's business incubator – The Accelerator – was developed. Today, there are 17 different business entities occupying space in the facility covering a variety of technically-based product offerings and skills. The sustained growth and success of these companies helps bolster the scientific job base in the immediate area.
"The Mississippi Polymer Institute is one of the jewels in the crown of Southern Miss," said Vice President for Research Dr. Gordon Cannon. "The expertise in the vast field of polymers is second to none. Two weeks ago I had a gentleman from San Diego contact me about getting some help through MPI with product development. This institute along with our School of Polymer Science and Engineering are very well known and respected."
In the past year, MPI also has been actively involved in projects such as:
Providing technical claim investigations and scale-up developments for "DeeGoo", an advanced hand cleaning product by Yonce & Comans Products
Polymer and device development work for McMedRD Inc.'s innovative new medical device
Analytical testing for SciGenesis's flame resistant coatings for military uniforms
Additionally, with the expansion at PGT Technologies in Ellisville, MPI has been able to expand its workforce training scope to include high-tech ceramic coating while training the company's new hires as part of its onboarding process.
To learn more about the Mississippi Polymer Institute, call 601.266.4607 or visit: https://www.thepolymerinstitute.com/