Paws for Patriots: Army Vet with PTSD Says Comfort Dog Eases Anxiety
Thu, 11/08/2018 - 10:07am | By: Geoff LoCicero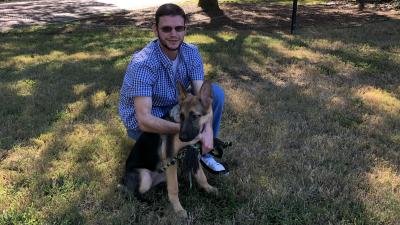 U.S. Army veteran Anthony Cefalu obtained his 5-month-old German Shepherd Stella through a program offered by USM's Center for Military Veterans, Service Members and Families.
Living in the country in Picayune, Miss., Anthony Cefalu can get transported back to Iraq in a split second.
The 11-year Army veteran, now a senior social work student at The University of Southern Mississippi, suffers from post-traumatic stress disorder and health issues after close-proximity blasts from improvised explosive devices and rocket propelled grenades during two tours in Iraq as an infantry staff sergeant.
"My neighbors go out and shoot guns in the yard, and it kind of startles me," says Cefalu, 35. "I'm not expecting it, so I kind of go into a little flashback mode."
Since August, though, he has had a new way of dealing with his anxiety, in the form of a furry bundle of energy named Stella, a 5-month-old German shepherd puppy.
"That's why have I have Stella, to help with anxiety," Cefalu says. "She calms me down. She will jump up into my recliner and comfort me, and it brings down my anxiety, and I'm able to snap out and come back to where I am in present time."
Comfort Dogs a Familiar Companion
Cefalu is the third veteran attending Southern Miss to receive a dog through Paws for Patriots, a program started earlier this year by the University's Center for Military Veterans, Service Members and Families. Stella was donated by an individual in the community who has partnered with the center.
"We've been happy to place two German shepherds and an American bulldog to three of our veterans who have identified PTSD or emotional distress," says Doug Robinson, the center's veteran outreach coordinator. "Veterans have utilized canines within the military service as bomb detection, drug detection; those canines were companions for these veterans.
"We've found that putting this canine into family dynamic has softened their emotional anxiety and given them an opportunity to have a deviation from the stress in their life, whether it be from family, from school, or a job. Now they can find that relaxation in a companion that they can relate to from their military service.
"We've had very high success out of these dogs."
Robinson says the center has three to four donors when litters become available, and plans to provide two to three to veterans each academic year.
'My Kids Are Already Attached to Her'
Stella is considered an emotional support animal, which is different than specially trained service dogs or therapy dogs, whose owners take them to visit schools, hospitals and nursing homes.
Cefalu says the strict training regimen required of service dogs would mean Stella would no longer be the family pet beloved by his two sons, Anthony Jr., 12, and Matthew, 9.
"If you have children like I do and they try to play with it, it completely breaks the training," says Cefalu, a single father. "My kids are already attached to her. They're looking forward to the future with her, so I can't do that to my kids, I can't tell my kids, 'No, you can't pet my dog.' It's completely unfair. So I think I'm reconsidering the whole service dog (training) and (will) just keep her as a comfort dog."
Cefalu, who experienced back and neck injuries and nerve damage in his arm, says large crowds are another trigger for anxiety.
"I grew up in New Orleans, loved Mardi Gras. But now I hate it, I can't do it because of that. So it has taken away from a lot of things I'd like to do in life. My kids are involved in sports, football, basketball. I can't get out there and play that with them now because of my injuries."
Cefalu was fast-tracking for a career in the military before his injuries, he says, but was medically retired in February 2012 before he could deploy to Afghanistan. "I was very devastated when I was told I couldn't proceed further."
From Military Advocacy to Social Work
He said his experience as a staff sergeant, caring for his troops – and their families during his Stateside deployments – helped him gravitate, eventually, toward the social work program. At Fort Polk, La., he worked with the base commander to help change a policy to expedite on-base housing for the families of troops shipping overseas, and also provided informal counseling and helped find additional resources to smooth the transition.
"So I was advocating in that respect and not really realizing it," he says.
Once he decided to go back to school, he says, his ex-wife's sister told him he'd be a natural for the social work program at Southern Miss, where she had earned a master's degree. But he first tried his hand at business, science and special education programs.
"Then I went here, and I've loved it ever since I've gotten into the program," he says of social work. "It's right up my alley. I never really thought about it until after I entered program, and I was kind of like, 'This is what I was doing for 11 years in the service.' "
He graduates next May and is considering working in schools to help families, after experiencing frustration at the lack of special education resources for Anthony Jr. Or he may look for opportunities to work with military clients in some capacity.
"I'm still mentally, and at heart, military," he says.
A Band of Brothers … and Stella
Veterans Day is a reminder of his comrades. "It means a lot to me, just because I've lost a lot of friends overseas, and I've had a lot of my buddies, my battle buddies, injured overseas. And I've had a lot of friends, once they came home, continued the battles: PTSD, or substance abuse, suicide, and they've taken their lives. So when I think of Veterans Day, I always think of them. It holds dear to my heart.
"We consider each other actual brothers. I know when I'm having a problem I can call on any of those guys, and they'll have my back no matter what. We're so spread out across the world; it's still amazing how we can still come together and help each other. It's a great group of guys."
And now, of course, with Stella at his side – or in his chair – there's a girl in the mix.
--
Learn more about the USM School of Social Work.