Social Work Professor Helps Pick up MLKs Baton with New Poor Peoples Campaign
Wed, 05/16/2018 - 09:32am | By: Geoff LoCicero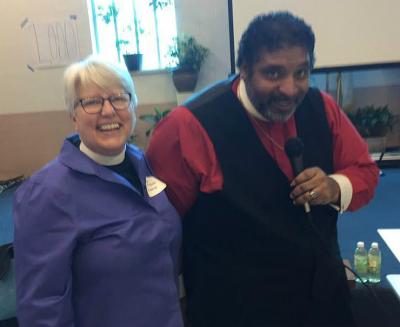 Dr. Sunsan Hrostowski, left, and one of the campaign's national organizers, Dr. William J. Barber.
Had she been a little older in the late 1960s, Dr. Susan Hrostowski's father once mused, she may have marched with Dr. Martin Luther King Jr.
Fifty years later, the associate professor in The University of Southern Mississippi School of Social Work is finally getting a chance with the reincarnation of one of King's signature movements, the Poor People's Campaign.
The new movement, the Poor People's Campaign: A National Call for Moral Revival, continues the fight against three issues King identified when the original campaign began in Marks, Mississippi, in 1967 – poverty, systemic racism and the (Vietnam) war economy; and adds the issues of "ecological devastation" and "distorted moral narrative" that focuses on how policies fail to improve the suffering of marginalized populations.
For Hrostowski, the movement is personal. "My father was rather conservative, and he always said he was glad I wasn't born earlier than I was because if I had been old enough, I would have been in the streets marching with all those people," she says with a laugh. "I've always been attuned to human rights issues."
'Astounded by the abject poverty'
The new movement's driving force is 40 Days of Moral Action – a series of rallies and demonstrations for six consecutive Mondays at the state Capitol in Jackson that began May 14. Approximately 40 other states are also participating, with rallies planned in their capital cities, along with Washington.
"Dr. King was, toward the end of his life, really turning toward working with the rights of the working poor," says Hrostowski, who until recently served as a tri-chair of the campaign's Mississippi chapter. "So, for example, he was in Memphis because he was working with sanitation workers who were grossly underpaid."
King's Mississippi ties and his commitment to the poor helped convince him to start the movement, which culminated in a march on Washington, D.C., in 1968, months after his assassination in Memphis.
"He had been in Marks, Mississippi, where he was just astounded by the abject poverty of people there," Hrostowski says. "And so he said, we've got to do something about poverty; it's such a devastating issue and such a disproportionate number of people of color suffer from poverty. So he started the Poor People's Campaign."
'Reach down into that pool of blood'
Hrostowski says the movement picks up where "things got lost" with the original campaign following the murders of King and Robert Kennedy and the escalation of the Vietnam War in 1968. "It's a movement to change the narrative of … what people are thinking about and how they're thinking about it, in terms of policy in our country."
The movement's organizers have strong ties with religious organizations, starting with its leaders, Rev. Dr. William J. Barber II of the Repairers of the Breach and Rev. Dr. Liz Theoharis of the Kairos Center for Religion, Rights and Social Justice. Hrostowski has been an Episcopal priest for 30 years and is the vicar of St. Elizabeth's Episcopal Church in Collins, Mississippi.
"We need to pick up where Dr. King left off," she says. "Dr. Barber has several quotes that I have memorized, and one of the things he said is it's not enough to stand and commemorate Martin Luther King; you have to reach down into that pool of blood and pick up his baton and carry on. And that's what I think this is about. It's just not enough to say he was a great man who did great things. We've got to carry on what he started.
"I think he understood just how deep racism goes, and you could see how it grieved his heart. And he knew somebody was going to kill him. That's why he said, 'I may not get there with you.' He knew they were going to try to kill him. And he chose to keep going."
Hrostowski stresses this renewed effort is a movement and not an organization and that there is the potential for long-term change despite its short length.
"Even though the movement will be over, the effects of it will go on," she says. "The networks we've created, the education on these policy issues, will have an effect on people when they go to the polls. All the time we're doing this, we're registering people to vote, registering people to vote. The key will be to actually get people out to vote. We're hoping the work we do now will have a long-term effect, even though the movement will discontinue."
'Grateful and very pleased'
King, she thinks, "would be grateful and very pleased" with the new movement, "and I think he would be most pleased that this movement is not just any one sector of the population but a great mixture of a lot of different people who are pushing to get justice and to save the planet, quite frankly.
"We're inviting every kind of person, everybody. The only people we are not allowing to participate are politicians. You can't use this movement as your soap box. But young, old … gay, straight … Republican, Democrat, Libertarian … everybody, everybody."
Learn more about the Poor People's Campaign: A National Call for Moral Revival and about the PPC's Mississippi chapter.
Weekly Themes of 40 Days of Moral Action
Week One (May 13-19) – "Somebody's Hurting Our People: Children, Women, and People with Disabilities in Poverty"
Week Two (May 20-26) – "Linking Systemic Racism and Poverty: Voting Rights, Immigration, Xenophobia, Islamophobia, and the Mistreatment of Indigenous Communities"
Week Three (May 27-June 2) – "The War Economy: Militarism and the Proliferation of Gun Violence"
Week Four (June 3-9) – "The Right to Health and a Healthy Planet: Ecological Devastation and Health Care"
Week Five (June 10-16) – "Everybody's Got the Right to Live: Education, Living Wage Jobs, Income, Housing"
Week Six (June 17-22) – "A New and Unsettling Force: Confronting the Distorted Moral Narrative"
June 23 – Global Day of Solidarity and Sending Forth Call to Action Mass Rally in Washington, D.C.