USM international student recognized by The National Association of Women in Construction
Fri, 11/16/2018 - 14:50pm | By: Kendra Ablaza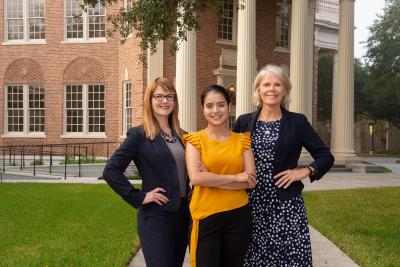 Pictured left to right: Dr. Amy Miller, vice provost for Academic Affairs, Shelsea Perez, and Leffi Cewe-Malloy, assistant professor, construction and design.
University of Southern Mississippi student Shelsea Perez, a senior majoring in Architectural Engineering Technology, was selected as the state recipient of a scholarship from a local chapter of The National Association of Women in Construction this fall.
The scholarship is open to juniors and seniors in related fields, including architecture and interior design.
When Perez found out about this scholarship through USM's School of Construction and Design, what excited her most was seeing herself represented, as there are not many women-led organizations related to construction and architecture, she said.
"This is the first women-based organization that I've found," Perez said. "When I first read the title, I was really surprised by it. I was like, 'This is great. This is what we need'."
The organization serves as a professional development resource and support network for women, who represent a small fraction of the construction industry. Perez said there are not a lot of women in her program at the moment. However, Leffi Cewe-Malloy, an assistant teaching professor in Construction and Design and Perez's mentor, said the number of women interested in the program is steadily growing.
Perez is also an international student from San Pedro Sula, Honduras. She said this was the first summer she stayed in the United States to intern at Perkins and Williamson Architecture, PLLC in Hattiesburg.
Perez said it meant a lot to her that the leaders of this chapter complimented her work. Though she was not asked to, she submitted a portfolio that displayed projects and designs she created in her studio classes. She said that extra step set her apart from other applicants.
"The words that impacted me the most were that (Jackson Chapter President ​Jessica Huff) really liked my portfolio," Perez said. "When you show a resume, it's a list of things you do and things you're involved in, but when (professionals) see your work and they like it, it's different."
Perez said the scholarship money went toward her tuition fees for this semester.