USM Professor Gibbs Honored by Small Business and Entrepreneurship Group
Wed, 02/14/2018 - 14:40pm | By: Van Arnold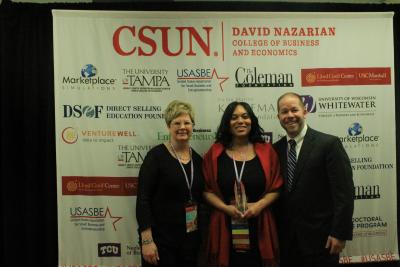 Pictured left to right: Heidi Neck, USASBE President; SherRhonda Gibbs, Associate Professor of Management, USM; Mark Schenkel, Incoming USASBE President, Professor of Entrepreneurship, Belmont University.
Dr. SherRhonda Gibbs, associate professor of management at The University of Southern Mississippi, was named Volunteer of the Year during the 2018 United States Association of Small Business and Entrepreneurship (USASBE) conference held earlier this month at California State University-Northridge.
The annual awards program honored educators, innovators, researchers, and leaders in entrepreneurship education. The 2018 USASBE Conference welcomed representatives from 254 universities and 24 countries with a record of 407 submissions covering entrepreneurship education topics in research, teaching, and programming.
Gibbs notes that participation in USASBE enables her to bring world-class entrepreneurship education to Southern Miss students.
"The vast array of USASBE resources provide students with access to CEOs, industry leaders, and innovative classroom experiences," she said. "Through these experiences, Southern Miss students obtain the entrepreneurial mindset - a unique skill that gives students a competitive advantage in the workforce and prepares them for diverse career opportunities in the business world.
Added Gibbs: "We're not just growing entrepreneurs, but nurturing and developing the next generation of CEO's and business leaders, and having an entrepreneurial mindset is critical to succeeding in this effort."
USASBE is an inclusive community advancing entrepreneurship education through bold teaching, scholarship, and practice. With members ranging from universities, colleges, for-profit businesses, nonprofit organizations and the public sector, a shared common commitment to fostering entrepreneurial attitudes and behaviors is held. USASBE supports the development of entrepreneurship educators who in turn will create the next generation of entrepreneurs.