USMs Maugh Funderburk Selected for Keesler Honorary Commander Program
Wed, 03/07/2018 - 09:42am | By: Jenny Tate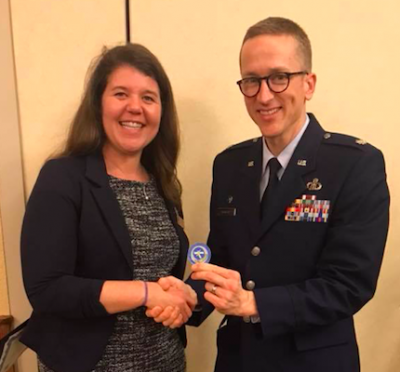 Dr. Casey Maugh Funderburk is pictured with Lt. Col. Steven Lipinski, 335th Training Squadron commander.
Dr. Casey Maugh Funderburk, Vice Provost for The University of Southern Mississippi Gulf Park campus, has been selected to the 81st Training Wing Honorary Commander Program at Keesler Air Force Base (AFB).
The Honorary Commander Program offers an opportunity for local civic and community leaders to gain insight and experience about the U.S. Air Force and Keesler AFB operations and programs. In addition, Air Force commanders and personnel have the opportunity to connect to the local community and its key leaders.
Program objectives include fostering a supportive relationship between Keesler AFB personnel and the key members of the local community, increasing military involvement in civic endeavors, and strengthening relationships between the community and Keesler AFB.
"Upon learning of my nomination and selection as an Honorary Commander, I felt an overwhelming sense of pride to be included in this highly selective group of community leaders. More than that, serving as a bridge between the 81st Training Wing and The University of Southern Mississippi will most certainly lead to brilliant partnership opportunities in the years to come that will benefit our students, our military partners, and the Mississippi Gulf Coast," said Maugh Funderburk.
Honorary commanders are nominated by local chambers of commerce and Air Force commanders. When possible, the nominee will be aligned with a wing, group, squadron or staff agency commander that parallels the individual's background or interest.
As Honorary Commander, Maugh Funderburk's responsibilities include interacting with unit personnel to learn more about the U.S. Air Force and the mission of Air, Education and Training Command and Keesler AFB. She also serves as an ambassador for Keesler AFB in the community. Other responsibilities include attending various activities hosted by her training wing and providing opportunities for the host commander to visit and interact with the University community.
Maugh Funderburk was inducted into the program in a January 2018 ceremony held at Keesler AFB. She will serve as Honorary Commander for two years.