USM, U.S. Army Engineer Research and Development Center Sign Education Partnership Agreement
Thu, 06/07/2018 - 03:10pm | By: Van Arnold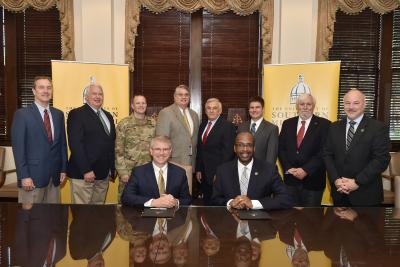 Pictured here from the MOU signing ceremony, seated left to right: ERDC Director Dr. David W. Pittman, and USM President Rodney D. Bennett. Back row, left to right: Dr. Chris Winstead, dean of the USM College of Arts & Sciences; Dr. Stanley Woodson, Director, ERDC Graduate Institute; Maj. Matt Woolsey, Military Executive Assistant to the Director; Dr. Gary Anderton, Director, Directorate of Human Capital; Dr. Alfred Cofrancesco, Technical Director, Civil Works; Dr. Todd Rushing, Research Physical Scientist; Dr. Gordon Cannon, USM Vice President for Research, and Dr. Steven Moser, USM Provost. (Photo by Kelly Dunn)
An education partnership agreement between The University of Southern Mississippi (USM) and the U.S. Army Engineer Research and Development Center (ERDC) paves the way for scientific collaboration between two of the state's research titans.
USM President Rodney D. Bennett and ERDC Director Dr. David W. Pittman were on hand to sign the official Memorandum of Understanding during a special ceremony held Wednesday, June 6 on the Hattiesburg campus. The agreement establishes the basis for mutual understanding and cooperation between USM and the ERDC in the implementation of a Partnership in Education program.
"This sets into motion a very important partnership between USM and the U.S. Army Engineer Research and Development Center," said Bennett. "This agreement recognizes the importance of science and technology education to the future political and economic well-being of the nation, as well as the importance of USM to the business, industrial and government institutions in the region."
The program's primary purposes are to:
Encourage and enhance academic study in science, mathematics, and engineering disciplines.
Support graduate study and research in scientific and engineering areas of mutual interest.
Establish the policies and procedures for USM to participate as a member of the ERDC's Graduate Institute.
"This MOU marks a new day in cooperative research that will benefit not only the state of Mississippi, but our nation as well. It will facilitate more active interactions between ERDC researchers and USM faculty and students, and it is within these personal relationships that true partnerships exist and grow," said Pittman, who also serves as Director of Research and Development and Chief Scientist, U.S. Army Corps of Engineers. "The ERDC looks forward to engaging in this new agreement with USM, and I am confident this partnership will help us meet our mission of making the world safer and better."
Headquartered in Vicksburg, Miss., the ERDC features one of the more diverse research organizations in the world with seven laboratories located in four states, including more than 2,100 employees, $1.2 billion in facilities, and a $1 billion annual program. The center's research and development supports the Department of Defense and other agencies in military and civilian projects.
As part of the agreement, the ERDC has made a commitment to involve USM students in center research by hiring students through employment programs such as the Cooperative Education and Contract Student Programs.
Long-regarded as a premier research institution, USM received a "Higher Research" designation in the most recent rankings by the prestigious Carnegie Classification of Institutions of Higher Education. USM faculty and students are conducting transformative research in highly competitive fields such as polymer science, biochemistry, health sciences, and transfer technology.
Dr. Gordon Cannon, Vice President for Research at USM, says the collaborative agreement with ERDC will create even greater research opportunities for USM scientists.
"When you're talking about ERDC, you're talking about one of the biggest organizations in the state," said Cannon. "This education agreement has a multitude of up-sides, including the opportunity for our faculty to work at their center, and their researchers to do the same on our campus. This is yet another milestone for the University as we continue to solidify our reputation as a leader in research."