Calculated Risk Leads to Life Changing Success for Dr. Chris Anderson
Wed, 05/01/2019 - 12:59pm | By: Nicole Ruhnke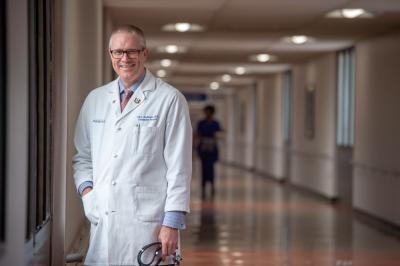 University of Southern Missisippi alumnus Dr. Chris Anderson serves as the Chair of the Department of Surgery at the University of Mississippi Medical Center in Jackson.
"In surgery, we talk a lot about grit – the measurable perseverance to complete the training and the tasks at hand. And when I think about Southern Miss and our people, I think about grit."
– DR. CHRIS ANDERSON '95
Dr. Chris Anderson graduated summa cum laude from The University of Southern Mississippi (USM) in 1995 with a leadership resume almost as long as his current medical curriculum vitae. Outstanding Freshman Male, Excellence in Mississippi Scholar, Oliver Austin Scholar, Analytical Chemistry Award, Outstanding Junior in Chemistry, Undergraduate Research Fellowship Award, Phi Kappa Phi Graduate Fellowship, Best Undergraduate Research Presentation, Undergraduate Student Hall of Fame and induction into every honor society available for students. A member of the Honors College, Anderson left his mark in the academic ranks of Southern Miss alumni. And today, he is leaving his mark on the health of Mississippi.
At age 45, Anderson serves as the Chair of the Department of Surgery at the University of Mississippi Medical Center in Jackson, a role he assumed in 2015. He also serves as the Chief of the Division of Transplant and Hepatobiliary Surgery, Medical Director of the Transplant Service Line and Surgical Director of the Mississippi Organ Recovery Agency – all while serving as the James D. Hardy Chair at UMMC.
Today, the Department of Surgery at UMMC has more than 45 faculty and 35 advanced practice providers, and has grown into a regional and national referral center offering complex surgical care in general, trauma, transplant, vascular, cardiothoracic, pediatrics, urology, and plastic surgery. All told, the department is responsible for the education of more than 60 residents, fellows and all medical students at UMMC.
Anderson was recruited to Mississippi to lead transplant surgery. He and his team take pride in the innovative work they are doing to build the needed infrastructure to take on complex patients and produce successful outcomes. In 2017, Anderson and his team, alongside Dr. Mark Earl, completed a procedure to split a deceased donor liver between two adult patients – a procedure so rare that in 2016, only five were performed in the United States, representing 0.01 percent of all liver transplants that year (according to the United Network for Organ Sharing and printed in the UMMC Surgery 2017 Annual Report).
Anderson's team has successfully completed that surgery three different times – successfully transplanting six patients suffering from chronic liver failure and cirrhosis using three deceased donor organs. In December 2018, Anderson led his team through a simultaneous heart and liver transplant – the first ever in Mississippi and an operation only performed about 20 times each year in America.
"Innovation is something I feel you have to do in order to be responsible in organ transplant," said Anderson. "We don't have enough organs, so we have to maximize what we do have. And the only way we are going to grow liver transplant nationally is to be innovative and challenge ourselves to maximize the available organs. We, as transplant centers, must take appropriate risks in order to benefit patients in the long run. It is also out of an enormous respect for organ donors and donor families that we feel the obligation to maximize this gift of life."
And that ability to face risk head-on has become a recognizable trait for Anderson and his entire team.
"When we recruit physicians to our team, we recruit based on the core value of our team. The reality is that over the last seven years, we have developed a name for ourselves when it comes to pushing the envelope of transplant," said Anderson. "The number of kidneys available for transplant are only a fraction of the number of people on dialysis. For the patient, transplant allows for a longer life, but transplant also has a significant impact on healthcare costs across our country, as transplant lowers the overall healthcare costs compared to dialysis. We have to do whatever we can to transplant more people safely. Living donor transplants are something we haven't maximized in our state up to this point, and it is a major priority for us over the next couple of years."
According to Anderson, the Division of Transplant at UMMC has grown from transplanting only kidneys at a low volume to transplanting kidney, liver and pancreas transplants at a well-above average pace compared to other facilities in the United States. Under Anderson's leadership, the Division of Transplant and Hepatobiliary Surgery has initiated pediatric kidney transplant, liver transplant and pancreas transplant, while also establishing an Hepatico- Pancreatico-Biliary surgery program, which is also associated with the UMMC Cancer Institute and is Mississippi's only high-volume liver and pancreas surgery program. This program has brought expertise previously not available in Mississippi.
"As a team, we are not going to take our foot off the gas of pushing the envelope of living donor transplants, splitting organs or even minimally invasive options that will ultimately benefit patients with either earlier recovery after transplant or other major surgery. If we don't continue to explore legitimate ways to grow organ availability, we are not going to get where we need to be."
Anderson describes transplant operations from a surgeon's perspective as instantly gratifying, providing the opportunity for a patient to return to normalcy as quickly as possible through the gift of a longer life. "It's an honor as a doctor to be a part of someone's life in this way.
To me, it's a privilege and a meaningful experience to put effort into something so transformative for the patient in a way not many people get to experience. I also consider it a privilege to be involved with organ donors. It is a uniquely human trait to make a gift of life during a period of personal tragedy. Donors and donor families are heroes to me."
Already intrigued by the physiology of the liver and the complexity of the anatomy of the liver and pancreas, Anderson's career path was solidified following an exposure to transplant during his residency. The ability to pursue a medical career path that provided options to further explore liver surgery and the reversal of liver failure tapped into his innate desire to continue taking his education and training to new and higher levels.
Even as a high school senior, Anderson knew he needed a change of scenery in order to prepare himself for new and challenging environments. "Something in me recognized the need to learn how to make it in an unfamiliar place." While Southern Miss wasn't completely unfamiliar, having come from a family of Southern Miss grads, a familiar campus filled with new people provided Anderson a training ground for success. "Southern Miss served my family well, and I knew it would do the same for me. I wouldn't change anything about my experience; it truly served as the educational foundation for everything I've become."
Anderson was a member of the Honors College and took advantage of every opportunity to advance in research, even receiving an undergraduate research fellowship award from the Medical University of South Carolina. The support and personalized instruction from faculty made a lasting impression on not only his academic career, but also in the way he leads his teams today.
"The faculty were dedicated to educating students, but they took it to the next level by personalizing the education to truly help and direct us into career paths," said Anderson. "My instructors personalized what I needed to get to the next level, allowing me to leverage my interests and nudge me in the direction of long- term success. As I've reconnected with the University, having come back to Mississippi, I can see again, through the lens of experience, that the core philosophy of Southern Miss that impacted me so deeply is still at work today through the faculty's commitment to education."
"Something I keep seeing at USM, and am working to replicate on my teams, is the drive to educate the educator, to build resources for our faculty to better themselves. I see that in Southern Miss, and I want to lead my team in that. Students of all ages, especially those at Southern Miss, are well served in that type of environment."
Before joining UMMC in 2011, Anderson was a faculty member at Washington University in St. Louis, Mo., where he practiced abdominal organ transplantation and hepatobiliary surgery at Barnes-Jewish Hospital and St. Louis Children's Hospital. Returning to Mississippi took a little risk; however, in the world of organ transplant, reward often demands some level of risk.
"When UMMC began recruiting me, I saw the opportunity of creating a transplant program where none existed. There was a huge and obvious need in Mississippi. The career risk was high, of course, having come from a successful program at Washington University. But it's important to weigh all the factors, and if the situation is right, take the approach that 'this will be successful come hell or high water.' That's a hard thing to teach, but so many Southern Miss graduates come out with those traits."
"The core values of perseverance and grit are learned throughout life, but most of them are learned during our college years. Thankfully, Southern Miss alumni are taught to recognize our individual abilities, and as opportunities present themselves, seize them. Whether Southern Miss attracts people who innately have this trait, or if it is instilled during our time on campus, the result is the same. We are going to be successful, and we will take what we've learned and change the world with it."