Cook Library Exhibit Features NOW Material in Conjunction with Women's History Month
Tue, 02/26/2019 - 15:23pm | By: David Tisdale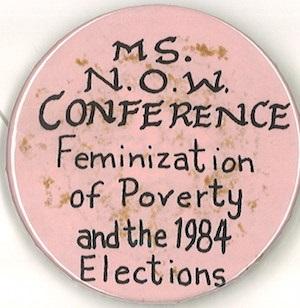 An exhibit featuring pieces from the papers of women from Mississippi involved in the National Organization for Women (NOW) during the 1980s, drawn from a collection held in the University of Southern Mississippi's (USM) McCain Library and Archives, is currently on display in the Cook Library lobby on the Hattiesburg campus.
The exhibit, "The National Organization for Women, 1980-1985," showcases the variety of materials in the collection and the topics that concerned women during this time. Organized in 1966, NOW was an advocate for women's rights, the Equal Rights Amendment, lesbian rights, and reproductive freedom. This collection contains correspondence, flyers, press releases, membership lists, and other types of documents from the state and national groups.
These items help researchers look at the issues that impacted women in the early 1980s and how many of these topics are still relevant today, said Jennifer Brannock, associate professor and curator of Rare Books and Mississippiana at USM, who along with Assistant Curator for Historical Manuscripts Carla Carlson produced the exhibit.
"After looking through the National Organization for Women's papers, it's amazing to see how many of the issues impacting women in the 1980s are the same as today," Brannock said. "Topics like equal pay for equal work, lesbian rights, and reproduction rights are all talking points in today's political landscape.
"Since this exhibit (and the papers) focus primarily on the Mississippi Chapter of the National Organization for Women, it's interesting to see how Mississippians worked on equal rights legislation for women."
For questions about the exhibit or the collection, contact Brannock at jennifer.brannockFREEMississippi.