New Center at USM Aims to Develop a Healthier Mississippi
Tue, 03/19/2019 - 03:26pm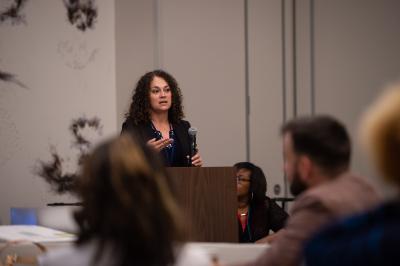 Dr. Jennifer Lemacks serves as director of the Telehealth Center at USM. (Submitted photo)
According to the United Health Foundation, Mississippi ranks in the top five least healthy states in the nation. A new center at The University of Southern Mississippi is looking to change this statistic for the future.
The Telehealth Center, which formally opened in the summer of 2018, was created to find solutions specific to Mississippi that would address health disparities which most commonly affect Mississippians. The center is a part of the Mississippi INBRE grant which is funded by the National Institutes of General Medical Sciences.
"There are a lot of effective models in research across the country, but one shortcoming is that Deep South states such as Mississippi are demographically and infrastructurally different compared to the rest of the nation, so there are seldom solutions that are specific to the Deep South states," said Telehealth Center director, Dr. Jennifer Lemacks. "This project is starting to embark on and fill that gap in research and practice."
The Telehealth Center is working to accomplish its goals through three main objectives: address health disparities, engage students in research experiences and opportunities and involve faculty and community partners in research related to health disparities.
In order to address the health disparities, the center is conducting two research projects which focus on specific health disparities. The Telenutrition Project, supported by the Telenutrition Center housed at The University of Southern Mississippi, focuses on obesity, nutrition, and physical activity research, while the TelePReP (Pre-exposure Prophylaxis) Project, a partnership with My Brother's Keeper, Inc. out of Jackson, Miss., focuses on HIV and AIDS.
"Minority populations and Mississippians continue to suffer disproportionately from obesity and HIV/AIDS. These are two key public health issues for the state," said Dr. Lemacks.
The Telehealth Center aims to engage students in research projects. The goal for these students is to create research projects that will add to the impact of the center and to present in state and regional conferences.
"I value the multidisciplinary teamwork and community-based research experience that I am getting from Telenutrition. This has provided me the opportunity to serve my community and raise awareness regarding nutrition and health," said Eden Gardner, senior Nutrition and Dietetics major at USM and Research Assistant with the Telenutrition Center.
The center has also engaged community partners who will aid in reaching and serving the community throughout the research. One such community partner is My Brother's Keeper, Inc out of Jackson, Miss. MBK is currently a strong liaison for the community members and provides perspective into why the work is important.
"MBK is honored and enthusiastic to be a part of this innovative opportunity to expand telehealth options and education in Mississippi while engaging those that are impacted the most – especially sexual and gender minorities at high risk for HIV exposure," said Dr. June Gipson, President/CEO of My Brother's Keeper, Inc. and Community Outreach Director for Mississippi INBRE.
The ultimate goal of the Telehealth Center is to create a model that works for Mississippi so that other outpatient health centers can see what needs to be done and best meet the needs of their own patients.
"We hope to ultimately get Mississippians to eat better, move more and live longer," said Dr. Lemacks. "We can begin to develop this health culture across health centers in Mississippi and turn down these disparities that we see in our state."
For more information about the Telenutrition Center, check out their website, telenutritioncenter.com.
For more information about My Brother's Keeper, Inc. check out their website, mbkinc.org.
About Mississippi INBRE
Mississippi INBRE, directed by Dr. Mohamed Elasri, a professor at The University of Southern Mississippi, is a statewide program that is supported by an award from the National Institutes of General Medical Sciences. Their mission is to enhance the biomedical foundation in Mississippi and to reach out to Mississippians in order to improve health throughout the state.
Mississippi INBRE seeks to engage talented researchers and students in biomedical research projects that will increase the state's research competitiveness as well as impact the health of citizens of Mississippi.
For more information about Mississippi INBRE, check out their website, msinbre.org.