Social Work Grad Students Passion for Research Leads to Hall of Fame Honor
Wed, 04/03/2019 - 09:27am | By: Geoff LoCicero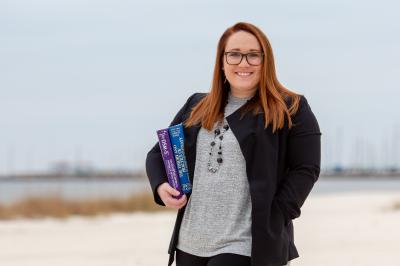 Morgan Bradwell is a social work master's student from Mobile, Ala. (Photo by Kelly Dunn)
Morgan Bradwell alternately – and unapologetically – describes herself as a nerd and a unicorn.
But that's a good combination for a graduate student who loves research and data.
So much so that the social work master's student from Mobile was one of 13 graduate students honored by the University of Southern Mississippi (USM) on Tuesday, April 2. Bradwell and 11 others were inducted into the Graduate School Hall of Fame, while a 13th was named Graduate Assistant of the Year.
"Dr. (Jerome) Kolbo emailed me on a Sunday and the subject line said 'let's talk,' so he asked if I could come by the next day," Bradwell says. "I thought I was in trouble. But I met with him, we had a few things to discuss, and at the end of the meeting, he informed me that the School of Social Work was able to nominate one person for this and chose to nominate me. For it to be me was surprising. I was humbled and honored and got a little emotional.
"I guess it was less than two weeks after that I was notified I had won the award. I was driving to campus on Monday morning and got the email and read it while I was driving. I honestly started crying and called my husband (Colman) and told him about it."
She says Kolbo, the school's interim director, predicted – only half-jokingly – that she would win based on his successful track record of nominations. "The last two he's nominated from the school have won the award. It was a little bit of pressure, hoping I wasn't the one who would break the streak."
'Research Was My Top Priority'
As a member of the part-time advanced standing cohort, Bradwell drives from Mobile to Hattiesburg and back 2-3 days a week for classes and work as a graduate assistant. The advanced standing program provides an accelerated path to a master of social work degree for students who have already earned a bachelor of social work.
"Grad school is difficult, especially commuting and working here," says Bradwell, whose cohort graduates in May. "It gets very intense, and to receive that high a level of validation and affirmation that I've made a difference here, it's emotional. I'm thankful."
She is interested in a career in mental health, with a specific focus on trauma. She would like to pass the licensure exam to become an LMSW, or licensed master social worker. She dreams of eventually pursuing a Ph.D. in social work.
"I've just fallen in love with research and can't imagine not doing it ever again after May," she says. "I envision myself starting a therapy job once I graduate. I would like to have my therapy career but also like to continue my research."
One area of interest is Eye Movement Desensitization and Reprocessing, or EMDR.
"It's pretty new," she says. "It's gotten really popular with veterans dealing with PTSD but can be utilized with other PTSD cases as well. I'm really a nerd and into neuroscience."
She explains EMDR is a process that engages both sides of a patient's brain to reprocess and restructure the narrative of the trauma, minimizing the recurrence of PTSD symptoms.
Bradwell says she fell in love with the process of research – literature reviews, gathering data, presenting her findings – as a social work undergraduate at South Alabama. "I was that unicorn of a social worker who actually likes statistics. When I started looking at graduate school, research was a top priority."
'I Want to Take It and Run With It'
She's had a major impact at Southern Miss, working with at least six faculty members and presenting research twice in 2018: at the National Association of Social Workers-Mississippi conference (psychological resilience and substance use coping on depression) and at the Alabama-Mississippi Social Work Education Conference (environmental disaster and mental health); the latter earned her the Outstanding Master Student Social Work Poster Award.
She also was co-author of a manuscript on mental health and the Mississippi Gulf Coast's homeless population that was published last fall in a Korean journal, and has a joint manuscript submission with social work associate professor Dr. Joohee Lee under peer review by the Best Practices in Mental Health journal.
"Ms. Bradwell is the first author of the manuscript and deserves much of the credit for her initiative, critical thinking, analyses and writing," Lee says. "She has distinguished herself by exceeding various demands with creativity, commitment and positive attitudes."
And there is the possibility of more publications in the future based on previous or current research projects. For Bradwell, the publications and Hall of Fame honor are validation as a first-generation college student.
"I called my parents (Kasey and Jamie) after my husband," she says. "My mom just reminded me of what an honor it is to be in graduate school. There's no standard in my family, so it's a big honor for me.
"Ultimately it's a precedent I want to set for the people who come after me, and that starts with my younger sister (Reagan, who attends Jacksonville State University). I want her to surpass my precedent and go further than me. Eventually, I want my children to go further than me in whatever passion they have.
"My parents didn't have that opportunity. I want to take it and run with it."
--
Learn more about the USM School of Social Work.