SOSE Associate Director Appointed by Governor to Gulf States Marine Fisheries Commission
Thu, 04/18/2019 - 12:32pm | By: James Skrmetta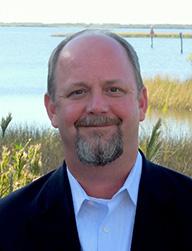 Dr. Read Hendon
Governor Phil Bryant appointed Dr. Read Hendon, Associate Director for the School of Ocean Science and Engineering's (SOSE) Gulf Coast Research Laboratory (GCRL), to the Gulf States Marine Fisheries Commission (GSMFC). Hendon will serve as the citizen representative on the Commission for Mississippi.
"I am honored to represent our State's interests on the Commission and greatly appreciate Governor Bryant's confidence in me to fill this position," said Hendon. "I have been involved with the Commission on various committees and programs for the past several years, and it's exciting and humbling to have a seat at the table for making decisions which can positively impact our fisheries over the long term."
Hendon currently manages the day-to-day operations at GCRL and assists with the School's mission-oriented activities. He works in conjunction with USM faculty, staff, students and administrative units at the Hattiesburg and Gulf Park campuses to support and advance the University's growing academic and research programs in marine and coastal sciences.
"Having Dr. Hendon serve Mississippi in this capacity is not only a reflection of the key role USM and GCRL play in advisement on fisheries management, but the stature of our USM scientists as the leaders of fisheries science in Mississippi," said Dr. Monty Graham, SOSE Director.
The Gulf States Marine Fisheries Commission was established in 1949 as a compact of the five Gulf States. Its charge is 'to promote better utilization of the fisheries, marine, shell and anadromous, of the seaboard of the Gulf of Mexico, by the development of a joint program for the promotion and protection of such fisheries and the prevention of the physical waste of the fisheries from any cause.
The GSMFC coordinates management and research activities for fisheries related issues of mutual interest among its member states and in collaboration with federal agencies. Within the scope of those activities are inter-jurisdictional stock assessments, habitat/reef priorities, law enforcement, data collection, aquaculture and restoration.
"Anyone who has dealt with fisheries management in recent years understands we are dealing with complex problems with often times direct social, economic and ecological consequences," Hendon said. "I welcome this opportunity to work on behalf of not only our own resource users here in Mississippi but also those in our neighboring Gulf states to help address the ongoing challenges we face to effectively balance productivity and sustainability in our marine fishery stocks and the ecosystems which support them."