Southern Entrepreneurship Program Holds Workshops for High School Students
Tue, 02/12/2019 - 11:27am | By: Bailey Harris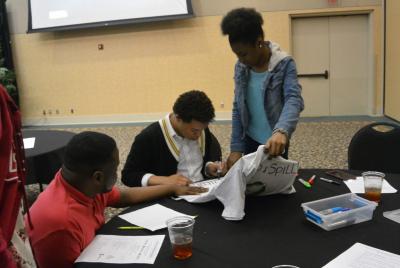 More than 120 high school students attended the SEP STRIVE! workshop held on the Hattiesburg campus earlier this month.
The University of Southern Mississippi's Southern Entrepreneurship Program (SEP) recently wrapped up a series of three STRIVE! workshops designed to offer budding high school entrepreneurs a deeper look into key topics like communication and market research.
Administered through USM's Center for Economic and Entrepreneurship Education (CEEE), the SEP directly engages more than 600 aspiring young entrepreneurs each year.
The SEP, which was developed in 2007 to advance high school innovation and student entrepreneurship in the state of Mississippi, consists of an annual series of regional, virtual, and statewide student opportunities, each specifically designed to introduce students to essential topics like opportunity recognition, market validation, and essential soft skills".
On Jan. 24 in Oxford, Miss., the McLean Institute for Public Service and Community Engagement hosted more than 100 students and educators for the year's first regional STRIVE! workshop. The central Mississippi workshop was held in Jackson on Jan. 31, with more than 160 participants. The final workshop, held in Hattiesburg, was conducted on Feb. 6.
More than 120 students and educators attended the final STRIVE! event on The University of Southern Mississippi's Hattiesburg campus. Participating high schools included Hattiesburg, Perry County, Lumberton, Laurel, Magee, Simpson County, and Biloxi.
Emily Collins, a teacher from Magee brought a range of 9th to 12th-grade DECA students to participate. Collins teaches Business Fundamentals, International Business, and Management.
"What is taught during this event is the perfect addition to the curriculum I teach my students. We focus on professional goals, values, and how to make good choices for their career during and after high school," said Collins.
James Wilcox, the Director of The Center for Economic and Entrepreneurship Education, kicked off the day's agenda with a brief welcome. "Each year, we challenge students to start a business with as little as $10. And each year, we see students succeed," said Wilcox.
Examples were given of students who had previously participated in the SEP, including some who made thousands of dollars off of their initial $10 investment.
Wilcox went on to show the products and services the students started with, discussed the idea of "bootstrapping," and inspired the students to think outside of the basic concepts of starting a business. Throughout the examples, Wilcox was quick to emphasize that the past winning students were no different than the students sitting in the room.
The Hattiesburg event also included a panel of three local business professionals --Taylor Backstrom from Hancock Whitney; Valerie Wilson from the Petal Area Chamber of Commerce; and Joma Shelby from the Southern Miss Small Business and Development Center. The panelists discussed topics such as market research, networking, social media, and business resources for startups.
Following a Q&A session with the panel, students were sent into action. Each table became a team, ranging from 4-7 students, and was given the assignment to create a coffee shop concept and promotional pitch based around market research conducted among their peers in the room. Each table was equipped with a blank t-shirt, a box of markers, and instructional worksheets. Once the time was up, each group presented a 30-second commercial for their business idea.
"This experience has shown me how to showcase a product and myself once I enter the business world," said Liliana Thomas.
Napaj Johnson, an 11th grader from Magee High School, stated: "I was excited to learn about entrepreneurship today, and I feel that the event has better prepared me to be a great businessman."
The next phase within the annual SEP series is SEP THRIVE!, a round of regional and virtual "Shark Tank" type competitions which serve as qualifiers for the SEP State Competition held each May.
For more information about The Center for Economic and Entrepreneurship Education or the Southern Entrepreneurship Program, contact James Wilcox at james.b.wilcoxFREEMississippi.