The University of Southern Mississippi Takes Its Place Among Nations Leading Research Universities
Thu, 01/17/2019 - 11:08am | By: Jim Coll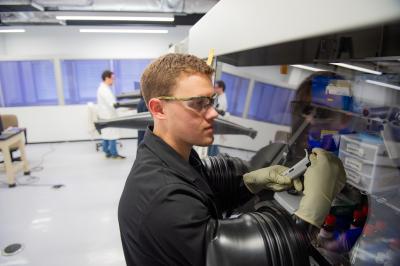 The number of doctoral degrees granted, research expenditures and research activity are among the factors contributing to USM's new classification by the Carnegie Commission on Higher Education.
The University of Southern Mississippi (USM) has been recognized as one of the nation's leading research institutions by the Carnegie Classification of Institutions of Higher Education, the pre-eminent classification of top doctoral research universities.
USM's inclusion in the "R1: Doctoral Universities – Very high research activity" category places the University in the distinguished company of institutions like Harvard, MIT, Stanford, Johns Hopkins, and others. Only 130 institutions in the nation are classified as R1, which represents the highest level of research activity for universities.
The number of doctoral degrees granted, research expenditures and research activity are among the factors contributing to USM's new classification. The Carnegie Commission on Higher Education developed the Carnegie Classification of colleges and universities in 1970 to support its program of research and policy analysis. First published in 1973, it has been updated several times, including the latest update in recent weeks.
"Classification as an 'R1' institution is a credit to the faculty, students and staff who engage in research on our campuses and research sites," said USM President Rodney D. Bennett. "This recognition confirms USM's position among the nation's top research institutions and places the University in extremely rare company as one of a select few public institutions to achieve this accomplishment without the benefit of a medical or law school."
There is ample evidence of USM's robust and expanding research enterprise, including:
USM's continued expansion of programs supporting the Blue Economy along the Mississippi Gulf Coast through the School of Ocean Science and Engineering;
USM's growing capabilities in polymer science and engineering, including the Mississippi Polymer Institute, which recently celebrated 25 years of excellence and innovation;
and USM's position as an international expert in sport venue safety and security through our National Center for Spectator Sports Safety and Security, or NCS4, whose most recent work through our ongoing partnership with INTERPOL involves preparing for the 2022 World Cup with the State of Qatar.
Support for USM research annually sustains robust research projects across academic disciplines. USM's work in Hattiesburg, on the Gulf Coast, and throughout the state impacts not only the lives of Mississippians, but also people around the world. Faculty members across disciplines from the humanities to the sciences are awarded highly competitive funding from prestigious federal agencies including the National Science Foundation, National Institutes of Health, the National Aeronautics and Space Administration, the Department of Homeland Security and the National Endowment for the Arts.
The University's research activities also produce an annual economic impact of approximately $135 million on the state of Mississippi, support more than 900 jobs, and generate more than $3.5 million in state and local government revenue.
"We are so pleased to be included in a list of 130 institutions that are classified as 'R1: Doctoral Universities – Very high research activity,'" said Gordon Cannon, USM Vice President for Research. "To have Southern Miss' research activity listed on par with institutions such as Harvard, Duke, Johns Hopkins, Yale and Stanford is immensely gratifying."
"This classification indicates several things—that we have a very high level of research activity, that we have a large number of faculty conducting research, and that we provide a lot of resources for research at Southern Miss," Cannon added. "It also speaks to the high number of our research-based doctoral programs. These are all points of pride."
The University offers more than 80 doctoral programs, and its graduate student research excellence is showcased annually at the Dr. Susan A. Siltanen Graduate Student Research Symposium. The symposium is designed to provide a competitive scholarly environment for graduate students to highlight their innovation and scholarship and to foster conversations across and within the array of disciplines at the University.
USM undergraduate students are also encouraged to develop their own research interests and learn from expert faculty in a variety of fields. The Drapeau Center for Undergraduate Research enhances the academic experience for the University's undergraduate students by fostering student-faculty collaborations in research, creative projects and scholarship.
A key component of the center is the Eagle Scholar Program for Undergraduate Research (Eagle SPUR). Based on the quality of their research proposals, Eagle SPUR scholars receive up to $1,000 in research grants for scholarly or creative projects done in collaboration with a faculty mentor. Their findings are later presented to an academic audience.
USM students have earned four Truman Scholarships and 35 National Science Foundation Graduate Research Fellowships. They also lead Mississippi with 21 Goldwater Scholarships, an honor that recognizes the next generation of great research scientists.