USM Assistant Professor Wins Mississippi Nursing Association Faculty Member of Year Award
Wed, 03/13/2019 - 10:26am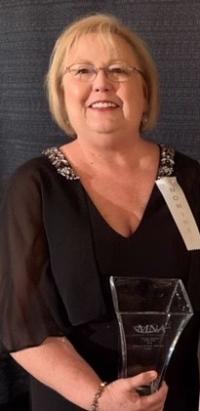 Dr. Rebecca Newton
Dr. Rebecca Newton, assistant professor in the School of Professional Nursing Practice at The University of Southern Mississippi, won the Mississippi Nursing Association Faculty Member of the Year Award at the 14th annual Nightingale Awards Gala held earlier this month in Jackson, Miss.
The Nightingale Awards Gala is a black-tie event where more than 600 nursing professionals, leaders, and supporters gather to honor the men, women, and organizations that have made a special effort to excel in the area of healthcare. The event distinguishes the award winners and their contribution to the nursing profession.
Newton was chosen from a select group of nursing educators because of her dedication to her students, her continued education, and the profession of nursing. Her school director, Dr. Elizabeth Tinnon, said Newton is the "epitome of an excellent faculty member."
"She exceeds in all areas of teaching, research, and service," Tinnon said.
This isn't the first time Newton has been recognized for her achievements in the nursing field. Last year, Newton was one of 30 nursing faculty in the nation selected to attend the Apple Digital Innovation Boot Camp hosted by the American Association of Colleges of Nursing, where participants learned of the new opportunities to provide the latest technology to enhance learning to nursing students in the classroom and clinical settings.
"Nursing is a complex major and the workplace is constantly changing." Newton stated. "In my classes and labs, I attempt to incorporate teaching pedagogies that utilize cutting edge technology and simulation to add context to the content taught. A faculty member's role at USM goes beyond teaching, it encompasses service and research to support the mission of the University and the College of Nursing & Health Professions.
"Educating future nurses is an honor as well as an incredible responsibility," she added. "We work diligently to see students through the curriculum to become successful graduates and represent Southern Miss. I take great pride in seeing our graduates achieve in the profession."
Newton has 43 years of nursing experience. She currently serves as Vice President and President-elect of the Gamma Lambda chapter of Sigma Theta Tau International Honor Society of Nursing. As a nurse educator, Newton specializes in clinical simulation. She has held an international certification as a Certified Healthcare Simulator Educator since 2012.