USM Steel Pan Orchestra Performs with Andy Narell April 27
Wed, 04/24/2019 - 09:38am | By: Mike Lopinto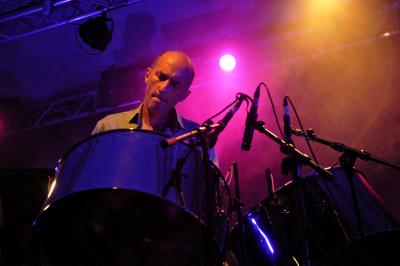 Andy Narell
The University of Southern Mississippi (USM) School of Music presents the Southern Mississippi Steel Pan Orchestra (SoMiSPO) featuring Andy Narell on April 27 at 7:30 p.m. in the Mannoni Performing Arts Center. This concert is free and is open to the public.
Also known as a jazz improviser and a steel band composer, Andy Narell is a steel pan artist who tests the limits of the instrument. Narell has collaborated with SoMiSPO several times in the past, even recording a CD with the ensemble.
"Andy Narell has made so many cool albums of jazzy steel pan music through the years he is practically a genre unto himself at this point," said MixOnline in a review on Tatoom. "A musician of tremendous skill and consummate good taste, Narell takes the pans places they've never been before."
Andy Narell is one of the most widely known steelpan artists in the world, recently being inducted into the Percussive Arts Society's Hall of Fame for his contributions. Narell has released numerous albums including Tatooom and the recent We Kinda Music.
The Southern Miss Steel Pan Orchestra (SoMiSPO) was founded in 1994 by Dr. John Wooton, starting out with only four pan instruments and now having grown into an ensemble of 30 people. Their guest artist list includes Jimmy Buffet, Ellie Mannette, Liam Teague, Ray Holman, and the Navy Steel Band.
For more information, contact Dr. John Wooton at (601) 549-3775.