USM Partners with Forrest General Hospital, Hattiesburg Clinic to Increase Volume and Speed of COVID-19 Testing
Mon, 06/01/2020 - 17:15pm | By: David Tisdale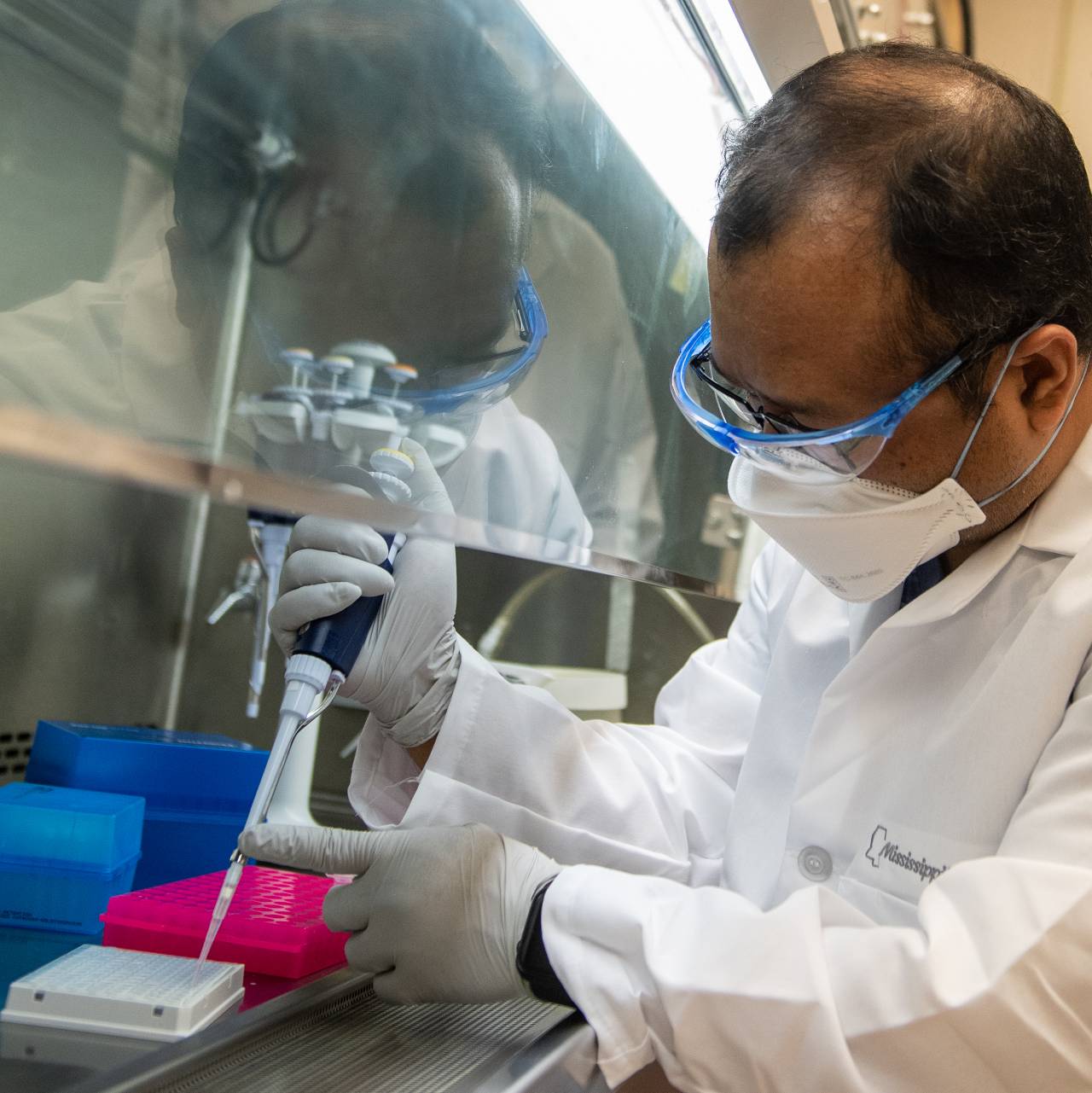 A collaboration of health care providers at Forrest General Hospital and Hattiesburg Clinic with researchers at The University of Southern Mississippi (USM) is providing a boost to efforts to combat the coronavirus pandemic through increased COVID-19 testing.
Researchers at USM's Center for Molecular and Cellular Biosciences and the Mississippi IDeA Network of Biomedical Research Excellence (INBRE), housed at USM, are providing technical laboratory support through preparing viral transport media (VTM) that has been used by Forrest General Hospital and Hattiesburg Clinic to transport samples to outside labs and developing a workflow to perform up to 50 high-priority tests a day, with a turn-around time of 24 hours or less, and with the possibility of scaling up if urgently needed.
The collaboration combines a pair of leading health care entities with a Carnegie R1 research institution for the benefit of south Mississippians in the critical battle with COVID-19.
"I have been impressed by the leadership shown by Mississippi's research universities in stepping up and innovating during this time of crisis, specifically the partnership between The University of Southern Mississippi, Forrest General Hospital, and Hattiesburg Clinic," said Governor Tate Reeves. "These organizations have demonstrated an inspiring commitment to creating the ability to deliver COVID-19 tests to their local communities and the people of Mississippi. This is the type of innovative thinking that Mississippi needs, and I applaud this partnership."
USM President Rodney D. Bennett says the University is proud to collaborate with the health care community.
"We take seriously our role as leaders in our state's biomedical research efforts, and I want to thank our faculty and researchers for their efforts to provide immediate assistance with critical testing needs across our state," Bennett said.
The Mississippi INBRE program, which is funded by the National Institutes of Health to build up biomedical research infrastructure in the state, has been a valuable source of available resources to help with this public health emergency, according to Dr. Mohamed Elasri, USM's lead researcher for the initiative and director of Mississippi INBRE.
"The Center for Molecular and Cellular Biosciences includes several research laboratories with faculty who have deep expertise in infectious diseases and molecular techniques—both of which are essential for developing COVID-19 testing," added Elasri, who also serves as director of the center. "We were able to quickly repurpose research instruments and personnel to develop a testing protocol."
The collaboration emerged when Dr. John Fitzpatrick, Hattiesburg Clinic nephrologist, reached out to USM in search of VTM.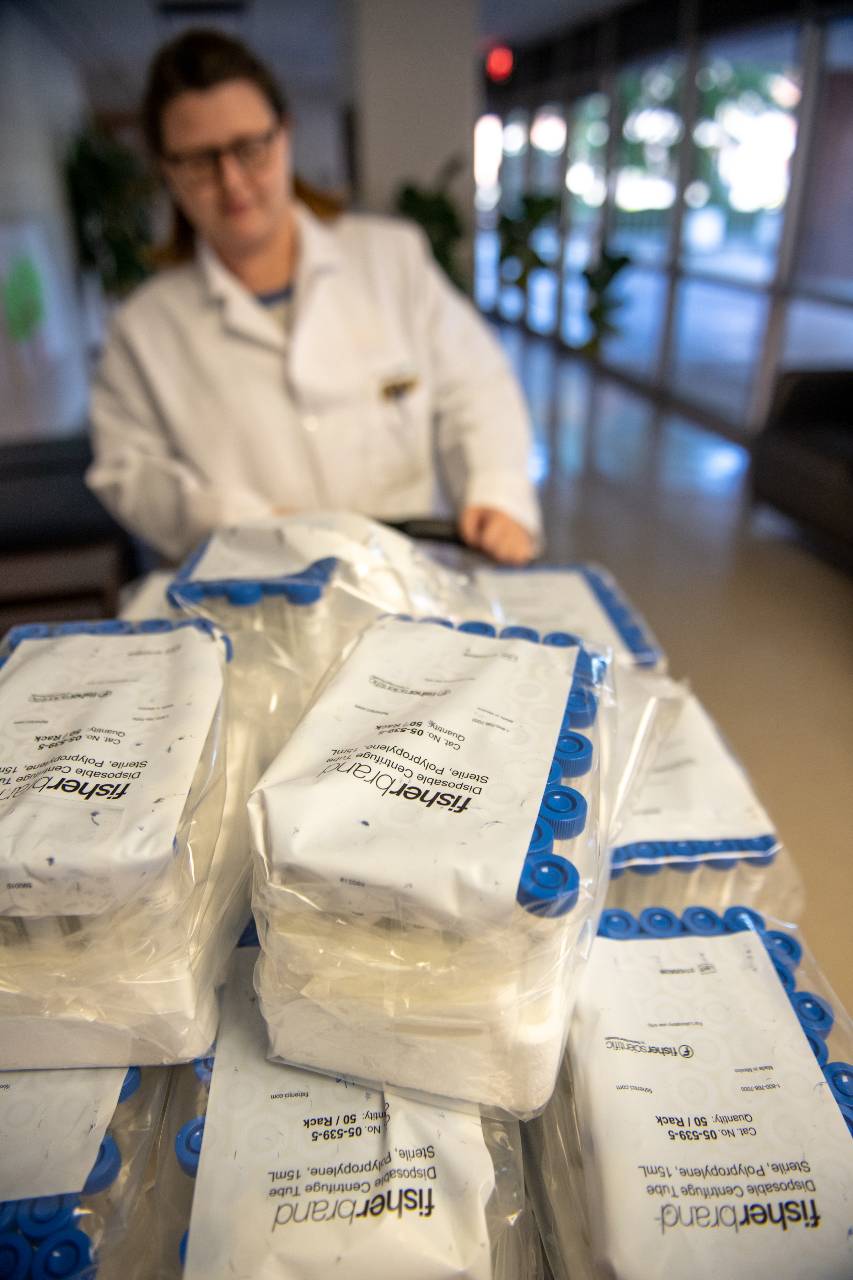 "We had only 200 tubes containing viral transport medium (VTM), and were concerned that we may run out of testing tubes within the first few days of opening the Cough and Fever Clinic," Fitzpatrick said. "Within two minutes they told me they had the ingredients for the VTM, including the appropriate laminar flow hood to make the medium under sterile conditions."
Fitzpatrick and the USM team tested COVID-19 samples at USM, using USM VTM, and established the USM VTM was reliable and matched the Mississippi State Department of Health (MSDH)'s polymerase chain reaction test results. After review of the recipe for VTM and the university's demonstration of reliability, the MSDH agreed to accept the USM VTM for testing.
"We had now resolved our tube shortage issue, which was threatening our ability to do COVID-19 testing," said Fitzpatrick. "To date, The University of Southern Mississippi has made almost 2,000 tubes for Hattiesburg Clinic and Forrest General Hospital" and is now making "VTM for other parts of the state to expand testing."
While USM personnel will not receive patient data and are not involved in any patient contact or clinical decisions or referrals, the work required USM to obtain a Clinical Laboratory Improvement Amendments (CLIA) number. Clinicians at Forrest General Hospital and Hattiesburg Clinic will prioritize samples sent to USM for testing, interpret all test results, and handle all patient follow-up.
Elasri said the testing will be especially helpful for health care workers as they prepare for a surge of patients, which most experts predict has not yet arrived in south Mississippi.
"Since we have a one-day turnaround in testing, we can assist with high-priority patients," Elasri said. "This will be critical to very sick patients and to health care workers to help keep them safe and working."