Honoring First Responders and Celebrating a Centennial with Music
Fri, 09/17/2021 - 16:51pm | By: Mike Lopinto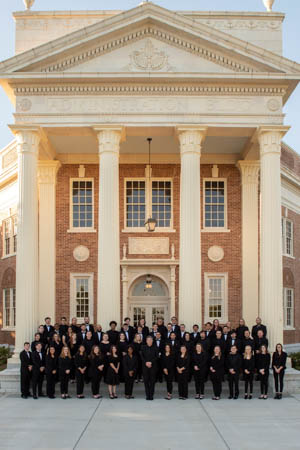 The Symphonic Winds will perform a concert honoring first responders and a belated celebration of the band program's centennial on Sunday, October 3 at 3:30 p.m. in the Mannoni Performing Arts Center Auditorium on the University of Southern Mississippi (USM) Hattiesburg campus.
The concert features a commission by USM and many area schools in honor of first responders, welcomes members from those programs to the stage to perform, and hosts guest conductors Dr. Gary Adam and Dr. Mohamad Schuman. The concert is free and open to the public and first responders are encouraged to attend.
"The piece is commissioned in honor of the brave health care workers and first responders for their heroism during the COVID-19 pandemic and is dedicated to those who suffered tragedy and loss as a result of the pandemic," said Dr. Colin McKenzie, director of the School of Music and the Symphonic Winds.
The Symphonic Winds led the commissioning effort for Morning Has Broken. Written by retired Southern Miss composer-in-residence, Luigi Zaninelli, the commissioning members include: Biloxi High School, Germantown High School, Gulfport High School, Jones College, Mississippi Gulf Cost Community College, Oak Grove High School, Ocean Springs High School, Pearl River Community College, South Jones High School, USM Symphonic Winds, West Harrison High School, and William Carey University.
Also featured on our centennial performance, are two previous conductors of the Symphonic Winds – Dr. Gary Adam and Dr. Mohamad Schuman.
"A celebration of the centennial of bands at USM would not be complete without honoring these two gentlemen who gave so much to the program and, in specific, to the Symphonic Winds," continued McKenzie.
The program also include jubilant marches and rousing overtures that are classic to the band repertoire, including Verdi's, La Forza del Destino, Duble's Bravura, Mascagni's Symphonic Intermezzo from Cavaliera Rusticana, Alexander's From Tropic to Tropic, Biebl's Ave Maria, Zaninelli's Battle Hymn of the Republic, and Fillmore's His Honor.
The public is asked to wear masks inside as is the university policy at this time.
For more information, visit usm.edu/bands.