USM School of Kinesiology & Nutrition Changes the Game, Enhances Coaching Degree
Mon, 06/21/2021 - 17:00pm | By: Josh Stricklin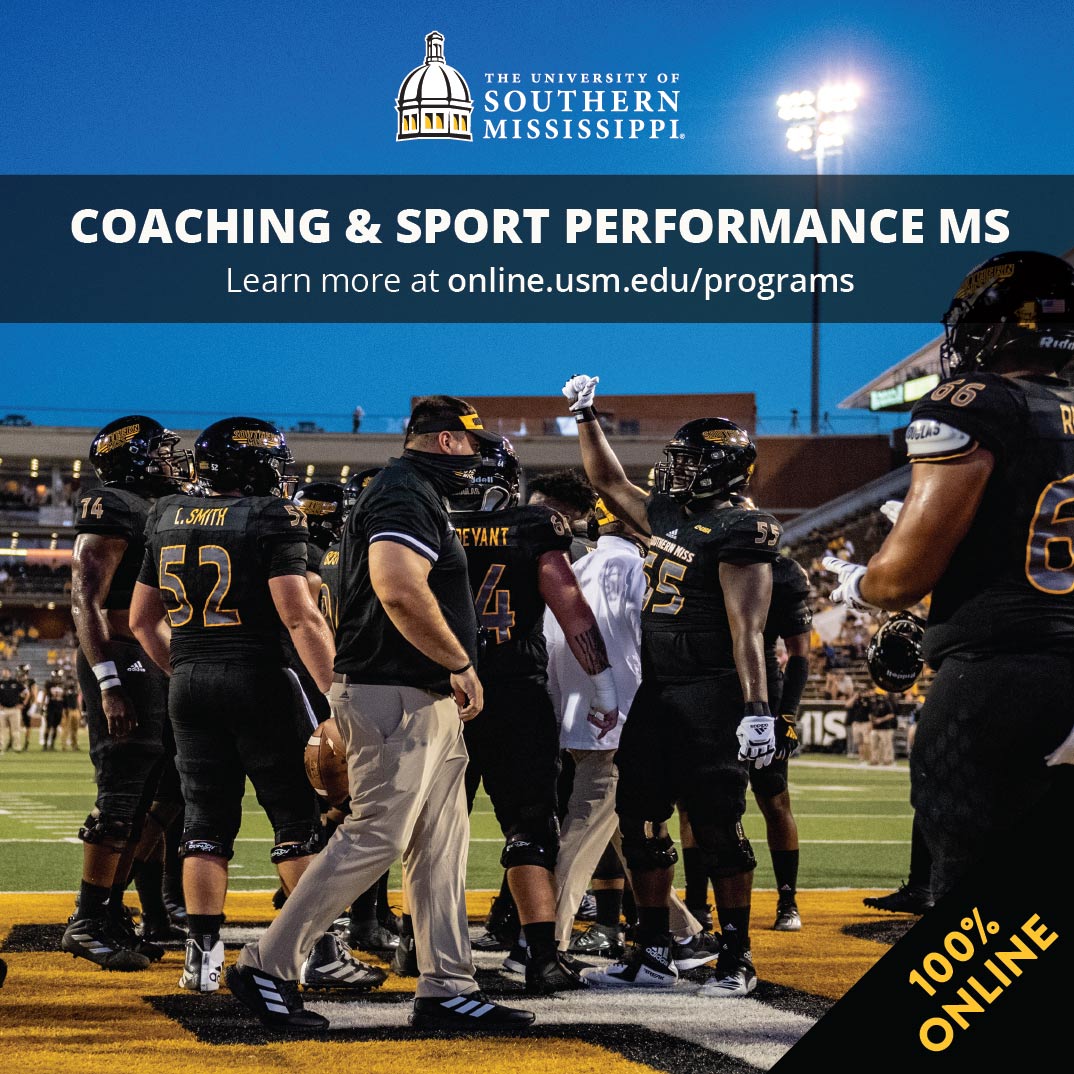 The University of Southern Mississippi's (USM) School of Kinesiology and Nutrition has made substantial changes to the Master of Science in coaching and sport performance program, allowing students to earn their degrees sooner and become more effective leaders and coaches.
Updates include:
Fewer course hours required (reduced from 36 to 30 hours)
Updated course offerings (click here to see new course requirements)
No GRE or standardized test requirements (optional for additional admission points)
Students can apply anytime because admission occurs every semester (fall, spring and summer)
"In our revised program, students will take fewer classes but experience more integrated content that reflects global trends and best practices in coach development and coaching practice," said Dr. Melissa Thompson, professor in the School of Kinesiology and Nutrition. "Students will develop skills that not only help them in their current coaching, but also those that will allow them to keep growing as the profession evolves."
While many aspects of the coaching and sport performance degree are changing, the School of Kinesiology and Nutrition's commitment to academic excellence remains consistent. Academic rigor, hands-on experiences and research opportunities have contributed to USM's regional and national reputation for excellence in preparing students for careers in the world of sport. Accreditation from the National Committee for Accreditation of Coaching Education (NCACE), the premier authority on the education of coaches, ensures USM is committed to meeting rigorous evaluation standards for quality through teaching from highly-experienced faculty.

"Students will continue to gain an exceptional educational experience that provides comprehensive coverage of the important knowledge and skills necessary for sport coaching," said Dr. Scott Piland, director of the School of Kinesiology and Nutrition. "We are proud to be one of only 13 NCACE accredited programs in the country and will uphold the highest standards for coaching education while finding ways to continuously improve our offerings."
With the understanding that many students in the coaching and sport performance graduate program are actively working as coaches while also trying to advance their skills and education, the new program improvements are intended to make it easier for bright and talented professionals to work, learn and grow simultaneously. Coaches who pursue this degree study coaching methodology, sport psychology and human performance to prepare them to succeed in a variety of sport settings. Graduates finish school equipped with the best resources for becoming better leaders and outstanding coaches. The best part is their careers are not interrupted in the process.
"The updated design of this master's program is ideal for current coaches," says Dr. Tom Hutchinson, dean of online learning and enrollment at USM. "With only 30 required credit hours and online availability, coaches can progress in their careers and remain connected to the evolving methods of the profession without having to leave their positions."
In the midst of these changes, the School of Kinesiology and Nutrition is also proud to be recognized by the U.S. Department of Health and Human Services as a National Youth Sports Strategy Champion. Dr. Thompson notes, "The NYSS raises awareness about the important role of youth sports in our society and the role of quality coaching in those sport experiences. Southern Miss has partnered as a champion for the NYSS to help elevate the profession of coaching to improve sport experiences for every athlete."
The Master of Science in coaching and sport performance degree can help coaches gain a competitive edge both on the field and in the job market. Coaches interested in taking their skills and career to the next level can find more information by visiting usm.edu/graduate-programs/kinesiology-sport-coaching-education.php or online.usm.edu/graduate/sport-coaching-education-ms/ for information about getting started online.