USM Graduate Student Awarded Kirschstein-NRSA Predoctoral Fellowship to Promote Diversity in Health-Related Research
Fri, 08/27/2021 - 01:36pm | By: Ivonne Kawas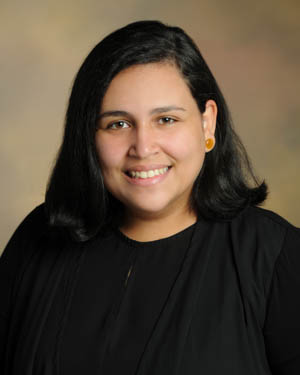 Limarie Reyes-Torres, a Biological Sciences Ph.D. candidate at The University of Southern Mississippi's (USM) School of Biological, Environmental, and Earth Sciences, has been awarded the prestigious Ruth L. Kirschstein National Research Service Award (NRSA), an individual predoctoral fellowship of the National Institutes of Health that promotes diversity in health-related research.
The purpose of the NRSA fellowship is to enhance the diversity of the health-related research workforce by supporting the research training of predoctoral students from diverse backgrounds including those from groups that are underrepresented in the biomedical, behavioral, or clinical research workforce.
"Being selected for this competitive fellowship through a peer-reviewed process, amongst such promising candidates, represents a significant career milestone. It not only validates my research, but also its relevance and future impact. This brings me a lot of joy and it will empower me to continue my research efforts, as I complete my degree," said Reyes-Torres, a native of Puerto Rico.
"Opportunities like this fellowship are important, as there is still more work to do to increase diversity in science and academia," she added. "I urge my underrepresented colleagues to apply and keep applying, to believe in themselves, to work hard, work smart, but above all have patience and faith or as they would say back home, 'paciencia y fe.'
Reyes-Torres' research focuses on the world's deadliest animal—mosquitoes—and the magnitude of health problems that its pathogens cause worldwide. Aedes aegypti, the yellow fever mosquito, is the primary vector of important diseases and is intrinsically related to urbanization. In Puerto Rico, the species is a vector of dengue, Zika, and chikungunya.
For her dissertation, she researches how differences in urbanization can influence the larval environment, the mosquito's larval and adult performance, and female fecundity across two generations and subsequently dengue virus transmission under laboratory conditions.
Through this award program, she will be able to conduct research for her last dissertation chapter at the University of Florida's Medical Entomology Laboratory (UFMEL) in Vero Beach, Fla., under the guidance of Dr. Barry Alto, associate professor of mosquito ecology and disease transmission, who will serve as a co-sponsor for this fellowship.
Her field sampling will be conducted in the San Juan Metropolitan Area in Puerto Rico, while laboratory experiments simulating field conditions will be carried out at Southern Miss and at UFMEL.
"With my research, I will contribute with relevant mosquito vector ecology knowledge that can be applied to wherever Ae. aegypti is present. However, what I hold dear to my heart is that my research is directly related to my beautiful country of Puerto Rico and that my contributions will hopefully be applied there to preserve the public health of my people."
Dr. Donald Yee, professor of ecology and organismal biology at USM praises Reyes-Torres for this prestigious honor.
"Reyes-Torres is an outstanding Ph.D. candidate who is very deserving of this fellowship. She's shown herself to be hard working, motivated, and innovative and brings a strong passion to her research on mosquito ecology. I could not be prouder of her."
As per her research experience at Southern Miss, Reyes-Torres attributes her accomplishments to the opportunities Dr. Yee and the Mosquito Lab have provided her with.
"Thanks to Dr. Yee's guidance and financial support, I am certified as a Mosquito Identification Specialist by the University of Florida Medical Entomology Laboratory and in Vector-Borne Disease Management by the Mississippi State Department of Health," she said.
"The skills I've gained in mosquito field sampling and identification through the series of projects we've conducted have prepared me to become a mosquito vector ecologist. I look forward to working in mosquito control and public health."
Learn more about the School of Biological, Environmental, and Earth Sciences.