Architectural Technology Program Seniors Reflect on "Forks of the Road" Project
Thu, 05/06/2021 - 04:07pm | By: David Tisdale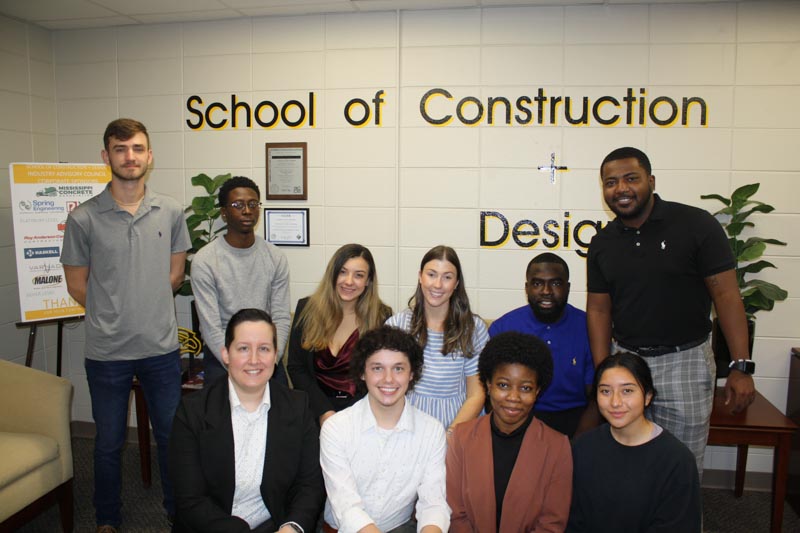 Students presenting at the USM Architectural Engineering Technology Program include, front row, left to right: Marissa Redmond, Lee Colt, Ogechi Oseji, Jennyfer Caracheo; back row, left to right: Brandon Prince, Curtis Washington, Karlee Hilliard, Holland Meier, Zachary Portlock, Antonio Darrington.
Seniors in The University of Southern Mississippi (USM) Architectural Engineering Technology Program took on a unique project during the 2020-21 school year that allowed them to work with a client and gain valuable project planning, development and presentation skills, while also learning about an important, yet troubling, aspect of the state's early history.
The project, a proposed design for a potential interpretive center for what was one of the Deep South's key slave markets in Natchez, Mississippi known as "The Forks of the Road," was presented to representatives from the National Park Service (NPS) earlier in the spring 2021 semester. Students in the program were grouped into teams and paired with architectural experts to present their masterplan option proposals and other ideas for the site via Zoom for the NPS representatives.
Located approximately one mile east of downtown Natchez, "Forks of the Road" became one of the South's top slave trading markets during the 1830s and 1840s, with thousands of men and women sold into servitude there during that time. The market's original buildings were destroyed by black soldiers during the Civil War; it has since been home to a cotton warehouse and a residential neighborhood.
For the first two weeks of the project, students conducted background research of the site and its history. This research was followed by another two weeks working in groups with architects to create a master site plan which included several components of the whole site, presented to the NPS representatives.
During the following eight weeks, the students worked on their individual comprehensive design of an approximately 20,000-square foot, two-three story design for an interpretive center for the site. At the end of the semester, the program's seniors presented for the Architectural Engineering Technology program's annual senior studio presentation day April 26, which featured their final touches on the modeling of the components for the project.
Leffi Cewe-Malloy, coordinator of the Architectural Engineering Technology program, served as studio adviser and instructor for the project.
"The comprehensive part of the studio project was to have the students utilize what they have learned throughout their education in our program, so in addition to the architectural building and site design, they also had to consider the constructability," Cewe-Malloy said. "My intension was to expose the students to all of the aspects of a project, so that even though they would not calculate the structural or mechanical load, or even the calculate the cost estimate in their first job, I want them to be aware of all aspects of a project, and have this knowledge when they graduate and in then in communication with engineers, architects and construction managers.
"I am really proud of this group – I felt they really stepped and responded, were engaged in and understood the importance of the project."
A Forks of the Road proposal produced by program senior Colt Lee can be viewed at:
https://issuu.com/colttlee/docs/2_updated_colt_lee_-_porfolio_split
Jordyn Smith, a senior from Meridian, Mississippi, said she has learned twice as much as she thought she would before coming to USM to join its Architectural Technology Program. "I got a lot of great real-life experiences being a student in the program, with many opportunities working with architectural firms," adding that she would like to work with an architectural firm in her hometown after graduation.
She said the Forks of the Road project was the key highlight of her student experience. "We met with the National Parks Service representatives and got great feedback for our proposals, and shared a lot of ideas for what could be done going forward. It was a great experience from a student perspective."
Smith also praised Cewe-Malloy for her guidance. "She's my super-hero," Smith said. "Anything I ever needed, any problem I encountered, she was always there for me and has been so helpful. She's a great advocate for her students and in getting what they need to be successful."
Zach Portlock, a senior from Mobile, Alabama, said he enjoyed learning about the different kinds of software while being in the program, along with the experience of designing a project from scratch, learning about cost estimates for a project as well as the rule and regulations governing its design. He plans to pursue a master's degree in logistics at USM after earning his bachelor's degree.
Portlock said he also appreciated the opportunity to work on the Forks of the Road Project. "It was a great learning experience to go to Natchez, finding out more about the history of the site and what took place there."
Ogechi Oseji, a senior from Nigeria, said being in the program "has been exciting, not only for the academic experience and the many things I've learned about architecture, but also how with each project I've had an opportunity to learn about different cultures through my interactions with other students, clients and the firms we've worked with, learning not just about architecture but many life lessons." Oseji plans to pursue a graduate degree in architecture and go to work in a large architecture firm.
Marissa Redmond, a senior from Petal, Mississippi said she enjoyed "getting to experience and dabble in a little of everything having to do with architecture, plus more."
"These experiences really helped put us in a position to be successful," Redmond said, "plus the jobs and internships have allowed us to get a lot of hands-on experience in the process. I'm glad to have had this opportunity to be one of Leffi's students." After graduation, Redmond plans to join the Hensel Phelps firm in Orlando, Florida.
In reflecting on the Forks of the Road project, Redmond said being able to make a site visit was an important element in developing a project design. "We took in aspects of the land, the terrain and from that we were able to create something," she said. "It was a great opportunity to be a part of a new realm of architecture, talking to the client, and getting practice at presentations."
For Redmond, it was also important to come know more details about the history of the slave market from the site visit, and how that history would figure into the design of an interpretive center.
"It was heavy, emotionally," Redmond said. "I didn't realize this spot was such a big part of the slave trade. It really meant a lot to me learn about it, to learn about this history as well - to really feel the story, and then create something."

Dr. Erich Connell, director of the USM School of Construction and Design, said the Forks of the Road project was an important exercise in that it not only allowed students in the program to engage with a real client, but also helped them practice a necessary skill can only simulated in the classroom -- asking and listening to what a client wants and needs.

"The long-term potential outcomes of this project are that with the numerous proposals that students have made with the National Park Service, they (the NPS) will be able to show their constituents and do some fund raising that may garner sufficient support to make the project into a reality, and that all began with an idea on a piece of paper, in the studio, on the desks of our students," Dr. Connell noted.
"It is imaginable that one day in the future our students would go to and see this project in Natchez and know they had something to do with this, and feel a sense of accomplishment that is the spark of what architecture has to offer."
The Architectural Technology Program is housed in the USM School of Construction and Design. Its mission is to prepare students for successful careers in the design and construction industry, and also to prepare them for advanced study in professional Master of Architecture programs. The program also focuses on creative, business, technical, and communication skills necessary for a successful career in architecture. For more information about the Architectural Engineering Technology Program at USM, visit https://www.usm.edu/undergraduate-programs/architectural-engineering-technology.php.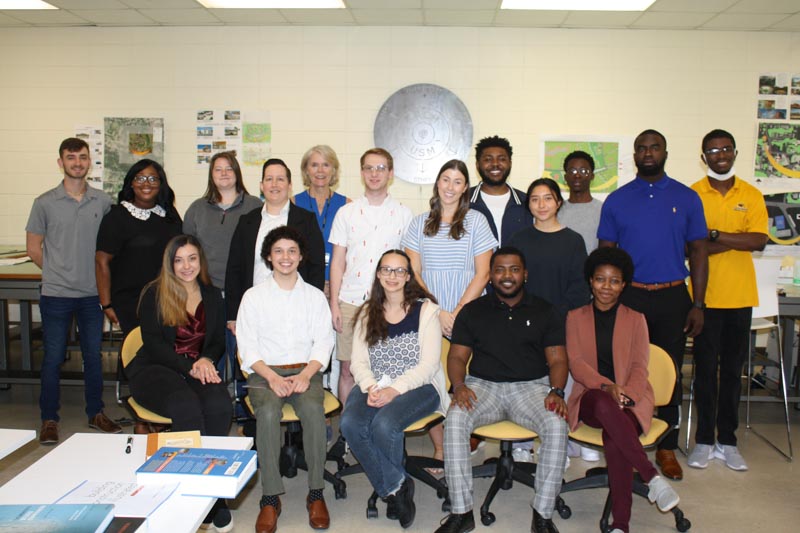 Students in the USM Architectural Engineering Technology Program gathered together for a reception and group photo before for the program's annual Senior Studio Presentation Day April 26. Pictured are, front row, left to right: Karlee Hillyard, Colt Lee, Breana Sykes, Antonio Darrington, Ogechi Oseji; back row, left to right: Brandon Prince, Mckenzie Mcdavid, Jordyn Smith, Marissa Redmond, Leffi Cewe-Malloy (faculty member and program coordinator), Brandon Pedersen, Holland Meier, Kenrick Perryman, Jennyfer Caracheo, Curtis Washington, Zachary Portlock, and Calvin Matthews.