USM Continues Tradition of Multiple Goldwater Scholarship Winners
Tue, 03/30/2021 - 11:21am | By: Carlee Causey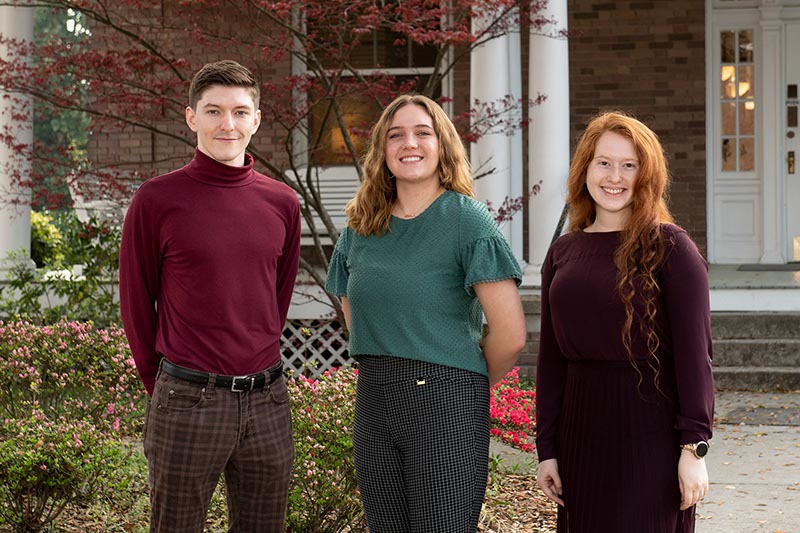 Three University of Southern Mississippi (USM) undergraduate students have been recognized for their research efforts as recipients for the prestigious Barry M. Goldwater Scholarship. USM is the only Mississippi college or university to have three Goldwater Scholars this year.
This year's recipients bring the total number of USM Goldwater Scholarship recipients to a state-leading total of 27. This marks the second time in three years, USM has produced three honorees.
USM's 2021 Goldwater Scholars:
Zachary Ahmad, of Richton, Miss., is a junior majoring in polymer science and engineering. Ahmad is member of the University's Honors College and is a Ronald E. McNair Scholar. Faculty mentor: Dr. Xiaodan Gu. Research emphasis: studying how different compatible materials can be blended to contribute valuable properties to a final polymer, specifically the impact on the morphology and mechanics of flexible electronics.


Kaitlyn Birkhoff, of Slidell, La. is a junior ACS Chemistry major. Also, a member of USM's Honors College, she was a 2019 and 2020 S.M.A.R.T. Scholarship for Service semifinalist. Faculty mentor: Dr. Matthew Donahue. Research emphasis: investigating new ways to synthesize piperidines, which is an important pharmacophore and is essential in the production of many FDA approved drugs and natural products.


Alyssa Necaise, of Kiln, Miss., is a junior polymer science and engineering major. A transfer student from Pearl River Community College, she is joined USM's Honors College in the fall of 2020. Faculty mentor: Dr. Jeffrey Wiggins. Research emphasis: maximizing electromagnetic and thermal shielding of aerospace composite matrices.
Each noted the Goldwater Scholarship's grueling academic requirements, while expressing gratitude that their hard work yielded rewarding results.
Said Ahmad: "As a first-generation, non-traditional student, pursuing research as a student at USM was always a scary concept for me, and though it has been a difficult journey, this accomplishment is confirmation that I made the right decision. I hope that this win encourages other non-traditional students to compete for competitive scholarships and most of all to become involved in STEM research."
Said Necaise: "I am happy to represent not only USM, but also transfer students with a unique path. As a first-generation college student, woman in STEM, and a transfer student, this honor represents a huge milestone in my career. I am grateful to everyone who has supported me in my journey, USM, and Pearl River Community College for paving my way to this moment."
Said Birkhoff: "Being selected as a Goldwater Scholar was the positive affirmation of my skills as a young researcher that I needed to pursue a lifelong commitment to the advancement of science, and further solidified my passion for chemistry and the scientific community. This scholarship has opened so many doors for graduate school, so I can now focus on contributing to meaningful research and further expand my career aspirations and goals."
From an estimated pool of more than 5,000 college sophomores and juniors, 1,256 natural science, engineering and mathematics students were nominated by 438 academic institutions to compete for the 2021 Goldwater scholarships. A total of 410 scholarships were awarded this year.
"The Goldwater Scholarship is considered the premier nationally competitive scholarship for undergraduate STEM (Science, Technology, Engineering and Math) students," said Carlee Causey, project director for Nationally Competitive Programs at USM. "The application process is demanding on top of these students' rigorous course load and numerous research hours in the lab. While the monetary award is significant, this distinguished achievement gives our students a competitive edge when applying to the most prestigious graduate programs in the country."
The Barry Goldwater Scholarship and Excellence in Education Foundation provides scholarships to college sophomores and juniors who intend to pursue research careers in the natural sciences, mathematics and engineering. The Goldwater Foundation awards scholarships of up to $7,500 a year assisting with costs associated with tuition, mandatory fees, books, room and board. A sophomore receiving the Goldwater Scholarship will receive up to $7,500 in each of his/her junior and senior years. A junior will receive up to $7,500 in his/her senior year.
Dr. Ellen Weinauer, Dean of USM's Honors College, emphasized that the students represent the best of what Southern Miss and the Honors College have to offer.
"These Honors College scholars demonstrate the kind of academic initiative and campus leadership that we seek to nurture in our students, and we are delighted to see them recognized by the Goldwater Foundation," she said.
---
The Barry Goldwater Scholarship and Excellence in Education Foundation was established by Congress in 1986 to serve as a living memorial to honor the lifetime work of Senator Barry Goldwater, who served his country for 56 years as a soldier and statesman, including 30 years in the U.S. Senate.
To see the complete list of 2021 Goldwater Scholarship winners, visit: https://goldwater.scholarsapply.org/2021-goldwater-scholars-by-legal-state-of-residence/