Higa Takes Helm of The Pride of Mississippi Marching Band
Fri, 05/21/2021 - 14:41pm | By: Mike Lopinto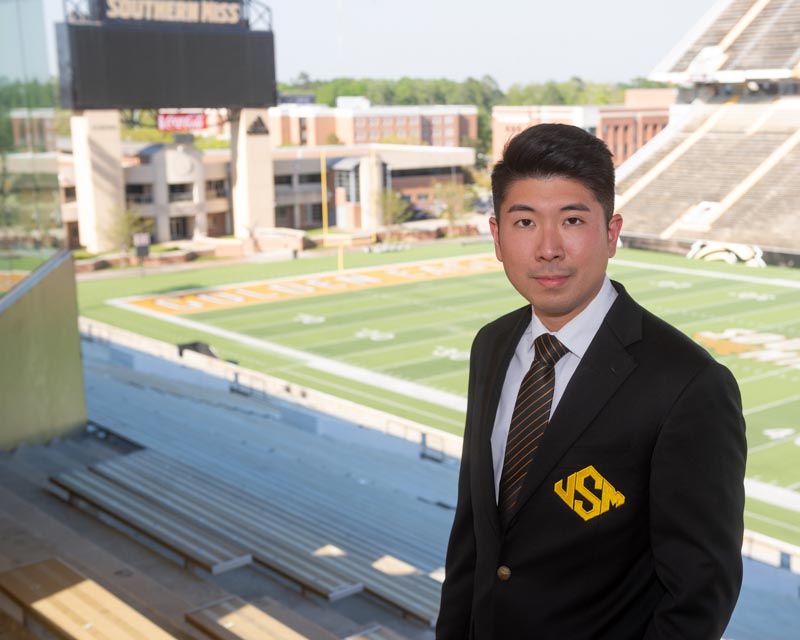 The University of Southern Mississippi (USM) School of Music has named Dr. Travis Higa interim director of The Pride of Mississippi Marching Band. He moves from his position as associate director to replace Dr. Colin McKenzie, who was recently named Director of the School of Music.
Higa is completing his second year at USM as the assistant director of bands and associate director of the Pride of Mississippi. Prior to USM, he studied wind conducting at Michigan State University while also serving on faculty at Oakland University where he conducted the Symphonic Band and taught course work in music education.
Before studying at Michigan State, Higa taught instrumental and general music in the Longmeadow Public Schools in western Massachusetts, as well as served as music director and founder of the Youth Wind Ensemble of Springfield at the Community Music School of Springfield, Mass.
"I have a great respect for the Pride of Mississippi and the long-standing tradition and excellence that this organization exemplifies within the School of Music, the University, and the community," said Higa. "I am extremely fortunate to have spent the past two seasons with The Pride and am eager to continue collaborating with our outstanding students and establish a strong sense of community within our family of students, alumni, and directors."
A native of Kaneohe, Hawaii, Higa holds a Doctor of Musical Arts in Wind Conducting from Michigan State University, a Master of Music in Trumpet Performance from the University of Montana, and a Bachelor of Music in Music Education from the University of Nevada, Las Vegas.
Since its founding in 1920 as a 20-piece brass ensemble, the Pride of Mississippi Marching Band has evolved into a boastful organization of more than 300. The band performs at all home football games, numerous away games, and high school marching band contests and festivals during the football season. The band has performed before presidents, governors, and even the Lord Mayor of Dublin, Ireland twice (1993 and 1997), having toured throughout the United States and to England and Ireland.
Performing for such events as the F.D.R. inaugural parade in the 1930s, the Senior Bowl, and professional and collegiate bowl games including a performance with the Green Bay Packers at Lambeau Field in 2006. The Pride has enjoyed more television and national audience exposure than any other band in the South. The program at Southern Miss is regarded throughout the nation as one of the finest band programs.