Hub City Players Headline Opening Night of FestivalSouth
Tue, 05/25/2021 - 14:55pm | By: Mike Lopinto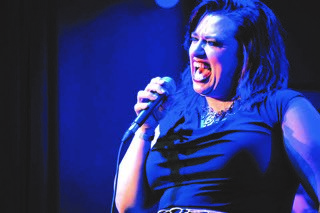 FestivalSouth® opens its 12th season in person and online with a FestivalFavorite, the Hub City Players, in a special show created just for our audiences - Broadway in the 'Burg - on Saturday, June 5, at 7:30 p.m. at the Mannoni Performing Arts Center on The University of Southern Mississippi (USM) Hattiesburg campus.
Featuring a special reunion of the Hub City Players casts of Rock of Ages, James and the Giant Peach, Steel Magnolias, Sister Act, and Kinky Boots, as well as Hub City Players LOL Cabaret regulars, the night will include highlights from each of their past shows, a live band, and a few surprises. Limited tickets are available now at festivalsouth.org.
Presented with generous support from Visit Hattiesburg, Visit Mississippi, Trustmark, Fisher Brown Bottrell Insurance, Inc., Charles Griffith, David Hollis, and Beverly Dale, the cast includes Brett Barnes, Mely Berdion, Patrick Berry, Jennie Blackwell, Jacobi Daughrity, Cymon Davis, Blair Dudas, Patricia Garner, Latisha Hamilton, Derrek Howell, O'Neil Jones, Seth Karas, Lauren Cate Leake, Harlan Mapp, Christian Sandoval, Lucy Sanguinetti, Ella Seymour, Caitlyn Smith, Joe VanZandt, David Walker, Amy Yanes, and Hub City Players founders Mike Lopinto and Tammy Mansfield. Band members include Alison Post (piano), Lowery Hicks (bass), and Drew Wooton (drums).
"After such a long hiatus from the stage, this show is a cathartic family reunion that we as performers and Hattiesburg needs," said Tammy Mansfield. "While the show contains ovation-worthy hit after hit, I think the audience is going to be particularly moved by the opening number Mike Lopinto has planned."
The Hub City Players were formed in 2012 for a one-night-only original FestivalSouth cabaret production entitled, LOL: A Showtune Cabaret. The event was a smashing success and led to several follow-up concerts including LOL 1.5, WLOL: Festival Variety Show, LOL: Never a Bridesmaid, and LOL: Netflix and Chill.
Soon the full-scale productions and Best of the Pine Belt winners became mainstays of the Hattiesburg's professional theatre scene. In 2016, they supported the local non-profit Extra Table by writing and performing Rockin' Christmas at the historic downtown Saenger Theater. After hosting their own fundraisers, Brewhaha and Brewhoho, the troupe embarked on annual, fully-staged musical theatre productions.
In 2014, the Hub City Players was the winner of the esteemed national award The American Prize for Musical Theater Performance for their production of James and the Giant Peach. The troupe has a cult-like following that has come to expect exceptional performances and a wonderful evening.
Tickets for the show are $25 and may be purchased at www.festivalsouth.org. For more information, visit festivalsouth.org and social media including Facebook, YouTube, Instagram, and Twitter.
About FestivalSouth
FestivalSouth, the largest project of the Hattiesburg Concert Association (HCA), is an annual, multi-week festival presenting a variety of musical and other arts-related entertainment that aims to transcend social, cultural, and economic lines. This year, the festival celebrates its 12th anniversary, FestivalSouth is credited with bringing over $2 million in economic impact to the community last year alone and has distinguished itself as the premier arts presenter in the region, drawing locals and tourists of all ages with its' wide variety of cultural programming, that features exceptional performing and visual artists.