School of Communication Hosting Boot Camp for Aspiring Journalists
Mon, 07/19/2021 - 13:37pm | By: David Tisdale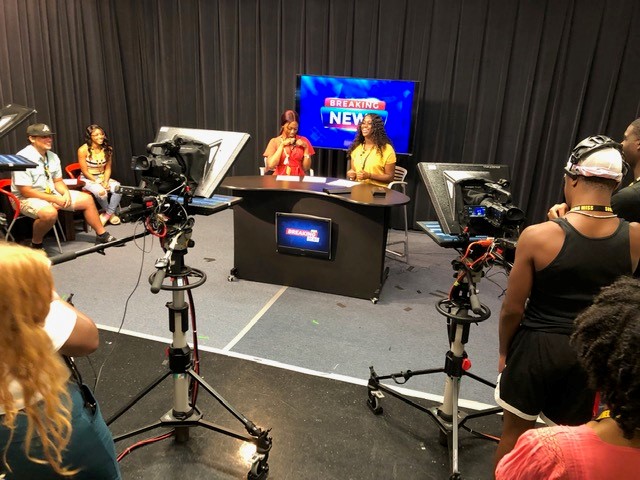 Photo by Chuck Cook
The University of Southern Mississippi (USM) School of Communication is hosting a 'boot camp' this week for high school students from across the state who are interested in pursuing journalism as an academic program in college and as a career. The Mississippi Scholastic Press Association and Mississippi Association of Broadcasters are co-sponsors for the event.
Students from Greenville to Gautier are signed up for the program taking place on the USM Hattiesburg campus, which provides them opportunities to cover stories concerning the university and local community for print, photography, and video journalism.
The students will also hear from media professionals who will speak to them about their craft and discuss the finer points of news coverage on various topics and how to employ best practices in journalism for each medium.
Chuck Cook, news content advisor for the School of Communication's Student Media Center, is coordinating the program. Cook said the stories covered by the student will be plugged into a professional newscast that will be available later for viewing on YouTube.
"We hope that the week's activities will give the students a taste of what is possible in the world of mass media, including what we offer here at USM that can lead to rewarding careers as professional journalists as reporters, television anchors, videographers and photojournalists."
For more information about this program, contact Cook at charles.cookFREEMississippi. For information about the USM School of Communication's degree programs and the research and service activity of its faculty, visit https://www.usm.edu/communication/index.php.