Andrea Kostyal Painting Celebrates FestivalSouth's Return, Available for Auction
Thu, 05/20/2021 - 10:48am | By: Mike Lopinto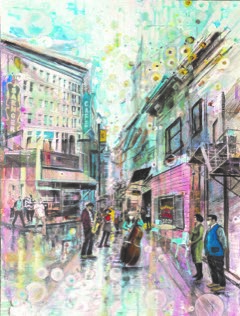 As FestivalSouth® returns to live and live streamed events throughout June, artist Andrea Kostyal provides a fitting tribute to this reemergence of not only the festival, but also Hattiesburg in her new painting entitled, "Reemergence."
Each year's commemorative painting has become a collector's item with its auction supporting FestivalSouth activities well into the future. The masterwork is available to view and bid on through 7 p.m., June 26 at festivalsouth.org.
With her most recent cityscape mural part of Hattiesburg's Public Art Trail, "New Norm 2020," artist Andrea Kostyal's dreamlike urban landscapes have captivated the city and made her a natural choice to represent FestivalSouth in this "new normal" for the arts in our area.
"I am happy to represent this special time for FestivalSouth and our community," said Kostyal. "In my most recent 'New Normal' series that I have created during the pandemic, my goal is to encourage viewers to stay positive and most importantly united."
The painting is 30 x 40 inches acrylic on canvas and features a trio of musicians performing for onlookers. Recognizable Hattiesburg landmarks surround them in deep perspective colored with subtle reflections of color and light. Abstract bubbles float into the sky above those returning to enjoy our vibrant arts culture.
From June 1 – 30 at The University of Southern Mississippi Gallery of Art and Design, conveniently located across from the Mannoni Performing Arts Center on the Hattiesburg campus, there will also be a showing of Kostyal's works alongside her colleague from Southern Miss, Allen Chen. "Converging Voices" draws connections between her paintings and Chen's ceramic work.
These two bodies of work together represent how the different roads in each artist's creative life have converged onto the same path during this pandemic. Their respective art forms voice and share perceptions of current events that they, as artists, and the public, experience collectively.
A native of Hungary, Kostyal has been creating art since early childhood. Being a shy child, music, drawing, painting and crafts were important ways to express herself. After taking private art lessons for a year, she was accepted to Secondary School of Arts in Pecs, Hungary where she majored in textile. The four-year school also included drawing, figure drawing, painting, and weaving. In 2001, she moved to the United States.
This major change in her life impacted her art. Previously painting nonrepresentational, emotional, expressionistic works, her curiosity towards the new environment led her to find interest in different techniques. She had her first juried exhibition in Atlanta before moving to Connecticut where she started to exhibit in the surrounding areas, including Willimantic, Tolland, then Providence, Boston, and New York.
Since 2008, she has called Hattiesburg, Miss., her home. She immediately became involved in the regional and local art scene through nonprofit art organizations like the South Mississippi Art Association, Hattiesburg Arts Council and the New Orleans Arts Council, joining the Mississippi Art Colony in 2012 and Women's Art Collective in 2016. She has been invited to solo and group exhibitions at universities and her art has been accepted to juried art competitions in museums across the country.
"I hope that gatherings will be more joyful; and hugs will be warmer; and conversations will be more meaningful," said Kostyal. "I hope it will be like the way when you go through a difficult time over your life and we will be stronger and we will focus on the things that really matter to us and we will support that."
The Hattiesburg Concert Association (HCA), parent organization of FestivalSouth and the Meistersingers, depends on ticket sales and projects like this to raise funds to continue the high-quality programming the community has come to know and love in the future. The auction of this painting will help support FestivalSouth during these challenging times.
"The HCA wants to be there for the community now and in the future" said Amanda Powell, chairwoman of the HCA. "A bid on the painting today supports that hope and helps us share relief that the arts uniquely provide during this return to a 'new normal.'"
Bids and outright donations may be made online at festivalsouth.org. For more information and assistance, please call 601.297.5172.
---
About FestivalSouth
FestivalSouth, the largest project of the Hattiesburg Concert Association (HCA), is an annual, multi-week festival presenting a variety of musical and other arts-related entertainment that aims to transcend social, cultural, and economic lines. This year, the festival celebrates its 12th anniversary, FestivalSouth is credited with bringing over $2 million in economic impact to the community last year alone and has distinguished itself as the premier arts presenter in the region, drawing locals and tourists of all ages with its' wide variety of cultural programming, that features exceptional performing and visual artists.