USM Alumna Wins 2021 MDE Administrator of the Year
Tue, 05/25/2021 - 14:47pm | By: Karelia Pitts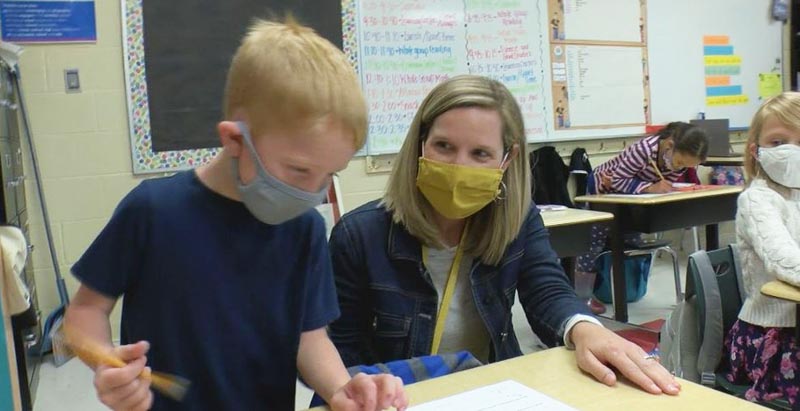 After pouring everything she had into ensuring teachers and students at DeLisle Elementary School in Pass Christian, Miss., experienced a safe and successful school year during the COVID-19 pandemic, Dr. Mandy Lacy describes winning 2021 Administrator of the Year for the Mississippi Department of Education (MDE) as icing on the cake.
"It has truly been a surreal experience. There are so many administrators that are deserving of this honor. To have been selected, especially during such a difficult year, is extremely humbling," Dr. Lacy said. "I'm so thankful we have been able to provide high-quality, standards-based instruction for our students, keep our staff and student body safe, and successfully complete our school year. Despite challenges, our DeLisle Pirates have had a great year. This recognition is just icing on the cake."
A two-time graduate of The University of Southern Mississippi School of Education, Dr. Lacy gained her foundation in elementary education at the Gulf Park campus in Long Beach, Miss. Growing up on the Mississippi Gulf Coast, she enjoyed the flexibility Southern Miss offered to pursue her dream of being a teacher without having to leave the community where she was already working and serving. After graduating with her bachelor's degree in 2002, she secured a teaching position at DeLisle Elementary and has stayed there since.

From a second-grade classroom to the assistant principal's office and eventually the principal's office, Dr. Lacy has continued to learn and grow. Her dedication to lifelong learning and passion for instilling a love of learning in others are a few of the reasons why she was selected to represent her district in the annual MDE Administrator of the Year program.
One of four administrators who were selected from across the state as finalists for the top honor, Dr. Lacy exemplifies the award criteria through her superior ability to inspire teachers, employ exemplary leadership practices and participate as an active community member.
Lesson planning has always been fun for Dr. Lacy because she enjoys digging into standards to find ways to make learning meaningful for her students. After five years in the classroom, Dr. Lacy enrolled in the Master of Education program at USM in 2007. Not expecting to rise to administration so quickly in her career, she saw graduate school as a way to learn more about educational leadership so her knowledge of curriculum could stretch beyond the walls of her own classroom.

Through a hybrid program offered at the Gulf Park campus, she continued working while advancing her education at the graduate level. With support from the World Class Teaching Program at USM, she earned National Board Certification in 2008 from the National Board for Professional Teaching Standards and completed her master's degree in 2009. Soon after, she became lead teacher, then assistant principal in 2011 and principal in 2017.

"I believe the influence teachers have on students is immeasurable, but the influence that educators have on one another is equally important. My graduate school cohort at Southern Miss allowed me to work closely with and learn from others that were working toward similar goals. I enjoyed the special opportunity to form lasting bonds with fellow future administrators," Dr. Lacy said. "The biggest thing I've learned is that each school year is completely different. Teacher and student needs ebb and flow, and my degrees from USM have helped me be prepared for the unknown."
Dr. Lacy attributes much of her success to the wonderful instructors she has been fortunate to learn from at every level of her education. During her acceptance speech in the live-streamed ceremony for the MDE Administrator of the Year award, she expressed gratitude for the fellow educators who have showed her what it looks like to be committed to excellence.
For current students aspiring to careers as teachers and administrators, Dr. Lacy offers encouragement and some advice she has picked up during her 19 years in education.
"Every day brings its own challenges, but if you remain focused on student learning, each decision you make will be easier. Our role as teachers is not to make adults comfortable; we are here to educate our students and shape them into lifelong learners and contributing citizens.
Form a leadership team that shares your vision. It's important to have teachers that understand where you are going and the steps that are necessary to get there. Utilize feedback from your leadership team and be open to constructive criticism. It'll make you better.
Most importantly, never assume you are above the work. Be visible and approachable. As an administrator, visit classrooms for more than observations. Coteach, form relationships with kids, make positive phone calls home, and recognize your staff for the job they are doing. Teachers need to feel supported to be at their best for our children. It is our job to ensure they have what they need so they can do what they do best."
As the recipient of the Mississippi Administrator of the Year award, Dr. Lacy will receive a $5,000 stipend. Over the next year, she will share her expertise through various presentations and activities for the improvement of education in the state. She looks forward to encouraging other teachers and administrators through this role and hopes her story and experiences will inspire others to never stop learning and striving to be better.
"Education drives all other occupations, so we need to remain up to date on best practices. I encourage all teachers to continue their education because there is always more to be learned!"

For more information about undergraduate and graduate programs in education offered by the USM College of Education and Human Sciences, visit usm.edu/education.