USM School of Music Introduces First Live Stream Team
Tue, 04/20/2021 - 14:07pm | By: Mike Lopinto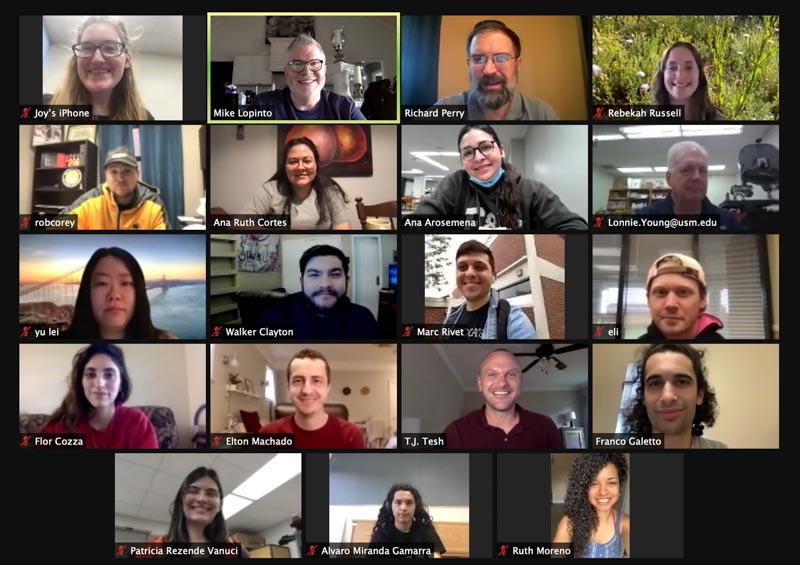 Work in the arts during the COVID-19 pandemic has required faculty, students, and staff at The University of Southern Mississippi (USM) to acquire and hone new skills - not the least of these was how to use a variety of technologies in new ways.
When the School of Music determined that there would be no audiences allowed into any recitals or concerts, they had to figure out a way to allow friends, faculty, staff, parents, and other concertgoers to participate in events. The answer was both simple – live stream – and yet complicated. The school created a structure from the ground up that saw them working in small, rotating groups, to livestream and record almost 200 recitals and concerts in 217 days over the last two semesters.
Last July, the School of Music started by purchasing a significant amount of recording and livestreaming equipment. Knowing the caliber of audio and video expected of a world class performing organization, they had it expertly installed. Then they began the process of training faculty, staff, and students to use the equipment.
"We are very appreciative for the efforts of the USM I-tech department, the USM Physical Plant, the College and University administration, outside contractors, and many others for making this happen," said Dr. Jay Dean, Director of the School of Music.
Seeing this as a valuable learning opportunity, Dean reached out to students across the School of Music to gauge interest in learning how to record and livestream recitals and concerts. He created a class called "The Basics of Livestreaming" and initiated the first Livestream Team. Over the past eight months the team learned the basic skills necessary to record and livestream.
"Most performers who were recorded or livestreamed have no idea about the number of people who were involved in getting their recitals and concerts livestreamed," said Dr. T.J. Tesh, a faculty member who helped organize the team. "They deserve a big thank you for all of the planning, coordination and work that they have done to make all of these livestreams happen."
Comprised of School of Music students, the team leaders were Ana Ruth Cortes and Marc Rivet. The Marsh Auditorium and Intermezzo@Woods Gallery Livestream Team members included Evelyn Anderson, Ana Arosmena Sandoval, Ruth Moreno Calderon, Florencia Cozza, Franco Galetto, Yu Lei, Elton Machado, Francisco Marco, Joy Parker,, Jujia Qin, Rodrigo Quintana, Rebekah Russell, Nathan Tubbs, Patricia Vanuci, and Alvaro Miranda Gamarra. The Mannoni Performing Arts Center and Bennett Auditorium Livestream Team members included Eli Brand, Aaliyah Chatman, Walker Clayton, Alexander Dutt, and Andrew Sheets.
Other team members were faculty and staff, including Rob Corey, Mike Lopinto, Richard Perry, Laurie Rinko, T.J. Tesh, and Lonnie Young. Local partners for installation, training, and technical assistance included Daren Byrd, Aaron Cook, and Josh Shropshire of Stagetec and Daniel Lozada of Gulf South Productions.
"Without the ongoing efforts of the people above, we would not have been able to livestream any of our events," Dean noted. "They accomplished an extraordinary and very important task not only for the School of Music, but also for our students, their families, and our community."
Live stream events for the School of Music may be found on their YouTube channel at youtube.com/USMmusic1.