USM Professor Receives NSF CAREER Grant to Study Plastic Electronics
Wed, 02/17/2021 - 20:41pm | By: Van Arnold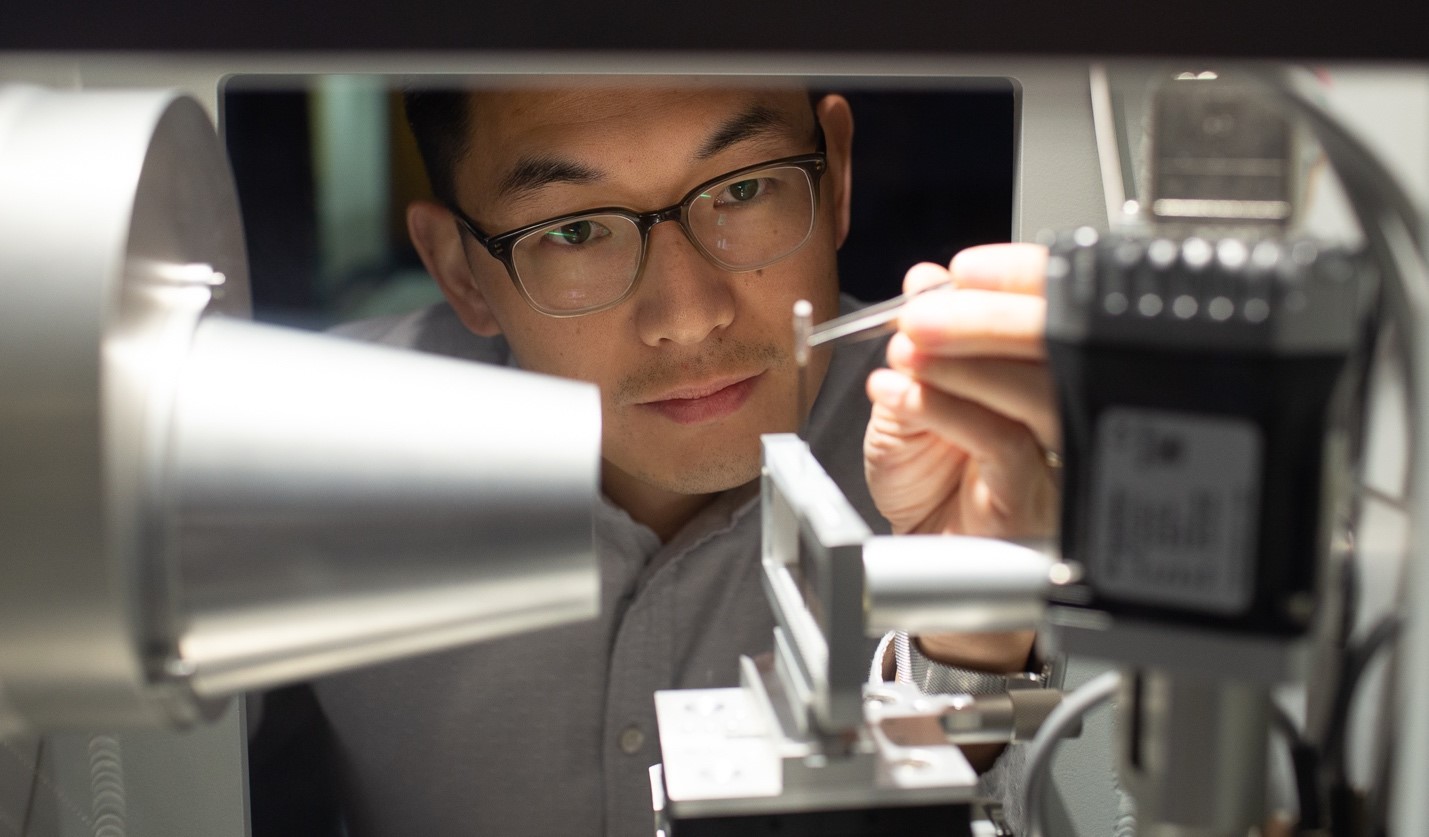 Imagine a cellphone so soft, so pliable that you can fold it like a man's wallet. Inside the laboratory of polymer science Professor Xiaodan Gu, a research team works diligently to make the unthinkable possible.
Gu, an assistant professor at The University of Southern Mississippi (USM), recently received a $593,505 National Science Foundation CAREER Awardee grant to help further his research. The five-year award from the NSF Division of Material Research Polymers Program will fund Gu's proposal: "Thermomechanical Property Control of Confined Conjugated Polymeric Thin Films."
In layman's terms, Gu's research aims to develop the next generation of soft and electronic devices. Most electronic devices on the market today feature hard and rigid physical properties. They are predominantly strapped onto our bodies as wearable instruments.
"There are no established design roles to understand, control and predict the softness and pliability of new electronically active materials," said Gu. "This is where our group comes into play. We intend to address this challenge by developing fundamental new knowledge on the dynamics of polymer macromolecules and thus provide a pathway to make ultra-soft electronics that can enable the next generation of soft electronic devices for future wearables and implants."
Gu was understandably thrilled to receive notification of the award from his program manager Dr. Andy Lovinger, a renowned polymer scientist and polymer research advocate at the National Science Foundation.
"It feels great for our research team at USM to receive this type of nationwide recognition. It is truly an honor to bring this award to the USM campus," said Gu.
Dr. Derek Patton, Director of USM's School of Polymer Science and Engineering, notes that the NSF CAREER award recognizes Gu as an outstanding teacher-scholar engaged in cutting-edge research, excellent education, and the integration of education and research within the context of the University mission.
"The award not only recognizes the excellent research being done by Dr. Gu and his group, but also highlights the strength of his research-integrated education and outreach programs," said Patton. "With this support, Dr. Gu aims to fill fundamental knowledge gaps of how polymer molecular structure influences the thermomechanical properties of conjugated polymer thin films – knowledge that will inform the design of next-generation deformable electronics."
Gu has been served as an assistant professor at USM since January, 2017. He has previously been honored with the Powe Junior Faculty Award and the American Chemical Society PMSE Young Investigator Award.
His research team includes three graduate students: Song Zhang, a USM graduate student Hall of Fame awardee; Fulbright Scholar semifinalist Nathaniel Prine, and Luke Galuska.
Part of Gu's vision is to work with local high school students and teachers in an effort to showcase some of the contemporary applications of plastic materials that might inspire the pursuit of polymer science degrees.
"With our work we have the potential to push the electronics into new areas that you cannot imagine today," said Gu. "Think about in the future that electronics can be used as disposal sensors to monitor your physical condition at home when you are sick. Think about the position even to restore your sensors when you lose them. Our team will develop, test, and validate new electronically active polymers using special instrumentation and develop new models to predict and control their softness."
Imagine the possibilities indeed.