USM English Professor's Podcast Reaches Impressive Heights
Wed, 02/10/2021 - 10:20am | By: Van Arnold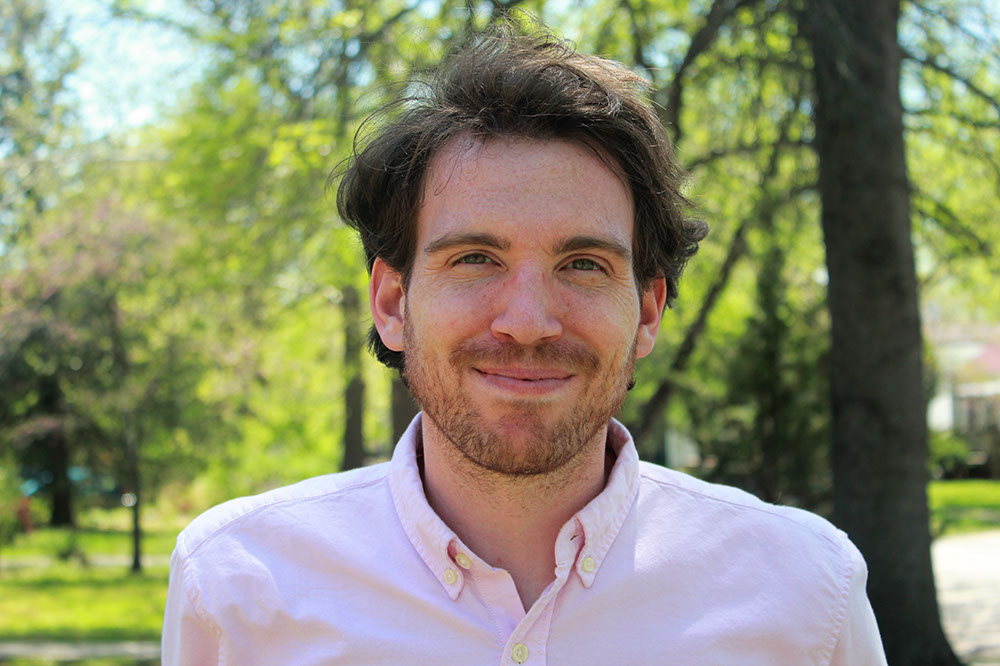 Call it serendipitous. Or maybe, fortuitous? Both could apply to a fledgling idea conceived during a car ride nearly two years ago that has blossomed into an immensely popular, highly successful podcast created by University of Southern Mississippi English Professor Shane Wood.
In April of 2019, Wood launched Pedagogue, a podcast about teachers discussing all aspects of writing. Pedagogue is designed to foster and promote diverse voices at various institutions in the United States and abroad.
To date, the podcast features almost 70 episodes, with more than 27,500 streams. Much to his amazement, Wood's interactive podcast has been heard in more than 45 countries, while also capturing the 2019 Computers and Composition Michelle Kendrick Outstanding Digital Production/Scholarship Award.
"I thought it would reach a handful of people at most," said Wood. "I never imagined it would win a national award, or be used in undergraduate and graduate writing classes, or be associated with an academic press. I mean, I had no idea any of that would happen."
Wood could not fathom that people would reach out, telling him how the podcast serves as an important contribution to writing studies as a field, or that teachers would email him to share that Pedagogue was being used as a tool in their classes.
"All of that is just unbelievable," said Wood.
And to think it all began when Wood and his wife, Melody, were returning home from a wedding in April of 2019.
"We were listening to a podcast called This American Life," said Wood. "I asked her if she thought I could create a podcast where I talked with different writing teachers across the nation about teaching writing. She supported the idea and thought I could do it."
He came up with the name Pedagogue on the drive back home. Pedagogue means "teacher." "I felt like that word, in the broadest sense, captured what the podcast was all about. Teachers talking writing," said Wood. "The podcast was an opportunity to amplify teacher-scholar perspectives and voices across institutional sites and positions. I wanted the podcast to be a space that helped foster community and collaboration among teachers of writing."
Each episode includes one, or more, teachers, conversing about the subject matter for approximately 20-25 minutes. Wood views Pedagogue as a place where teachers find community, where ideas and classroom practices are shared, and where educators learn from one another.
"Podcasts are a form of storytelling. They bring people together," said Wood. "They create an opportunity for people to listen and engage. I've always been fascinated by the potentiality of podcasts as a kind of dialogue that invites people in. Podcasts can be sites for inclusivity and diversity. There's something really beautiful about that."
Wood notes that the remarkable progress of Pedagogue has impacted his career in myriad ways. Among those: he considers himself a better teacher; he knows more about teaching writing; he knows more about classroom practices and strategies and different approaches to teaching; he knows more about other institutional contexts and writing classes; he knows more about how people's research informs their teaching and vice-versa.
"I also feel a deeper connection between me and the contributors, and between me and the listeners," he said. "The podcast doesn't exist without these people. I've been overwhelmed with support from my colleagues and peers across institutions. I've had the opportunity to meet some amazing folks, and I've been invited to different universities and classrooms to talk about my work with the podcast. Along the way, I've gotten to meet some incredible students at other institutions."
A faculty member at USM for 2 ½ years, Wood envisions Pedagogue continuing to grow and expand.
"I love talking to teachers and listening to people's stories and their approaches to teaching and their writing," he said. "I think the podcast can go on for a long, long time. There are so many teachers and so many people to talk to about writing."
Learn more about Wood's podcast at: https://www.pedagoguepodcast.com/. Pedagogue is available on Apple Podcasts, Google Podcasts, Spotify, Stitcher, SoundCloud, or wherever podcasts are available.