USM percussion Alums Marching to the Beat of the Same Drummer
Fri, 10/29/2021 - 17:08pm | By: Mike Lopinto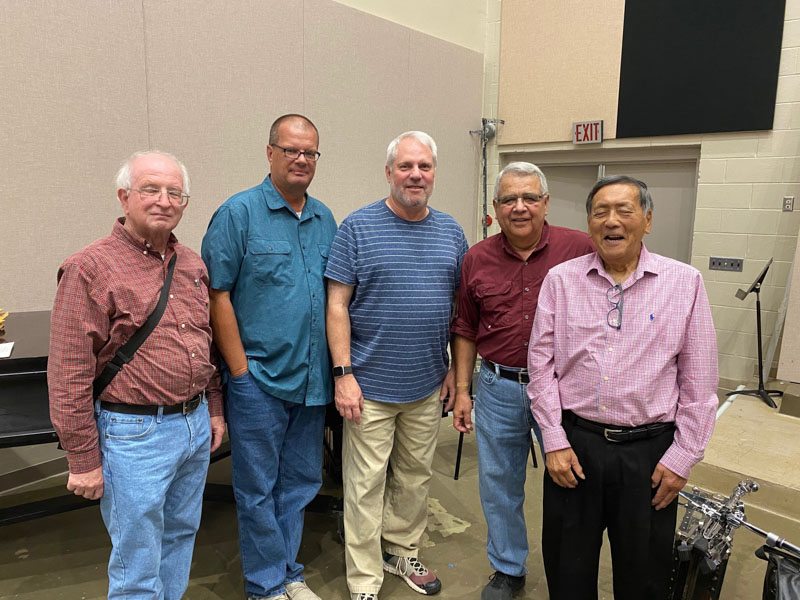 At a recent rehearsal of the City of Hattiesburg Concert Band, percussionists Richard DeLaFuente, Jeff Brown, and Mark Yeager, along with conductors Kyle Hill and Sherman Hong realized that it was the first time several generations of Southern Miss students and their teachers were all performing together at the same time in the same place.
They will get to relive the experience as all will be part of the band's Nov. 7 concert that celebrates our veterans. The concert, at the Saenger Theatre in Hattiesburg, begins at 3 p.m., is free, and open to the public.
"Being able to reunite and now play alongside two of my greatest mentors in Richard and Dr. Hong has allowed me to come full circle in my percussion life," said Yeager. "And as if that isn't enough, I get to watch my student, who is now the teacher, in Dr. Hill do what he has done throughout his career….leading musicians to be the best they can be from the youngest to us old guys."
Hong first met Richard DeLaFuente in the early 1970's as a percussion student at Southern Miss. During DeLaFuente's senior year, Hong asked him to teach a young percussion student from Taylorsville - Mark Yeager. Several years later as a senior at Taylorsville High School, Yeager taught a young Kyle Hill.
Yeager attended USM where he played snare drum with The Pride of Mississippi with Hong as the percussion instructor. Soon, Brown would be hired at Jones County Junior College (JCJC) as the percussion instructor. That same year Hill would enroll at JCJC and a student of Brown, who was completing graduate school at Southern Miss with Hong as his professor.
During Hill's time at JCJC, the City of Hattiesburg Concert band was formed and Brown, who was a founding member along with Hong, encouraged him to come play. He met Hong and would transfer to USM when he finished at JCJC.
DeLaFuente recalls that Hong taught him to be a percussionist and not "just a drummer." More and more, as a college student, he relied on his expertise and friendship in the percussion family.
"Around ten years ago he called and asked if I would consider playing a concert with the Hattiesburg Concert Band," said DeLaFuente. "I enjoyed it so much, that I continued to play additional performances. His influence and style still has a large influence on us all, even after 50 years, and I, for one, feel grateful for the inspiration, knowledge, love of music, and desire for excellence he instilled( and still does) in us all."
Brown agreed, "I am proud to have been involved with the City of Hattiesburg Concert Band since its founding. Dr. Hong is a great teacher and a great colleague. He has served the University of Southern Mississippi, and the city of Hattiesburg with distinction."
The City of Hattiesburg Concert Band was founded in 1982 by then retired USM Director of Bands, Dr. Joe Barry Mullins. Currently one of the longest running community bands in the Southeast, the "City Band" has not missed a single year except for the 2020 season due to Covid. The members are band directors, retired band directors, medical doctors, graduate students, high school students, housewives, teachers, and people from all across the community and South Mississippi. Several members drive from the Gulf Coast and Jackson to play with the band.
The band typically presents 4 concerts per year and one big band concert as well. Past conductors include Dr. Joe Barry Mullins, Mr. Ray Young, Mr. David Young, Dr. Sherman Hong (Conductor Emeritus) and the current conductor Dr. Kyle Hill.
The November 7 concert is planned as a salute to our Veterans and First Responders. This is always a special time as the band and community offer their thanks to the people that keep us safe and free today. The sacrifices these people and their families make on a daily basis, should never go unrecognized.
For more information on the concert and how you can participate, visit the groups Facebook page.