Southern Miss Theatre Announces 2021-2022 Season Lineup
Mon, 08/23/2021 - 14:57pm | By: Ivonne Kawas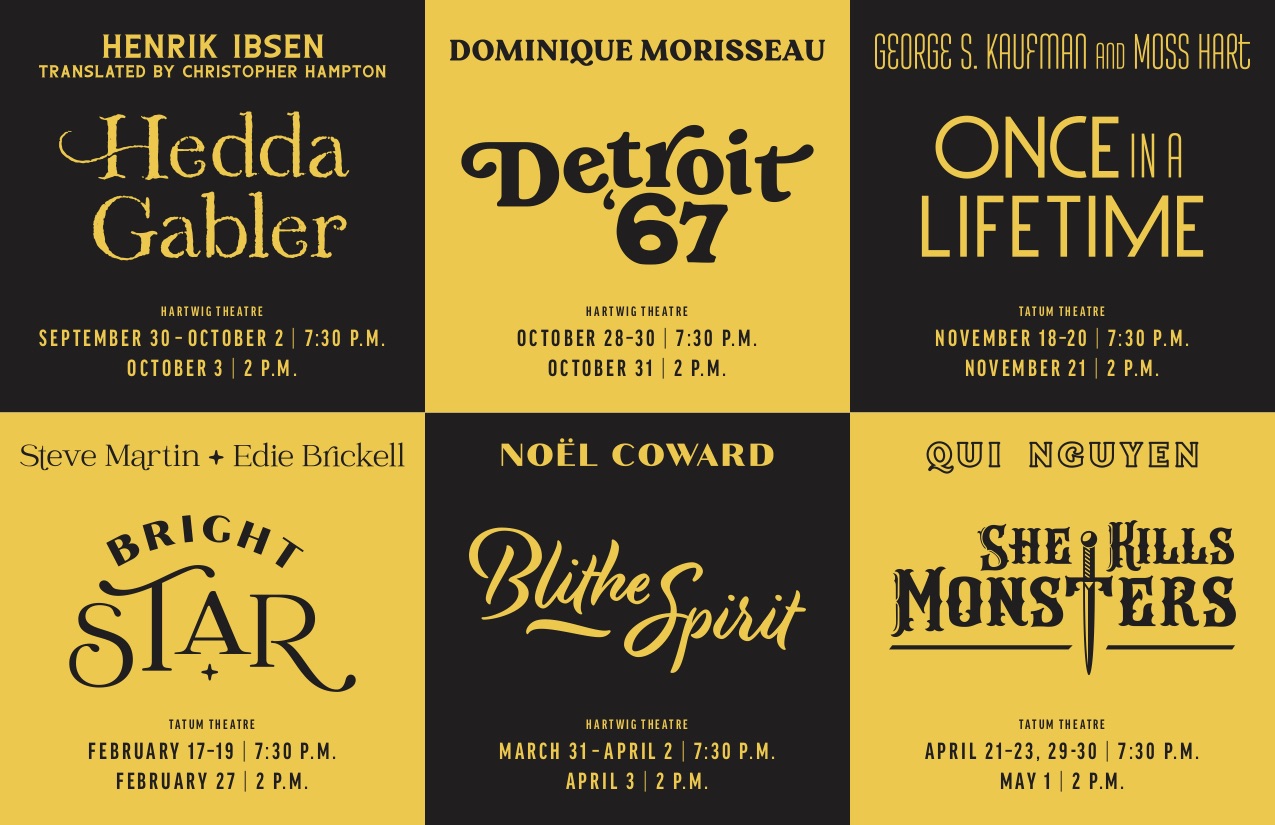 The University of Southern Mississippi (USM)'s Theatre program, housed in the School of Performing and Visual Arts, returns with new and exciting theatrical performances ranging from strong drama to humorous satire. The season opens on Sept. 30 and closes on May 1, 2022, with both in-person and live stream tickets available.
The season kicks off with drama Hedda Gabbler by Norwegian playwright Henrik Ibsen; translated by Christopher Hampton. Ibsen's classic of realism depicts a woman's struggle to carve out her own place in a male-dominated world. His incisive dialogue crackles in this translation by recent Oscar-winning screenwriter Christopher Hampton.
Ellie Boykin, from Mobile, Ala., in the MFA program in performance, will tackle the challenge of playing Hedda Gabbler — one of the greatest dramatic roles in theatre.
"I am thrilled to be taking on such a strong and empowered role in such a time as this," said Boykin. "This iconic woman, often described as the female-Hamlet, is a perfect way to return to the main stage and live theater."
Dominique Morisseau's Detroit '67, which is set for late October, dramatizes an explosive moment in American history, the race riots that shook Detroit, Mich., in the summer of 1967.
Later in the season, Moss Hart and George S. Kaufman bring us Once in a Lifetime, the tale of three friends in the 1920s who leave vaudeville to head to Hollywood. This production will be directed by Lou Rackoff, professor of theatre and head of the directing program.
"This is a fast-paced knockout satire of the Hollywood film industry in the late 1920's," said Rackoff. "For three 'on-the-skids' vaudeville troupers there is only one answer: 'California, here we come!'"
Acclaimed comedian and writer Steve Martin collaborated with songwriter Edie Brickell on Bright Star, a bluegrass musical that paints a picture of North Carolina from the 1920s through the 40s. Alice Murphy and Billy Cane are strangers when they meet, he a writer and she a newspaper editor. They soon discover a connection that runs deep and will change their lives.
Premiering at the end of March is a hilarious and evocative comedy by Noël Coward, Blithe Spirit, that tells the tale of a ghostly love triangle.
Closing the season is Qui Ngyuen's contemporary hit that brings fantasy roleplaying games to life. Filled with monsters, dungeons, and, yes, dragons, She Kills Monsters is a comedic exploration of a world where fantasy and family collide.
Find the 2021-22 Southern Miss Theatre season and ticket information.