Women's History Month Activities at USM start March 4
Wed, 03/03/2021 - 10:07am | By: David Tisdale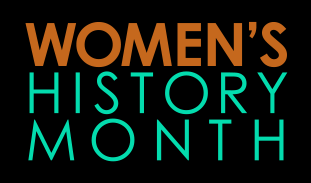 The Committee on Services and Resources for Women (CSRW) at The University of Southern Mississippi (USM) is sponsoring and co-sponsoring a series of activities throughout the month of March in recognition of Women's History Month, including online formats.
The month's programming begins March 4 at 1 p.m. with the CSRW Lunchtime Lecture Series featuring an online lecture by LSU associate professor of political science Belinda Davis, who will present "Women in Politics and Emerge Training." To access this program via Zoom, visit https://usm-edu.zoom.us/my/stacy.cree.slis.usm?pwd=VmN0c3grNUNNNWZCZHFFRGEvbFZyUT09. The Meeting ID for this program is 863 494 5746; the Passcode is CSRW2021. For information about the topic of Professor Davis' presentation, visit: https://emergeamerica.org/candidate-training/.
The remainder of USM Women's History Month's schedule of events is as follows:
*March 9 – 6:30
University Forum: Mississippi Authors: Jesmyn Ward and Kiese Laymon
Ward and Laymon are two award-winning Mississippi writers who have made their mark on the literary world. University Forum will present a conversation between the two authors about their work, which will be followed by audience questions. This event is co-sponsored by the McNair Scholars Program with generous support from the Graduate School and the College of Arts and Sciences. University Forum is free and open to the public; to register in advance for this event to receive an email reminder and an access link, visit https://forms.usm.edu/honors/view.php?id=224725. Learn more about Ward and Laymon at https://calendar.usm.edu/event/university_forum_mississippi_authors_jesmyn_ward_and_kiese_laymon.
*March 11 – 1 - 2:15 p.m.
*History Women's Caucus Women's History Month Event
"Hills Already Climbed? Women in Power from Medieval to Modern."
Zoom: Meeting ID: 912 9961 6732; Passcode: 31499241
*March 16 - 5:30 p.m.
Dr. Rebecca Tuuri, associate professor of history and Mississippi Humanities Council Teacher of the Year 2021 will present the lecture: "Black Mississippi Women's Pivotal Role in Securing the Vote for All Americans." Zoom meeting ID #: 93274768312; or visit usm-edu.zoom.us/j/93274768312.
*March 26 – 7 p.m.
USM Repertory Dance Company: Dances to Celebrate Women's History Month
For ticket information, visit: https://artdesign.usm.edu/.
Other upcoming CSRW events include the April 15 CSRW Lunchtime Lecture Series event, featuring USM Professor of History Dr. Deanne Stephens who will present "Pickin' and Shuckin': Women in the Mississippi Gulf Coast Seafood Industry", Zoom Meeting ID: 910 6538 6153.
According to womenshistorymonth.gov, Women's History Month got its start in 1981 after the U.S. Congress established and President Reagan proclaimed Women's History Week beginning March 7, 1982. Five years later, through the urging of the National Women's History Project, Congress designated March as Women's History Month. Established in 1984, the CSRW, an interdisciplinary group of USM-affiliated individuals interested in women's issues on campus and in the local and global community, has coordinated Women's History Month activities at the University through the presentation of public cultural events and conferences with renowned guest speakers; creating a women's and gender studies library; and providing funding for research by faculty and students related to gender and women.

For more information about the USM CSRW, visit https://aquila.usm.edu/csrw/?fbclid=IwAR2uPh6WsF3vLXhLiopac54aTby3QhsWsn6FGIjPlu9WC4UtWZDKnwvvIdU; and on Facebook at https://www.facebook.com/usmcsrw.