USM Creating Innovative Initiatives to Combat Nursing Shortage
Thu, 11/10/2022 - 04:09pm | By: Van Arnold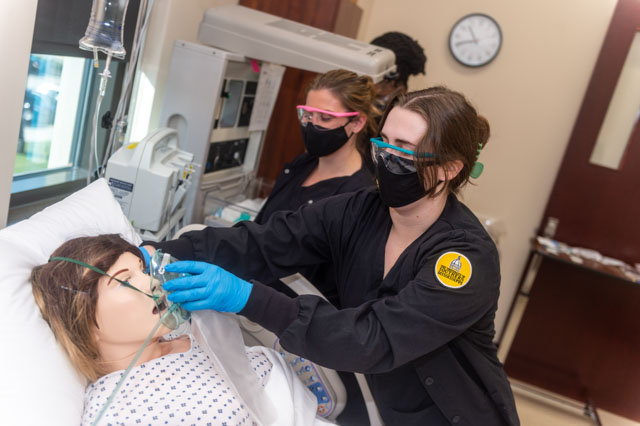 Stress, burnout, long hours, lagging salaries, working conditions, a global pandemic: you name a workplace malady, nurses have likely experienced it over the past several years. Consequently, the United States finds itself staring squarely in the eyes of a nursing crisis.
Nursing is the nation's largest healthcare profession. Records show there are nearly 4.5 million registered nurses with active licenses. The U.S. Bureau of Labor Statistics says of those, only 72% percent are employed as RNs. According to the U.S. Bureau of Labor Statistics, the country will need more than 203,000 new registered nurses every year through 2026 to fill the gap in care left by a retiring workforce. The average age of a nurse right now is 51.
At The University of Southern Mississippi (USM), innovative initiatives have been enacted by skilled, devoted professionals within the College of Nursing and Health Professions to help offset the critical nursing shortage. Long renowned as a leader in nursing education, USM saw 148 undergraduate and 48 graduate students earn degrees last year. Earlier this year, online resource guide Nursingprocess.org, ranked USM as No. 1 for best accredited nursing schools in Mississippi.
Dr. Lachel Story, Dean of USM's College of Nursing and Health Professions, says the eye-opening numbers connected to the nursing dilemma are not necessarily surprising.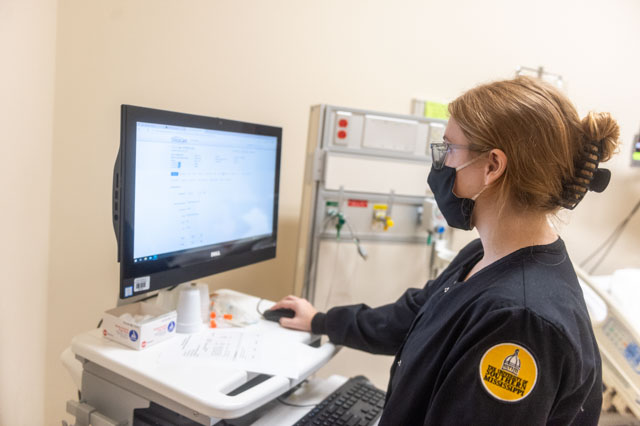 "No, the nursing shortage has been a building issue long before the COVID-19 pandemic. However, the pandemic made this issue worse and shined a spotlight on it," said Story. Much like the pandemic, the nursing shortage will likely persist for some time without a comprehensive approach that incorporates innovative strategies. The shortage is at all levels, including registered nurses, advanced practice nurses, and nursing faculty."
A new survey by Incredible Health found that more than one-third (34%) of nurses say it is very likely that they will leave the profession by the end of 2022 and 44% cited burnout and a high-stress environment as the reason for their desire to leave. Nurses cited benefits and pay as the second-leading reason (27%) for quitting their jobs. Incredible Health, a technology-based nursing hiring platform, analyzed data from more than 400,000 nurse profiles and surveyed more than 2,500 registered nurses in the U.S. in February 2022.
One unique approach USM has taken to combat the shortage and meet demands is an accelerated pathway to a Bachelor of Science in Nursing (BSN) degree that will be offered on the University's Gulf Park campus in Long Beach, Miss.
The pathway will help eligible students earn a BSN degree in a shorter time and decrease barriers to admission, while providing benefits to those who have already earned a higher education degree. The initial cohort is expected to start coursework in January 2023. Plans call for two admission cycles per year.
USM nursing officials look forward to sharing more information about the exciting initiative during an open house on Nov. 18, from 5 p.m. until 7 p.m. at the University Club on the Gulf Park campus in Long Beach.
Significant components of the accelerated plan include:
Can be finished in 12 months
Scholarships are available
Same degree as traditional BSN – has same clinical experiences
Able to bypass some typical requirements, having already earned a degree
CCNE accredited
"These students will be able to bypass certain requirements because they already have a bachelor's degree, and they will be able to complete the nursing requirements in 12 months, as opposed to the traditional 24 months," said Story. "This will get nurses out into the workforce in the most efficient and cost-effective manner while still ensuring the same high-quality educational and clinical experiences that we are known for."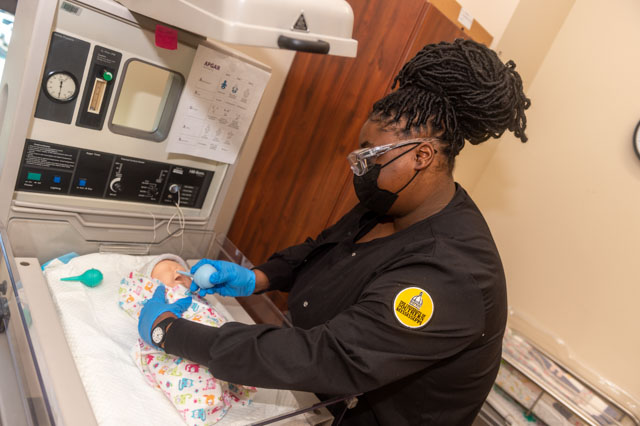 Data compiled by the Mississippi Center for Quality and Workforce shows that Registered Nurse (RN) vacancy rates in hospitals statewide rose from 4.3% in 2011 to 15.9% percent in 2021. Mississippi hospital vacancy rates for Licensed Practical Nurses (LPN) were 20.1% percent and 14% for Certified Nursing Assistants (CNA) in 2021.
The turnover rates last year for hospital nurses were even more alarming with RNs at 23.5%; LPNs at 28%, and CNAs at 46.2%. In 2017, hospitals statewide reported 473 RN vacancies. Last year that number swelled to more than 2,800.
LaNelle Weems, Director of the Mississippi Center for Quality and Workforce, serves as an external advisory board member for USM's College of Nursing and Health Professions. She notes that USM plays a vital role in helping the state replenish nurses.
"As an anchor university in southern Mississippi, it is imperative that the university work with the communities it serves to prepare a nursing/healthcare workforce to meet the needs of the healthcare facilities locally and across the state," said Weems. "With the impact from the loss of healthcare workers over the last few years, we lost experience, leadership, and skills of those who are not working in Mississippi's healthcare arena. It sends a strong message that our state needs to prepare more nurses with skillsets across the nursing continuum to provide safe and quality care."
Most registered nurses today enter practice with a baccalaureate degree offered by a four-year college or university, or an associate degree offered by a community college. As of 2020, 65.2% of the RN workforce earned a baccalaureate or higher degree as their highest level of nursing education.
Singing River Hospital in Pascagoula, Miss., has been a long-term supporter and benefactor of the USM nursing program. Susan Russell, Chief Nursing Officer at Singing River, praises the University's commitment to supplying qualified nurses through the regional pipeline.
"Our system has a close affiliation with USM since Singing River operates more acute care facilities and clinics that any other health system in the region. We have always had a reliable source of highly qualified graduates from USM's programs," said Russell. "The workforce shortage in nursing has been a major concern for everyone and we appreciate Dr. Story and her colleagues coming up with creative ways to provide more student nurse positions, including embedded clinical faculty."
Added Russell: "One of our doctoral prepared managers from the USM program currently directs a weekly clinical group on our Ocean Springs campus, which is a huge win for both the University and health care systems seeking more baccalaureate prepared nurses."
Russell lauds USM's accelerated BSN pathway. As a member of several advisory boards, she has long advocated that such initiatives offer one of the better solutions for producing high quality RN graduates.
"With more funding sources and scholarships for students, it makes more sense than ever to have highly qualified students enter these types of programs to increase BSN graduates for Mississippi and the region," she said.
Nursing schools turned away more than 90,000 qualified applications last year — the highest number in decades – because there wasn't enough capacity, according to the American Association of Colleges of Nursing.
USM currently has approximately 350 students enrolled in the BSN program. In recent years, the program has turned away as many as 150 qualified students. Initiatives like the accelerated BSN pathway create alternatives for students who might not otherwise gain admission.
Story emphasizes that the faculty and staff in the College of Nursing and Health Professions at USM, remain devoted to providing a quality education that is student-centered and supportive.
"They are continuously looking for ways to improve the curriculum to best align with standards, workforce needs, and student experience," she explained. "Our clinical practice partners join us in this process by not only providing clinical experiences for our students, but also engaging in conversations and the work to improve our programs and, subsequently, the graduates they will one day employ."
Beyond that, some things truly cannot be taught.
"Our students show up with passion and dedication to not only earn a degree, but to become nurses who will make a transformative impact on the individuals they care for; as well as to their patient's family and communities," said Story.
To learn more about USM's nursing program, call 601.266.5445 or visit: https://www.usm.edu/nursing-health-professions/index.php