Renowned DuBard School Celebrates 60 Years of Changing Lives
Thu, 05/12/2022 - 13:36pm | By: Van Arnold
Perhaps, no better description exists of the DuBard School for Language Disorders than the one offered by University of Southern Mississippi (USM) President Emeritus Aubrey K. Lucas. "The DuBard School makes miracles!" declared Lucas.
Lucas served as USM president from 1975-96 and again as interim president in 2012-13. He saw first-hand how the DuBard School teachers and staff worked tirelessly to make the school a prominent and proven leader in the field of language disorders. He remains an enthusiastic advocate for the renowned school.
"We have seen families move to Hattiesburg from out of state so that their children could benefit from the DuBard School," said Lucas. "The superb faculty and staff give hope and reassurance. DuBard graduates have finished college and are employed in very significant positions. I have known all of the directors of the school, and they should be thanked for leading the DuBard School so very effectively during these 60 years."
Housed at USM's campus in Hattiesburg, Miss., the DuBard School for Language Disorders has been operating in the miracle business since 1962 when Dr. Etoile DuBard founded the "School for Preschool Deaf and Aphasic Children." Dr. DuBard also helped organize the curriculum as a charter faculty member for the original Speech and Hearing Department at USM. The DuBard School was officially renamed in her honor in 1996. As part of its 60th Anniversary celebration, the school will host an open house on Thursday, May 19 between 5 p.m. and 7 p.m.
The DuBard School is a clinical division of USM's School of Speech and Hearing Sciences serving children with severe language/speech disorders, including the written language disorder of dyslexia, and/or hearing impairments and provides guidance and counseling for parents and families of the children.
The school is staffed by nationally certified speech-language pathologists, certified academic language therapists and educators of students with hearing loss. They teach children ages 3-13 through a special phonetic, multisensory program called the DuBard Association Method®.
A Beautiful, Broken Record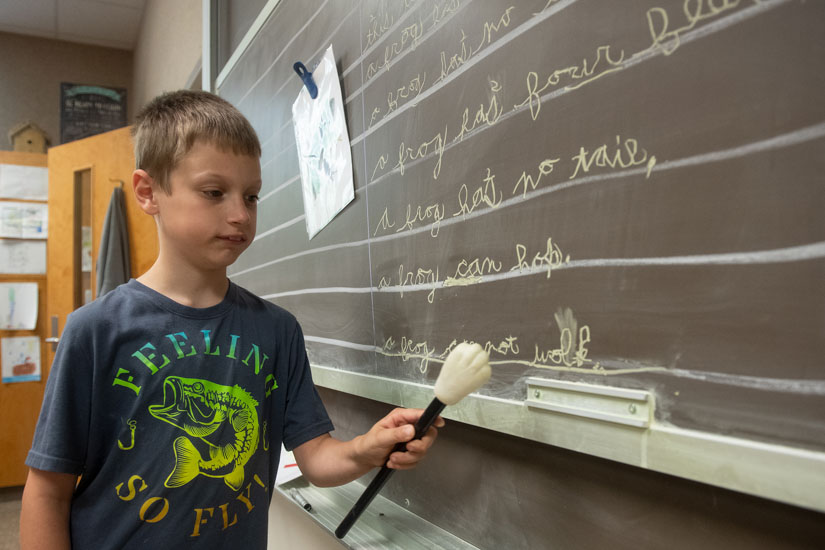 No need to sell Amber and Zachary Shavers on the extraordinary benefits reaped by parents with children enrolled at the DuBard School.
Their 8-year-old son, Austin, has blossomed more in the past year as a DuBard student than they imagined possible. Struggling with a speech impediment since infancy, Austin experienced a rollercoaster of successes and setbacks while attending public schools.
The Shavers, who live in Wiggins, Miss., were so determined to secure a spot for Austin at DuBard that they placed him on a two-year waiting list for enrollment. The payoff has been exceptional. With the compassionate, comprehensive help from trained professionals, Austin maintains a steady trajectory toward overcoming his disability.
"The change it has brought to him, and his speech, and his views of our big world is just incredible," said Amber Shavers.
She has been thoroughly impressed with the program's regimen - particularly the one-on-one time Austin receives from DuBard teachers who strive to identify each child's strengths and weaknesses. Much to her delight, homework has gone from a dreaded chore to a favorite pastime.
"He has a notebook that has what they call 'Home News' where at the end of the weekend you sit your child down and ask them what they did that weekend that they would want to tell everyone about," said Amber Shavers. "That's his favorite part of homework on the weekends, and I feel like it gives all of the kids a chance to talk about their home lives."
She continued, "I probably sound like a broken record to his teachers and the administrators and everybody else there, but we are forever grateful for DuBard as well as the USM students that come to assist with the teachers and students. If my husband and I go somewhere and see someone we know, we are always told how much of a change in Austin and his speech they see, and how they love how much he has grown."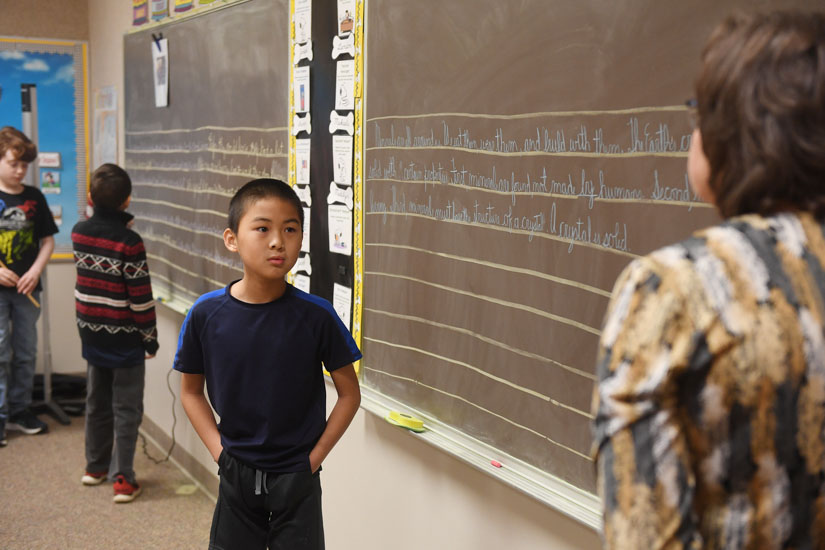 The DuBard School's origins can be traced to the tenure of USM President William D. McCain, who learned that a faculty member's child needed special services to address a speech disorder caused by complications from Asian Flu. McCain appointed Etoile DuBard to develop and direct a program designed to help the child and others who might require similar therapy. When the "School for Preschool Deaf and Aphasic Children" opened its doors in 1962, Dr. DuBard had three students.
Etoile DuBard taught the students using the Association Method - a multisensory, structured approach developed by Mildred McGinnis, who was a teacher at the Central Institute for the Deaf in St. Louis, where Etoile studied. Etoile later earned her doctorate and began working with staff to revise and expand the Association Method. Now known as the DuBard Association Method®, this process of teaching language is currently used by professionals around the world.
As the DuBard School's expertise and reputation continued to grow, so did the need for funding. In the mid-1970s, the school began to receive partial funding from the Mississippi Department of Education. Although the state allocation is crucial, the school relies heavily on contributions from the United Way and private donors to cover the cost of budgetary obligations.
The school's services are provided at no cost to students and their families. However, many students require sophisticated technology and specific services to meet their goals. These include hearing aids, cochlear implants, occupational therapy, FM listening systems, specialized computer software among many others. The cost of serving a single, full-time student each year is approximately $22,500.
The DuBard School out-client therapy program provides fee-based individual and small-group therapy for clients ages birth through adulthood who have a diagnosed language, speech or hearing disorder, or a combination of these disabilities. Included are those whose learning differences are in oral language, speech, reading or a combination of oral and written language deficits, including dyslexia.
The Gift of Language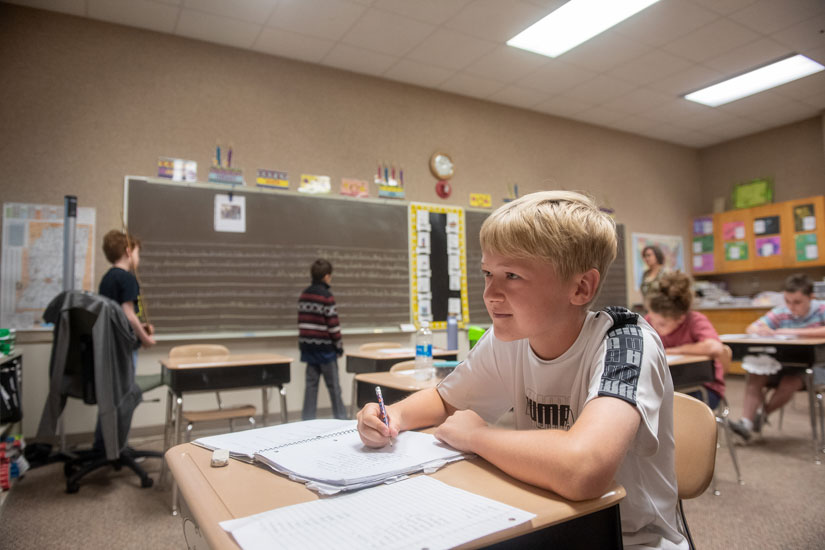 After serving several years as a staff speech pathologist, Missy Schraeder was named the DuBard School Director in April 2019. She became familiar with the school during her undergraduate years at USM.
"I remember being in school and seeing other students who were taking the DuBard Association Method class. It looked so unique and fun, so I decided to take the intensive summer training," said Schraeder. "The next fall, I signed up to complete practicum hours at the DuBard School. My first placement was under the supervision of Dr. Maureen Martin, our former director, and Ms. Daphne Cornett, our former assistant director. I remember learning so much from them and from the students I had the pleasure of working with. Seeing the progress that those students made was inspiring."
When Schraeder joined the DuBard School staff in 1996 the school was housed in the J.B. George Building with space barely large enough to hold 35 students. Classrooms could accommodate no more than seven students. Since moving to its own 17,000-square-foot, state-of-the-art facility in 2002, the school has seen its enrollment swell to an average of 80 full-time and 40 out-client students.
The DuBard School provides not only expert care to children and their families, but also serves as a practicum site for USM students in speech and hearing sciences, kinesiology, and dyslexia therapy. These practicum students gain valuable experience working with students who have significant communication issues while learning from DuBard's highly qualified staff.
When asked to summarize the significant role DuBard plays in the lives of countless families, Schraeder stated: "We often talk about giving the gift of language. And I think that is exactly what we do at the DuBard School. Giving children the tools they need to be able to communicate is an invaluable gift to them and to their families. Having communication skills allows a child to achieve academic success, gain meaningful employment and become a productive member of society."
Diagnosing the Problem
Meredith Enger is a testament to the life-changing rewards available to students at the DuBard School. The Hattiesburg native struggled throughout her early school years, especially in the areas of spelling and reading. What her teachers were unable to detect was an underlying condition that inhibited Enger's academic abilities.
Enter the professionals at DuBard.
"The school I attended did not have the resources to diagnose me as dyslexic. Therefore, for many years I went undiagnosed," said Enger. "Thankfully, I have persistent and involved parents who knew there was a more significant problem. They reached out to Mrs. Maureen Martin, a long-time family friend at DuBard, and she was able to accommodate me for testing."
Enger, age 12 at the time, began an after-school tutorial program at the school in 2009. After two years of intense therapy to address her dyslexia, she successfully completed the DuBard program.
She went on to graduate from Sacred Heart Catholic High School in 2015 and earned her undergraduate degree in journalism at the University of Mississippi in 2019. Talk about a success story – Enger finished her college degree program in four years, and with honors.
Today, Enger works at what she labels her "dream job" as Mississippi Magazine's Special Projects Director. Her duties include handling accounts on various social media platforms, the magazine's website, and running annual promotions, including Mississippi Magazine's Best of Mississippi reader poll. She notes that her favorite task is working with brides to create the magazine's annual Wedding Register.
Enger walked into the DuBard School a frustrated, confused youngster. She walked out armed with the tools and confidence necessary to achieve her aspirations. The school tossed Enger and her parents an extraordinary lifeline.
"I owe everything to the DuBard School, and I do not know where I would be without DuBard," she said. "Specifically, my excellent teacher, Ms. Susie Utz, encouraged me and taught me how to overcome my disability. I truly feel that the DuBard School gave me the skills to conquer any obstacle that has been in my way. After DuBard, I never had to receive any extra assistance for my learning disability."
Setting a Higher Standard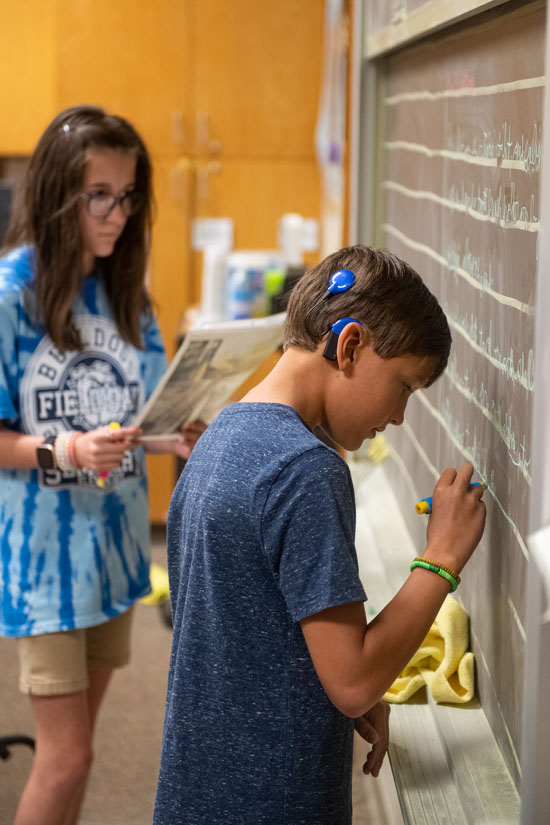 Dr. Maureen Martin served as the DuBard School's Director for 28 years, retiring in 2017 after 41 years at the school. She points out that when the school began operation in 1962 there were no services in public schools for children with disabilities.
"That didn't come along until the 1970s. At that time, the standard of achievement for deaf children in this country was quite low – a fourth-grade reading level – but those weren't Etoile DuBard's standards," said Martin. "She worked tirelessly to help children achieve at a higher level while she also prepared university students to expect and achieve more than the norm."
Each year, students from approximately 20 school districts access the unique, intensive, and life-changing program DuBard provides. Commitments from USM administrators, the DuBard Advisory Board, generous donors, the Hattiesburg community, the State Legislature, parents, students, and the exceptional staff have nurtured and sustained the school for an impressive six decades.
"The DuBard School has put Southern Miss on a national and international arena in the fields of speech-language pathology, education of deaf and hard-of-hearing students, and dyslexia," said Martin. "The impact on USM students who learn from highly credentialed and experienced professionals, and then go on to serve elsewhere, affects countless families."
Martin says that she is humbled and thrilled to regularly hear of former students – now adults – who lead independent and productive lives, while making a difference in their families and communities.
"What more could we hope for and work toward? That each individual child can be all that he or she is capable of being is what we are called to, and it is such a privilege to be a part of that," said Martin.
Schraeder recounts a personal example of how transformative the DuBard School program can be for young children. Her granddaughter came to the school with severe speech and language issues. After three years of therapy, she returned to her local school district on the proper grade level.
"Not only is she able to communicate and complete her academics with good grades, but she lost the frustration she had when trying to talk," said Schraeder. "She went from a very shy child who was not willing to talk to someone for fear of not being understood to a very outgoing and friendly young lady who is not afraid to talk to anyone. Giving her the gift of language allowed her personality to shine, and I have great expectations for her future."
And just like that, another miracle takes shape.
To learn more about the DuBard School for Language Disorders, call 601.266.5223 or visit: https://www.usm.edu/dubard/dubard-school-history-mission.php