USM's Welch Selected as First Undergraduate to Serve on Fraternity's National Board
Tue, 09/20/2022 - 16:56pm | By: David Tisdale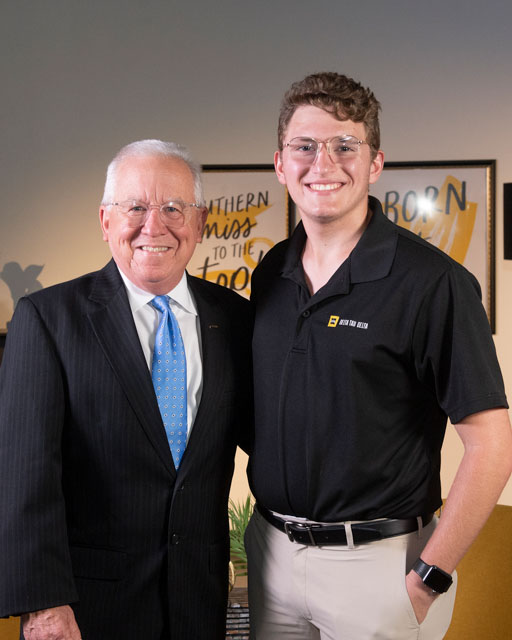 Andy Welch, a University of Southern Mississippi (USM) junior from Greenwood Springs, Mississippi, will make history when he begins his two-year term next year as the first undergraduate student on the national board of directors for his fraternity, Delta Tau Delta.
An Honors College student majoring in finance, Welch serves as president of Delta Tau Delta's Zeta Chi chapter at USM. As the first student director on the fraternity's national board, he will be tasked with conveying the wishes and needs of the undergraduate body to fellow board members while also chairing the Undergraduate Council, a committee that includes members of the undergraduate body. His two-year term begins in March 2023.
"I am absolutely thrilled at the opportunity to serve my fraternity as the first Student Director in the history of Delta Tau Delta," Welch said. "Being selected for this role is a massive honor, as everyday acts of service are the greatest way that a Delt can bring honor and value to the fraternity."
Welch says after securing his Master of Business Administration (MBA) from USM, he plans to pursue a career in banking. Shaping his path has been his experience as a student at USM, one he says is marked by growth and determination and to what he credits his ascension to his fraternity's national board.

"USM have given me the connections and opportunities to succeed and excel in many different aspects of my life," Welch continued. "Through being a chapter president for Delta Tau Delta, serving on Southern Style, or serving on SGA (Student Government Association), I have been nourished as a leader and have refined my leadership abilities.
"By utilizing the leadership skills that I have developed throughout my time at USM, I pushed myself and gave myself a chance to assume roles in the fraternity's arch chapter."
USM Office of Fraternity and Sorority Life Director Laura Laughlin said Welch is "one of those students who continually makes an impact on the organizations to which he belongs."
"He is a quiet, unassuming leader," Laughlin continued. "I can't wait to see what he accomplishes in the rest of his time as a Southern Miss undergraduate student. I know that he will certainly make an impact in his service on his national fraternity's board of directors, as he has on his local chapter."
Ben Knaack, assistant director for the Office of Fraternity and Sorority Life and advisor to the Interfraternity Council, concurs with Laughlin and added it comes as no surprise that Welch was selected for a leadership role at the fraternity's national level.
"Andy continues to embody how a student leader can be impactful both in and out of classroom," Knaack said. "We are proud of his accomplishments here at Southern Miss and know he will continue to do amazing work in his chapter, at USM, with Delta Tau Delta nationally, and far into his postgraduate life."
For information about Fraternity and Sorority Life at USM, visit https://www.usm.edu/fraternity-sorority-life/index.php.