USM School of Music to Present Holiday Choral Spectacular
Mon, 11/21/2022 - 10:17am | By: Kaitlin Walley Brown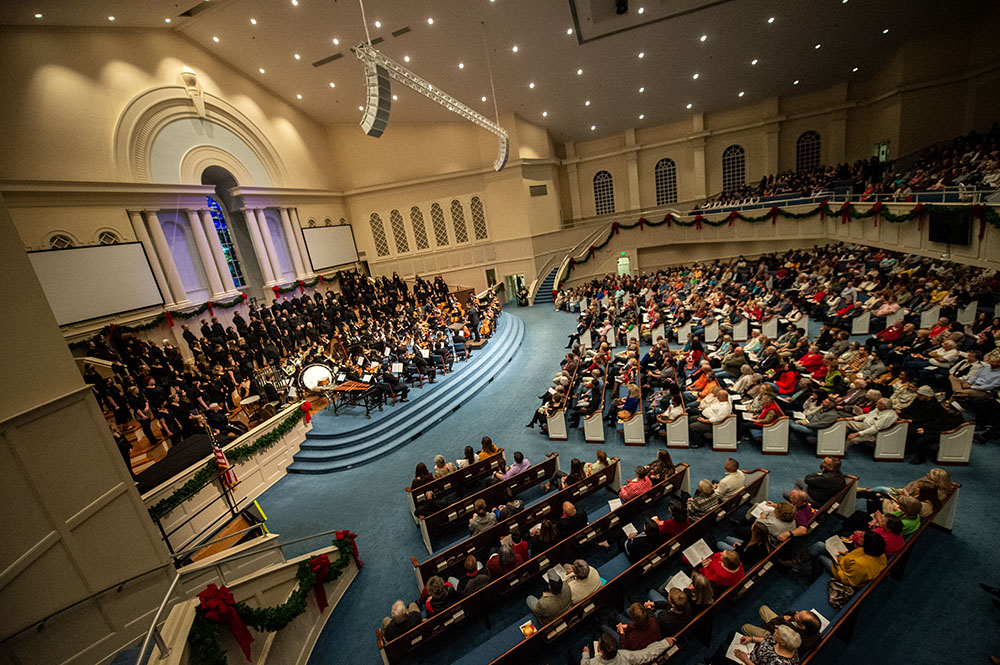 The University of Southern Mississippi's (USM) School of Music presents the Holiday Choral Spectacular featuring Southern Miss Choral Activities, the USM Symphony Orchestra and several community middle school and high school choir programs. The two performances are set for Nov. 29 and Dec. 1, at 7:30 p.m. at Main Street Baptist Church in Hattiesburg. General admission tickets are $20.
This year, the Holiday Choral Spectacular will also be performed on the Mississippi Coast in Gulfport with the Gulf Coast Symphony Orchestra. On Nov. 27th, at 4:30 p.m., Southern Miss Choral Activities will join forces with the Gulf Coast Symphony Orchestra at the new Performing Arts center on the Mississippi Gulf Coast Community College Harrison County Campus in Gulfport. Tickets for the concert can be purchased through the GCSO website.
"Audiences will hear recognizable holiday classics like 'O Little Town of Bethlehem' and 'Hark! The Herald Angels Sing'," said Director of Choral Activities Dr. Gregory Fuller. "It's a great opportunity for all the artists of the Hattiesburg area to spread some holiday cheer to everyone."
The Holiday Choral Spectacular is a yearly community celebration of the holiday season through choir and orchestra. It features several ensembles within Southern Miss Choral Activities, including the Southern Chorale, Southern Miss Concert Choir, and Southern Miss's pop a cappella ensemble, Spirit of Southern. For mass choral works, Southern Miss Choral Activities will be joined by community members in the Hattiesburg Oratorio Chorus and the Gulf Coast Civic Chorale.
High schools and middle schools in the community will also join the concert for Christmas carols. In Hattiesburg, schools include Petal Middle, Jefferson Middle, Purvis Middle, and Oak Grove Middle Schools, as well as Columbia High and Purvis High Schools. At the coast concert, visiting schools include Long Beach High School, Gulfport High School, and St. Martin High School.
In Hattiesburg, under the direction of Dr. Michael Miles, the Southern Miss Symphony Orchestra will be performing both Triptych for Orchestra by Georgy Sviridov and the holiday favorite, Sleigh Ride by Leroy Anderson.
Concert attendees can also look forward to standard holiday carols with the opportunity to participate in the celebration towards the end of the performance through combined carol singing - audience and performers together. Also included on the program are selections from John Rutter's Gloria and his setting of Joy to the World. Listeners will also hear a preview of the Spring performances of Verdi's Requiem as choral activities perform "Sanctus" from this work.
Tickets for the Hattiesburg performances are available at the Southern Miss Ticket Office, southernmisstickets.com, 601.266.5418, or 800.844.8425. Tickets for the Gulf Coast performance are available at the following link: https://app.arts-people.com/index.php?ticketing=gcso