Phillip Howze Named 2022 USM Blaine Quarnstrom Playwright in Residence
Mon, 03/28/2022 - 14:12pm | By: Ivonne Kawas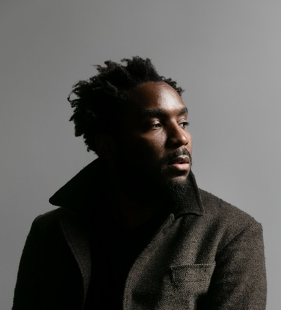 The University of Southern Mississippi (USM) English and Theatre programs are set to host the 2022 Blaine Quarnstrom Playwright Series featuring playwright-in-residence Phillip Howze from April 8-10 on the Hattiesburg campus.
Phillip Howze, associate senior lecturer on Theater, Dance & Media, Playwriting at Harvard University, will conduct: two public question-and-answer (Q&A) sessions on his working methods and on industry trends, four dedicated writing workshops for students in both programs, and a staged reading of a scene from the playwright's work.
"Our annual playwright series is a chance for our theatre and creative writing students, as well as the entire campus community to learn from and interact with one of our nation's strongest emerging voices in the world of dramatic writing. We are extremely grateful to be able to host a world-class writer each year," said Dr. David Coley, Producer and Assistant Professor of Theatre.
The Q&A sessions that are open to the public will be held in the Hartwig Theatre on Friday, April 8 at 7:30 p.m. and on Saturday, April 9 at 2:00 p.m. The first session will focus on the playwright's specific works, creative journey, learning experiences, and approaches, while the second will focus on the current state of American theatre.
In addition, the series also features three days of learning starting on the 8th and continue into the 10th with four dedicated writing workshops, open to students in the English & Theatre programs. To culminate his visit, Howze will host a staged reading of a scene from his work, open to students, faculty, and staff from both programs.
Howze is a playwright whose work has been developed or produced at many renowned festivals and theatres.
A graduate of Yale School of Drama, he is a Fellow of the Sundance Institute Theater Lab, a Lucas Artist Fellow at Montalvo Arts Center, a 2050 Fellow at New York Theater Workshop, and a Resident Writer at Lincoln Center Theater.
His NY playwriting debut Frontieres Sans Frontieres premiered in a sold-out, extended engagement at The Bushwick Starr and was named one of the "10 Best Theatrical Productions of the Year" by New York Magazine.
His first published play collection is entitled Rarities & Wonders: Plays is forthcoming from Tripwire Harlot Press in Spring 2022.
For the workshops, student participants of all levels with interests in creative writing for theatre are encouraged to sign-up by contacting Dr. David Coley at david.coleyFREEMississippi.
Previous playwrights-in-residence have included Robert Icke, Guillermo Reyes, Robert Caisley, Kia Corthorn, Dawson Moore, Beth Lincks, and Gary Garrison.
Check out the Blaine Quarnstrom Playwright series' schedule.
---
About the Series
Founded in 2006, The Blaine Quarnstrom Playwrights Series fosters the writing of dramatic literature by students from both the Theatre and English programs. The goal of the Series is to foster student writing through Q&A sessions and creative writing workshops led by a leading American playwright. Over a single weekend, the playwright in residence structures four consecutive writing workshops derived from personal writing methods and techniques. In the past these sessions have focused on format writing for ten-minute plays, crafting expressive dialogue, and conceiving and developing effective structure and engaging characters.