Pine Belt PRAM Awards Kirkpatrick Scholarship to USM Student
Tue, 02/22/2022 - 04:02pm | By: Ivonne Kawas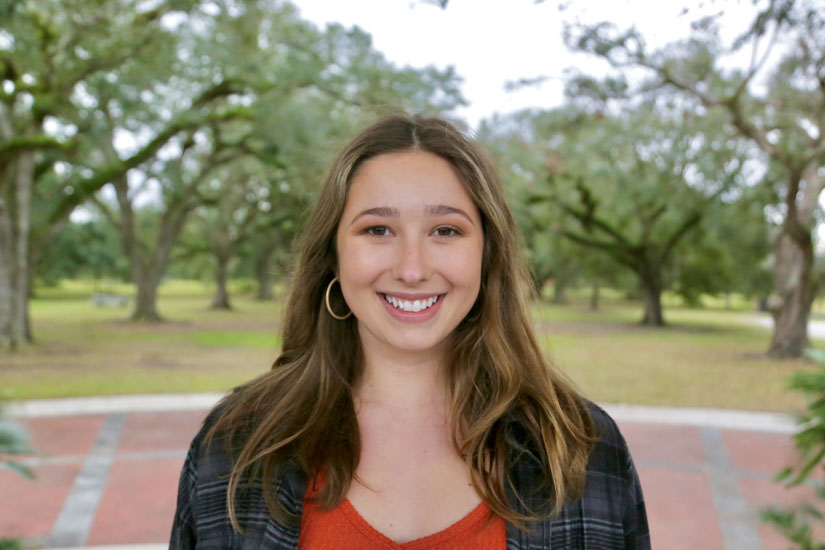 The Pine Belt Chapter of the Public Relations Association of Mississippi (PRAM) awarded its William E. "Bud" Kirkpatrick Scholarship of $500 to a University of Southern Mississippi (USM) student in the School of Communication.
Alyssa Schiaffino of Metairie, La., a junior majoring in public relations and advertising and a minor in social media content and strategy, is the recipient of the chapter's Kirkpatrick Scholarship. Schiaffino is a member of the National Society of Leadership and Success and of Eagle Catholic or the Catholic Student Association at USM. Her off-campus activities include working as an intern for the marketing team at Channel Control Merchants LLC and occasionally selling her artwork.
"To me, receiving this scholarship is an honor and a steppingstone toward a future career in the PR field. This recognition has given me more confidence in the skills I am developing and in my hard work," said Schiaffino.
"I love the public relations field because it combines my passions for creativity, writing and relationship-building. Through my major, I have learned how to communicate more effectively, adapt and think outside of the box. I have also learned how to prepare for and manage new projects. Hopefully, I will use these skills as a basis to learn even more in graduate school or at my future job," she added.
To be eligible for the scholarship, students must have demonstrated considerable promise in and outside the classroom and must be registered university communications students or junior college students who plan to major in communications or a related field at The University of Southern Mississippi, William Carey University, Pearl River Community College, or Jones County Junior College.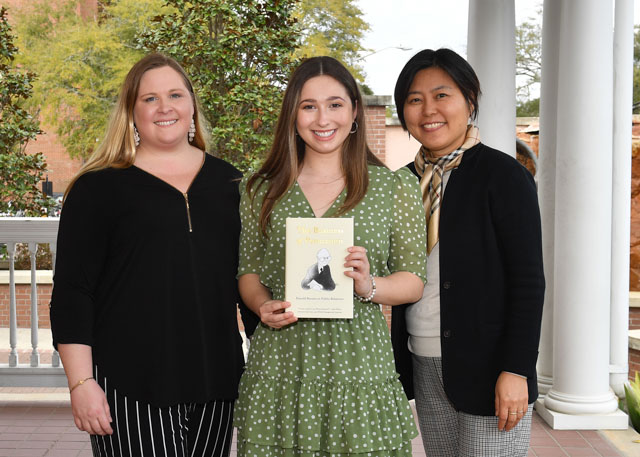 April Jordan, past president of PRAM and scholarship chair says, "Pine Belt PRAM believes strongly in recognizing up-and-coming talent in the public relations industry. As current practitioners, our membership values the mentoring and professional development opportunities available to students and chapter membership."
"We are honored to provide an annual scholarship to Schiaffino, who is high-achieving and evidently in the pursuit of making a promising impact in the profession. She has exceled in-and-out of the classroom and has set clear goals to develop herself professionally during these formative years," she added.
Schiaffino comes highly recommended by her professors who recognize her unwavering drive and passion for the field.
"Schiaffino is the one who always shows up. From active participation in classroom discussions and projects to internships, she is constantly looking for opportunities to learn and grow. We're so happy that her hard work, passion, and determination are being recognized. As we say at Southern Miss, she is going 'Straight to the Top!'," said Dr. Fei Xue, professor of advertising.
Dr. Jae-Hwa Shin, professor of public relations, describes Schiaffino as conscientious, diligent, and well-prepared student and says, "She is a good representation of our many excellent public relations majors at USM. I am very excited to see her continued growth, professional development, and future career as one who can make a difference."
The scholarship was named after PRAM founding member, Bud Kirkpatrick, who also holds the distinction of being the longest continuous serving employee in the history of USM, with 45 years of service. He earned his bachelor's degree from Southern Miss in 1958 and his master's degree in 1964.
As an undergraduate, he was a student worker for the R.C. Cook University Union, and after graduation became director of the Union and Student Activities. In 1972, he was appointed USM's Director of Public Relations. He was named Assistant to the President for University Relations in 1997, a position he held until his retirement in 2002.
He was honored repeatedly for his service, including two outstanding staff awards, an outstanding service award and through his induction in the Southern Miss Alumni Hall of Fame in 1995. He is also a member of the USM School of Mass Communication and Journalism Hall of Fame.
---
About Pine Belt PRAM
Pine Belt PRAM is an affiliate of the statewide Public Relations Association of Mississippi, serving practitioners and students in the Hattiesburg-Laurel area. Chapter members are public relations professionals in the industries of arts, entertainment, economic development, education, government, healthcare, nonprofits, retail, tourism and more. PRAM membership also includes membership in the Southern Public Relations Federation (SPRF), which is comprised of public relations practitioners from Alabama, Louisiana, Florida and Mississippi. Our chapter is committed to providing members with professional development opportunities aimed and enhancing and growing individual skill sets. We strive to contribute to the art and science of public relations policies and practices throughout the area. We host monthly programs featuring professional speakers discussing a variety of topics relevant to the public relations profession. Chapter meetings are held the third Tuesday of each month at The University of Southern Mississippi.