USM Professor and Author Launches Debut Poetic Novel
Fri, 03/25/2022 - 09:57am | By: Ivonne Kawas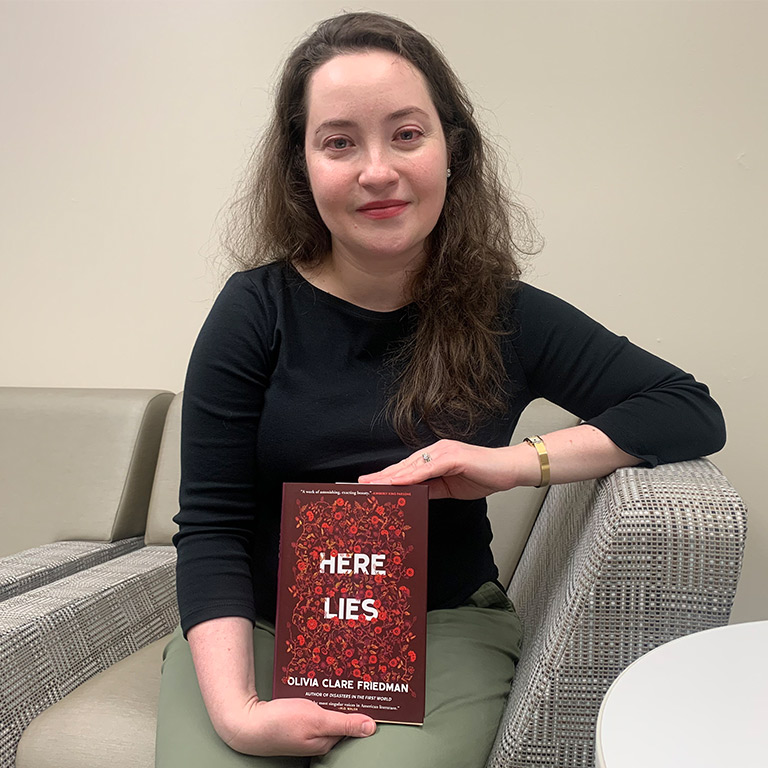 Dr. Olivia Clare Friedman, a Nina Bell Suggs Endowed Professor in the Center for Writers, housed within the English program in the School of Humanities at The University of Southern Mississippi (USM), released her debut poetic novel this month titled, Here Lies (Grove Atlantic, March 2022). A book launch celebration, where she will read and sign copies, will be held at The Author Shoppe (140 E. Front St.) on Thursday, March 31, at 6 p.m. in downtown Hattiesburg.
Dr. Friedman's debut novel looks at mourning, memory, and motherhood in an alternate Louisiana ravaged by climate change.
"Here Lies is a book about the effects of climate change. It's about mourning and rituals of mourning, yes, and it's also hopeful. It's about grieving the dead, and about being alive," said Dr. Friedman. "The inspiration for writing it came from a conversation with a friend about this 'what-if' idea of government-mandated cremation, and she had a very big reaction to it. I'd struck a nerve. That was the moment when I knew I wanted to write about it."
As for the novel's plot, Dr. Friedman says she knew that she wanted to focus the story on a particular person.
"That's where the emotional resonance really comes from for me--this attachment to character. My main character, Alma, began to take shape and become a living person. I already miss writing her," she added.
The experience of writing her first novel is a fulfilled dream that will be forever etched in Dr. Friedman's memory.
"My family has been a big support for me, as I wrote most of this book when my daughter, who's 2 and a half now, was a baby. It was and is a special time for myself and my husband," she said. "The publication of this novel is certainly a dream of mine, fulfilled."
Kai Harris from The New York Times Book Review praised the novel and wrote, "[The reader] becomes immersed in Friedman's layered and luscious prose, the vibrant colors of Alma's world, the flowers so real you could smell their rankness, the air brimming with sweet, candied stink."
Dr. Friedman will share her expertise as a speaker at the 2022 Tennessee Williams & New Orleans Literary Festival on March 26 in New Orleans, La., and will partake in two literary discussions. The first is titled, "Staking a Claim: Debut Novelists," where she will discuss with three other debut authors how the characters in their novels combat climate change, racism, displacement, and supernatural forces to make space for themselves and their families. The second is titled, "Trying to Wash Us Away: Coastal Erosion and Climate Change," where she will discuss with two other authors the process of writing about the urgent issues of climate change and its human cost in both fiction and nonfiction.
Dr. Friedman is the author of the story collection, Disasters in the First World (Grove Press/Black Cat, 2017) and the poetry collection, The 26-Hour Day (New Issues, 2015).
Her fiction has appeared in The Paris Review, The O. Henry Prize Stories, Granta, and McSweeney's Quarterly Concern, among other publications. She is a recipient of a Pushcart Prize, the Ruth Lilly Fellowship from the Poetry Foundation, and the Olive B. O'Connor Fellowship from Colgate University.
To learn more about Dr. Friedman and her novel, visit her personal website.