Southern Invitational Choral Conference Sings In Hattiesburg
Fri, 09/16/2022 - 16:21pm | By: Mike Lopinto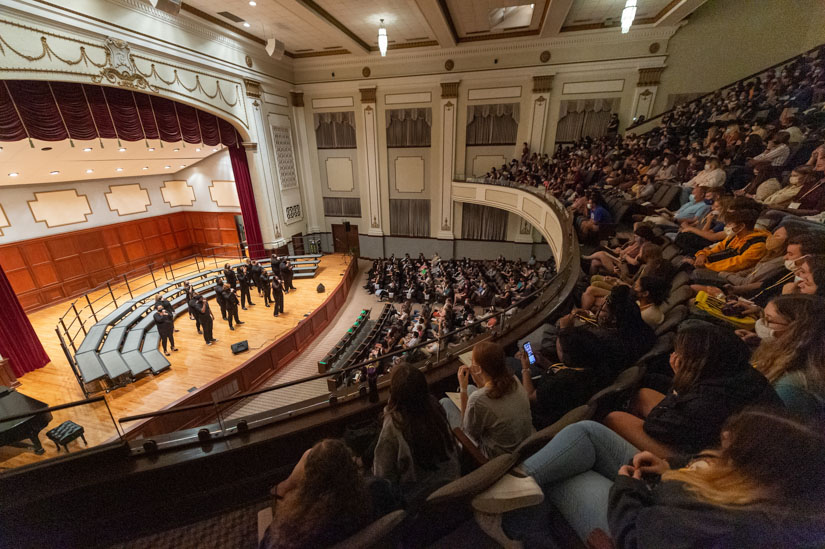 The University of Southern Mississippi (USM) presents the 19th annual Southern Invitational Choral Conference (SICC), Monday, Sept. 19 and Tuesday, Sept. 20. Featuring world renowned guest clinicians, the annual event finds more than 800 high school and community college students flocking to participate in this pinnacle event for the Gulf South.
Public performances include a Southern Miss Showcase concert, Monday at 7:15 p.m. in Bennett Auditorium and the SICC Honor Choirs Tuesday at 3 p.m. in Main Street Baptist Church. The events are free, and the public is invited.
Doctor Gregory Fuller, PhD, Director of Choral Activities, states this event is "about building and supporting the regional choral community."
This year's clinicians include professor of choral conducting at the University of North Texas, Kristina Caswell MacMullen, who has conducted All-State and honors choirs in over 30 states and provinces; native Mississippian, Jabarie Glass, who is an assistant professor of music and the associate director of choral studies in the School of Music at the University of South Carolina; and Director of choral activities at the Northwest Mississippi Community College, J. Reese Norris, has served in several leadership capacities for state-level NAfME and ACDA, and at the division level for ACDA.
This event allows students to participate in intense rehearsals and high-quality performances. Students will have the opportunity to audition for choral scholarships for the 2022-23 academic year at the prestigious Southern Miss School of Music. Auditions are open to all high school seniors and community college students who attend SICC and are intending on becoming music majors.
"SICC allows individuals to connect with other people who love what you love, and to work with national clinicians right in Hattiesburg, Mississippi," Fuller continued.
Each high school is invited to bring eight freshman/sophomore student as well as up to eight junior/senior students. Community colleges are invited to bring three or four balanced SATB quartets for the community college honor choir. The students selected are excellent sight-readers, have good vocal technique, and display exemplary rehearsal behavior. This conference is also open to teachers and allows them to receive continuing education units for attending.
Fuller expressed that this is event is unique because "students are only asked to arrive with nothing prepared in advance.
For more information, visit usm.edu/choirs.