USM Graduate Students Awarded NASA-Mississippi 2022-23 Space Grant Consortium Fellowship
Tue, 09/20/2022 - 11:21am | By: David Tisdale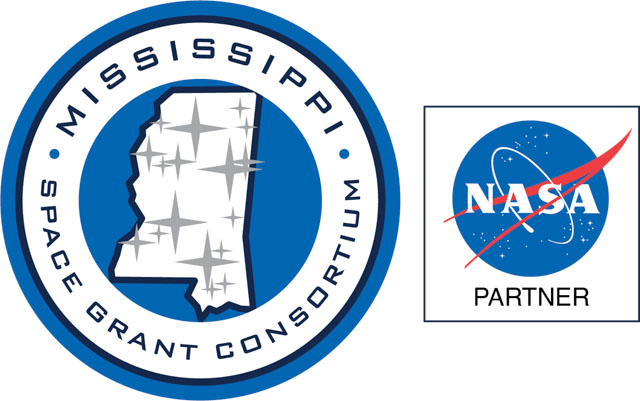 Six University of Southern Mississippi (USM) graduate students in its College of Arts and Sciences have been awarded the prestigious NASA-Mississippi Space Grant Consortium's (MSSGC) Graduate Research Fellowship for the current academic year (2022-23).
The MSSGC is a statewide non-profit entity consisting of institutions of higher learning, which includes USM, coordinated and supported by NASA (National Aeronautics and Space Administration). Its mission is to enhance and support aerospace science and technology efforts and activities in Mississippi, as well as promote a strong science, mathematics, and technology base at precollege, undergraduate, and graduate levels in the region's educational institutions.
Part of that mission includes its Graduate Research Fellowship Program, which traces its roots to the founding in 1989 of the National Space Grant College and Fellowship Program, established to include a network of universities offering programs in aeronautics and other space-related fields with the goal of encouraging recruitment and training of talented students, particularly women and minorities, to become professionals in the STEM (Science, Technology, Engineering, and Mathematics) fields.
Fellowship recipients from USM include:
*Ann Fearing of Hattiesburg, a master's degree student in biological sciences

*Sarah Wright of Hattiesburg, a doctoral student in computational science

*Aynslie Fritz of Hattiesburg, a doctoral student in polymer science and engineering
*Emma Humphreys of Oxford, Mississippi, a master's degree student in biological sciences

*Chelsea Drum of Jackson, Mississippi, a doctoral student in computational science

*Chris Croshaw of Yakima, Washington, a doctoral student in polymer science and engineering

NASA/MSSGC fellowship awards supplement and enhance basic graduate research support, such as graduate research assistantships, graduate teaching assistantships, and non-federal scholarships and fellowships. They are renewable up to three years for students making satisfactory research, academic progress, and engaged in K-12 outreach; one of the goals of the fellowship is to have graduate students work with K-12 schools and educators to improve the STEM experience and inspire younger students to pursue careers in STEM fields.
"The NASA-MSSGC fellowship is a very generous award for outstanding graduate students who are integrating their research with education, particularly with high school students, and this group is at the forefront in keeping with NASA's mission to expose STEM education, through the fellowship program, to a larger and more diverse pool of students in Mississippi," said Dr. David Cochran, associate dean in the College of Arts and Sciences who also serves as campus coordinator for the NASA-MSSGC. "They take their graduate research and make it into accessible educational experiences for K-12 students.
"In recent years, we've also had a growing number of women and minority students chosen as fellows, which is a priority for NASA along with promotion of STEM education and deepening its footprint across America."
Learn more about the MSSGC at http://msspacegrant.org/.