Office of Leadership and Student Involvement Recognizes Student Achievements for 2021-2022 Academic Year
Wed, 05/04/2022 - 12:54pm | By: David Tisdale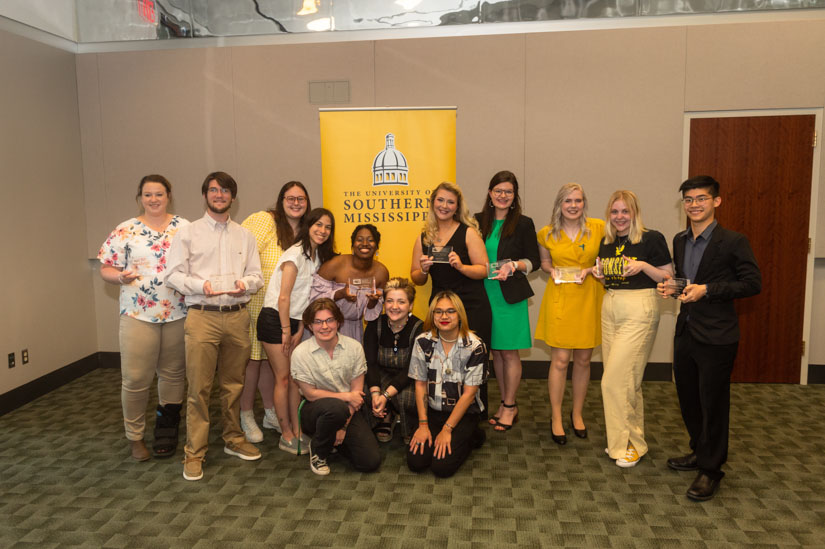 The Office of Leadership and Student Involvement (OLSI) at The University of Southern Mississippi (USM) celebrated the accomplishments of its nearly 200 registered student organizations and student leaders at its annual Student Organization Achievement and Recognition (SOAR) Awards ceremony April 21 at the Trent Lott National Center on the Hattiesburg campus.

Nominations for awards were solicited from the campus community in March, and an independent committee served as nomination reviewers.
The award winners are as follows:
*Best New Student Organization- Educators Aspiring for Great Learning Experiences (EAGLE)
*Emerging Leader Award- Jason Ang, Student Government Association
*Connections Award- Dianna Dardar, Sexual Assault Prevention Ambassadors (SAPA)
*Organization Member of the Year- Sydney Hall, National Student Hearing Language Association (NSHLA)
*Organization Officer of the Year- Olivia Wallace, Sexual Assault Prevention Ambassadors
*Organization President of the Year- Tija Johnson, Minority Association of Pre-Med Students (MAPS)
*Advisor of the Year- Julia Bradley, Beta Alpha Psi
*Innovation Award- Genders & Sexualities Alliance
*Student Organization of the Year- Student Veterans of America
*LSI Hall of Fame 2021-2022- Marlene Dillon, Aramark
At the event, OLSI staff expressed gratitude to the many partners its works with throughout the year on student events. This year's student organization accomplishments are especially noteworthy, as they returned to mostly in-person events after two years of the pandemic.

"We are continually impressed each year with the capacity that many of our organizations employed to craft experiences on campus that impact student engagement and learning," said OLSI Director Emily Holmes. "This year was no exception. Many student leaders were creating events on campus for the first time since the pandemic, and we are so proud of their resilience and contributions to the Southern Miss experience."
For more information on awards and the Office of Leadership and Student Involvement, visit www.usm.edu/lsi.