President's Student Leaders Advisory Committee Establishes Connections to USM Executive
Fri, 09/30/2022 - 04:00pm | By: David Tisdale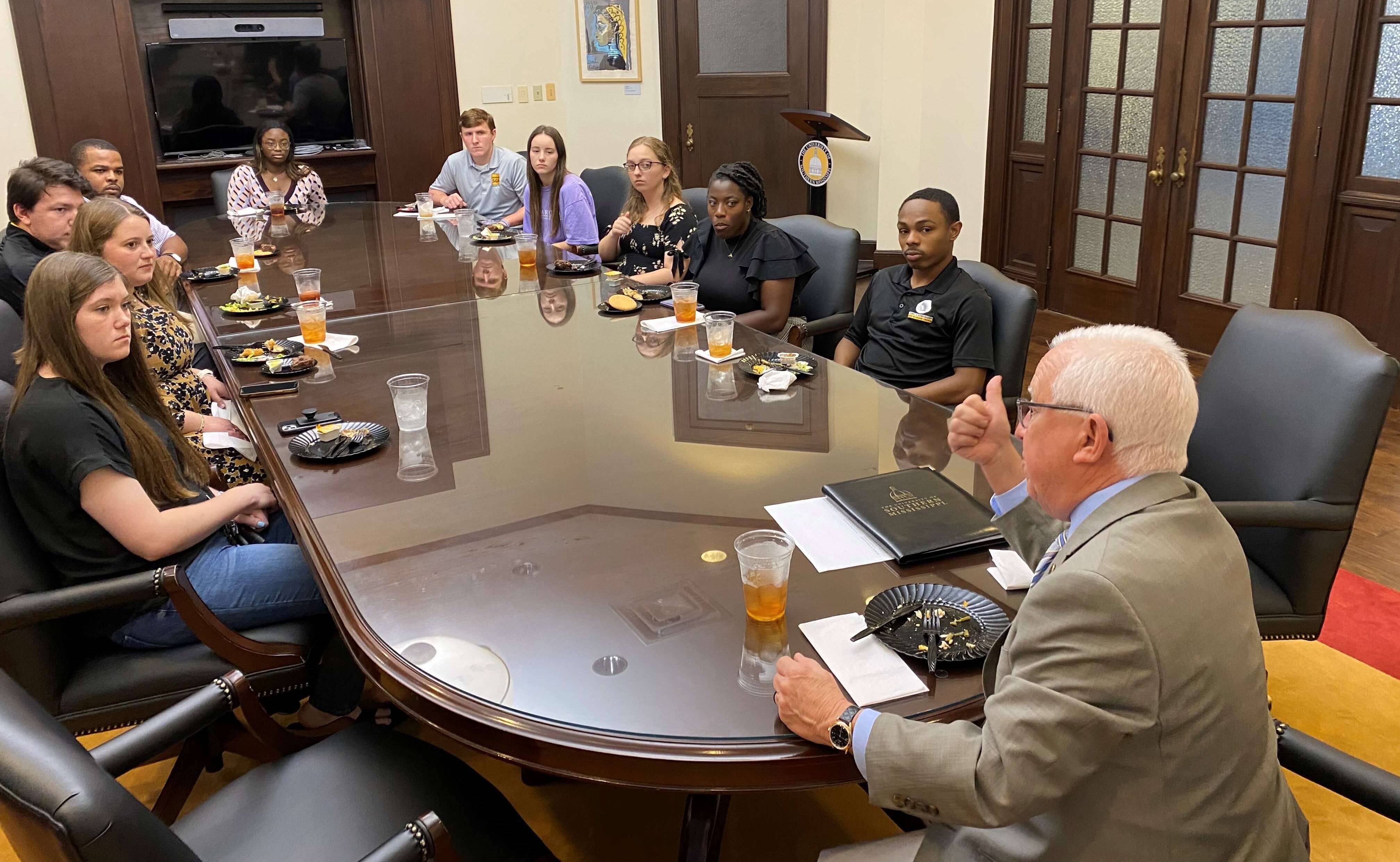 USM President Dr. Joe Paul, foreground, holds the first meeting of the President's Student Leaders Committee Sept. 22 at the Aubrey K. Lucas Administration Building Conference Room.
(USM photo by David Tisdale)
The newly formed President's Student Leaders Advisory Committee at The University of Southern Mississippi (USM) gives student organizations at the school a direct line of communication with the USM Office of the President.
The committee recently held its first meeting with USM President Dr. Joe Paul at the Aubrey K. Lucas Administration Building Conference Room, where various student organization executives and the president shared information and ideas about how to advance the student experience at the university through collaboration on academic and extracurricular initiatives.
The group plans to meet bi-weekly and will serve as direct points of contact between the student body and President Paul.
"Students are our (university's) reason for being," said Dr. Paul in discussing the purpose of the committee. "They are, as Simon Sinek (author and inspirational speaker) would say, our 'why.' When we engage, listen, and respond to our students, we become a better university."
Ashley Lankford, president of the USM Student Government Association (SGA) and Aaronda Owens, who serves as president of both the Residence Hall Association (RHA) and the Student Involvement Ambassadors, believe the committee is a great concept and important step forward for the entire USM student community.
"Allowing us as student leaders to speak on behalf of the student population directly with the university's president is such a great concept," said Owens, a senior criminal justice major from Mobile, Alabama. "We can voice opinions, concerns, and discuss changes we as students would like to see at the university.
"I'm honored to be able to speak not only for myself but my USM peers in this role, and my hope as a leader within this committee is that I continue to be outspoken in not only voicing my opinion, but inspiring new ideas for the university to implement."
Lankford, a native of Satsuma, Alabama and graduate student in the School of Media and Communication, said Dr. Paul's establishment of the committee shows USM students he genuinely cares about their needs and wants to hear direct feedback from various student leaders about student life at the university.
"This committee gives us the ability to share some of the most pressing needs our students face on a daily basis that would otherwise go unnoticed," Lankford continued. "I'm proud to say we are already seeing the direct impacts of these conversations, and I'm looking forward to seeing the positive impacts that come from discussions at future meetings."
Vice President for Student Affairs Dr. Dee Dee Anderson believes hosting meetings with students through the committee is a great opportunity for the USM administration to hear about student's experiences both inside and outside of the classroom. "Through these informal conversations with Dr. Paul, ideas and solutions will develop to help students on their path to the top," she said.
For information about Student Life at USM, visit https://www.usm.edu/university/student-life.php.