Winners Announced in USM's Annual Three-Minute Thesis Competition
Wed, 11/09/2022 - 11:22am | By: Van Arnold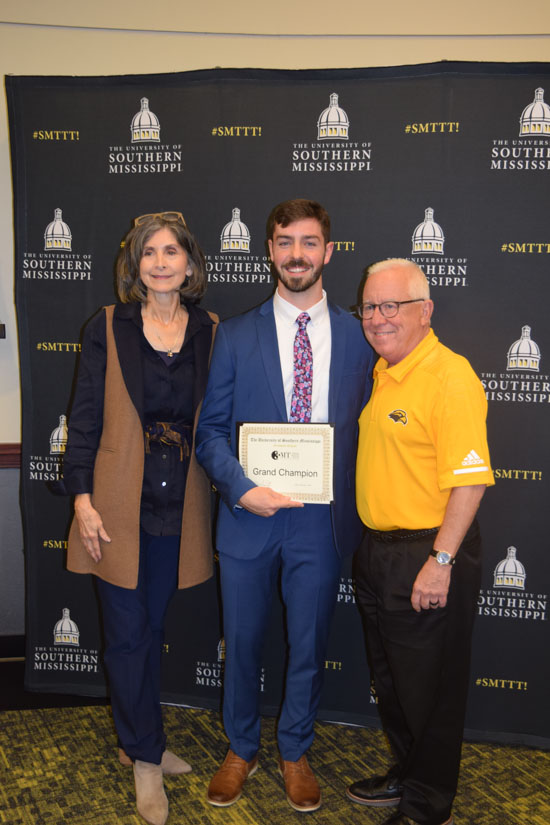 Evan Stacy, a Ph.D. candidate in polymer science and engineering, was named Grand Champion in the annual Three-Minute Thesis Competition (3MT®) held Nov. 2-4 at the Thad Cochran Center on The University of Southern Mississippi (USM)'s Hattiesburg campus.
A native of Louisville, Ky., Stacy captured the overall prize for his presentation, "The Polyplex Approach: Exploring Alternatives to Viral Gene Therapeutics." Stacy will advance to a regional competition hosted by the Conference of Southern Graduate Schools during the annual meeting March 2-4 in Tampa, Florida.
Other winners included:
Runner-up: Camera Cottingham, a master's candidate in anthropology, for her presentation: "Identifying the Proper Methodology for Forensic Facial Reconstruction/Approximation." Cottingham is a native of Florence, Miss.
People's Choice: Aynslie Fritz, a Ph.D. candidate in polymer science and engineering, for her presentation: "Reactive Additive Manufacturing of Polyurethanes." Fritz is a native of Grosse Point, Mich.
In this ninth annual event hosted by USM's Graduate School, competitors were required to explain their thesis or dissertation in a three-minute presentation; effectively communicating the complexity of their topic and research to a non-academic audience. Finalists were awarded cash prizes, ranging from $250 to the $1,000 Grand Champion award.
USM Graduate School Dean Dr. Karen Coats described the competition as "outstanding" with nearly 40 students participating from disciplines across the campus.
"The eight finalists who competed on Friday (Nov.4) gave flawless presentations. I am so glad I didn't have to judge the competition," said Coats. "Let me say a special thanks to all the judges, including President Joe Paul and First Lady Meg Paul, who judged the final round of the competition. I especially want to thank both Provost Gordon Cannon and Vice President for Research Kelly Lucas for providing financial support for prizes."
The Three Minute Thesis (3MT®) is an academic research communication competition developed by The University of Queensland (UQ), Australia.
To learn more about the USM Graduate School, call 601.266.4369 or visit: https://www.usm.edu/graduate-school/index.php
Pictured are the eight finalists from the Three-Minute Thesis Competition (3MT®).