USM Veterans Center Erects Monument to Remember Military Members Who Died by Suicide
Thu, 06/23/2022 - 10:12am | By: Van Arnold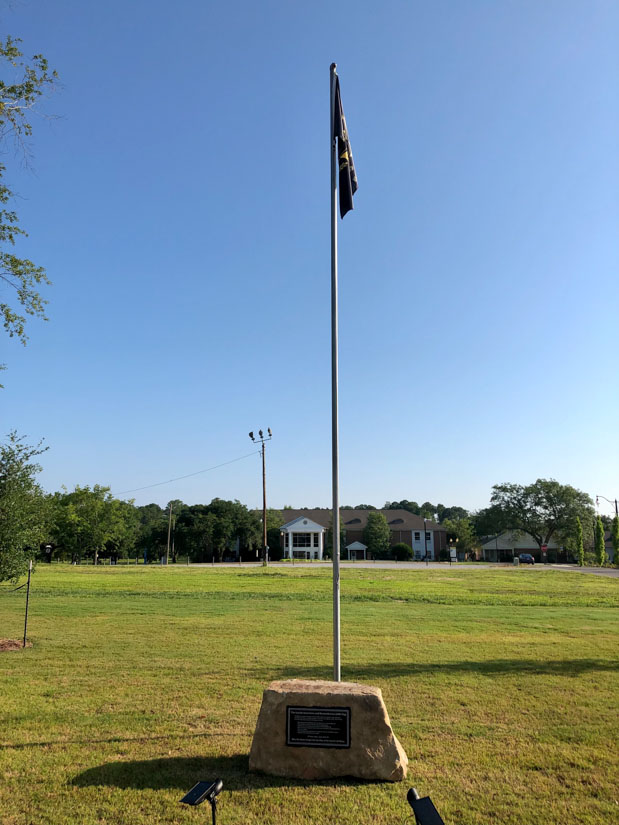 Each day, active-duty U.S. military service members and retired veterans lose a battle to suicide. Statistics show that suicide rates among active-duty military members are currently at an all-time high since record-keeping began after 9/11 and have been increasing over the past five years at an alarmingly steady pace.
At the University of Southern Mississippi's Center for Military Veterans, Service Members and Families, a new monument stands to remember those who succumbed to suicide. Center Director Jeff Hammond, a retired U.S. Army major general, conceived the idea of a memorial after speaking with a family who lost a soldier to suicide.
"All I could feel was sadness and a need for others to appreciate the pain," said Hammond. "Soon thereafter, following the grand opening of our new Veterans Center (Quinlan-Hammond Hall of Honor), we were compelled to create an appropriate honor to veterans and military members who lost their lives to suicide. Our goal was to establish a small, yet significant memorial for visitors to pause and reflect on the heartfelt loss that sadly often comes with service to our nation."
Hammond notes that through the local VFW the center contacted an organization led by Kevin Hertell, who created the Suicide Awareness and Remembrance (SAR) flag that flies as part of the monument. An engraved plaque on the stone memorial describes the SAR flag in detail.
In 2021, research found that 30,177 active-duty personnel and veterans who served in the military after 9/11 have died by suicide - compared to the 7,057 service members killed in combat in those same 20 years. That is, military suicide rates are four times higher than deaths that occurred during military operations.
Hammond acknowledges that during his 32-year Army career several soldiers under his command died by suicide. He emphasizes that those losses can never be forgotten.
"For me and my wife, Diane, each loss – combat, training, or suicide – was full of long-lasting sorrow," said Hammond. "As a veteran, it terribly saddens me that each day, up to 22 veterans take their own lives. Think about it for a moment. That's 22 suicides a day, or a suicide every 65 minutes."
Hammond views the military suicide issue as a national health disaster with a predominant theme.
"This is a crisis, and in my view, the problem is clear: the mental health support systems are not consistently meeting the needs of our veterans and service members; getting help when needed is not easy – although it should be and attempting to work your way through a complicated support system is much too overwhelming," said Hammond. "Our veterans and military members have earned better mental care than they are receiving. Period."
The Quinlan-Hammond Hall of Honor is located at 200, North 35th Ave., on USM's Hattiesburg campus. For more information about the Veterans Center, call 601.266.8387 or visit: https://www.usm.edu/military-veterans/
---
About The University of Southern Mississippi

The University of Southern Mississippi (USM) is a comprehensive public research institution delivering transformative programs on campuses in Hattiesburg and Long Beach, at teaching and research sites across the Mississippi Gulf Coast, as well as online. Founded in 1910, USM is one of only 137 universities in the nation to earn the Carnegie Classification of Institutions of Higher Education's "R1: Doctoral Universities – Very high research activity" designation, and its robust research enterprise includes experts in ocean science and engineering, polymer science and engineering, and large event venue safety and security, among others. USM is also one of only 39 institutions in the nation accredited in theatre, art and design, dance and music. As an economic driver, USM generates an annual economic impact of more than $663 million across the state. USM welcomes a diverse student body of more than 14,000, representing 71 countries, all 50 states, and every county in Mississippi. USM students have collected four Truman Scholarships and 37 National Science Foundation Graduate Research Fellowships, while also leading Mississippi with 27 Goldwater Scholarships, an honor that recognizes the next generation of great research scientists. Home to the Golden Eagles, USM competes in 17 Division I sports sponsored by the National Collegiate Athletic Association (NCAA). For more information, visit usm.edu.