USM Sophomore AFROTC Cadets Selected for Field Training
Tue, 05/02/2023 - 10:11am | By: Ivonne Kawas Prado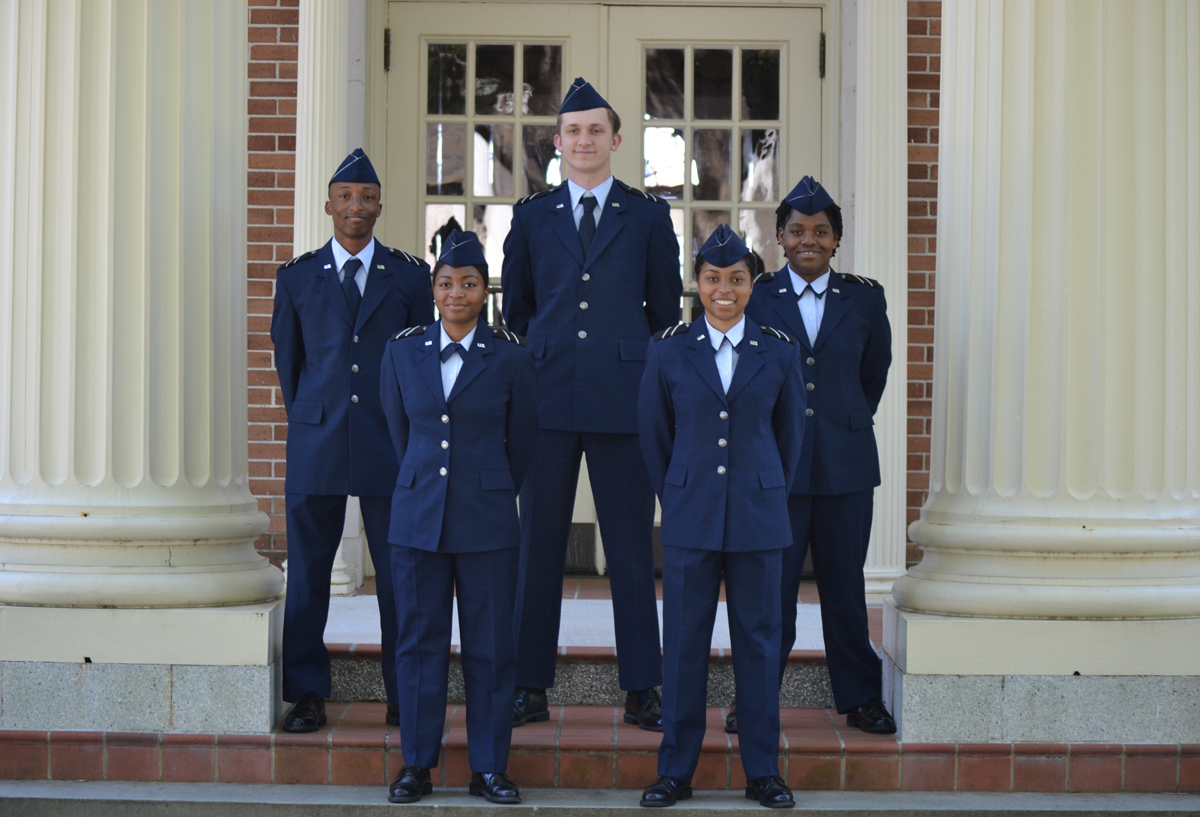 Five sophomore cadets from the Air Force Reserve Officer Training Corps (AFROTC) Detachment 432 at The University of Southern Mississippi (USM) were selected to attend the 13-day Field Training this summer at Maxwell Air Force Base, Ala. The selection rate nation-wide is highly competitive and is based on a national-level order-of-merit.
The national-level order-of-merit is calculated using a cadet's CGPA, Air Force Officer Qualification Test (AFOQT) score, Physical Fitness Assessment score, and Commander's ranking.
The cadets who will be attending Field Training include Joy Adair, a native of Aberdeen, Miss.; Natalya Brownlee, a native of Sidon, Miss.; Jessica Crenshaw, a native of Creola, Ala.; Charles Dahl, a native of Ocean Springs, Miss.; and Jeremy Jones, a native of Canton, Miss.
The AFROTC program consist of three main phases: Phase I is the first two years of the program when cadets are considered General Military Course (GMC) cadets. During this phase, academically, they are taught about the foundation of the Air Force and Space Force, as well as lessons on followership and leadership while participating in weekly group physical training (PT) sessions. Phase II is between their sophomore and junior year when cadets are selected to attend Field Training; and Phase III begins upon successful completion of Field Training and is when the students' start their last two years in the program and enter membership into the Professional Officer Course (POC). At this level, academically they are taught more in-depth studies of leadership, effective communication, and national security issues. They also put into practice their leadership, organization, and communication skills in their lab.
At Field Training, cadets are expected to demonstrate what they have learned over the previous two years in a high-stress and physically demanding environment.
"Cadets will be pushed to overcome their self-doubt and handle conflict with others as they are deliberately placed in situations to observe their followership, leadership, and problem-solving skills," said Lt. Col. Sheena Puleali'i, commander of AFROTC Detachment 432. "I'm extremely proud of our cadets, as entrance into phase II is not guaranteed — even for students who entered the AFROTC program with a scholarship. Usually, those not selected to attend are either disenrolled from the program or are able to try again the following year."
Jeremy Jones, pursuing a BS in Information Technology and a minor in Aerospace Studies, notes this honor is an important career milestone, as he has his sights set on being a fully commissioned Officer in the United States Air Force.
"The honor of my selection means that I'm taking another huge step in my leadership development and building my future career," said Jones. "Even though I met my goal of being one of the selectees for Field Training, the race isn't over as I set my sights on being a fully commissioned Officer in the United States Air Force."
"While being an AFROTC student at USM, I've been able to participate in activities that boost morale with fellow cadets," Jones added. "Additionally, I've been able to evaluate my abilities and talents as a leader by participating in group leadership projects and visiting Air Force bases to learn more about what it takes to be a leader."
Natalya Brownlee, who is pursuing a BS in Health Sciences (Health Care Studies), minors in Aerospace Studies and Public Health Policy and Administration, and a Nursing Track, notes she aspires to be a flight nurse in the military.
"I found out that I was accepted into Field Training at the same time as I received my nursing school acceptance here at USM. This is exciting, as I aspire to be a flight nurse in the military," said Brownlee. "I have been in this program for two years and this precise moment shows me that hard work does pay off."
"My favorite part of pursuing AFROTC at USM has been the people that I have met along the way. The organization is tight knit, so it forces you to trust and depend on one another," Brownlee added. "Throughout the program I have met so many people that I will most likely meet again later in life."
"As a cadet I have been able to lead in multiple aspects of the Detachment like MSG Color Guard Commander, and as a Recruitment Officer and a Special Events Officer," Brownlee said. "As a more experienced cadet, I have been able to assist newer members and help them adapt to the culture and expectations."
Visit the AFROTC Detachment's website to learn more or call 601.266.4468.