USM College of Arts and Sciences Announces Alumnus of the Year
Wed, 06/07/2023 - 09:07am | By: Ivonne Kawas Prado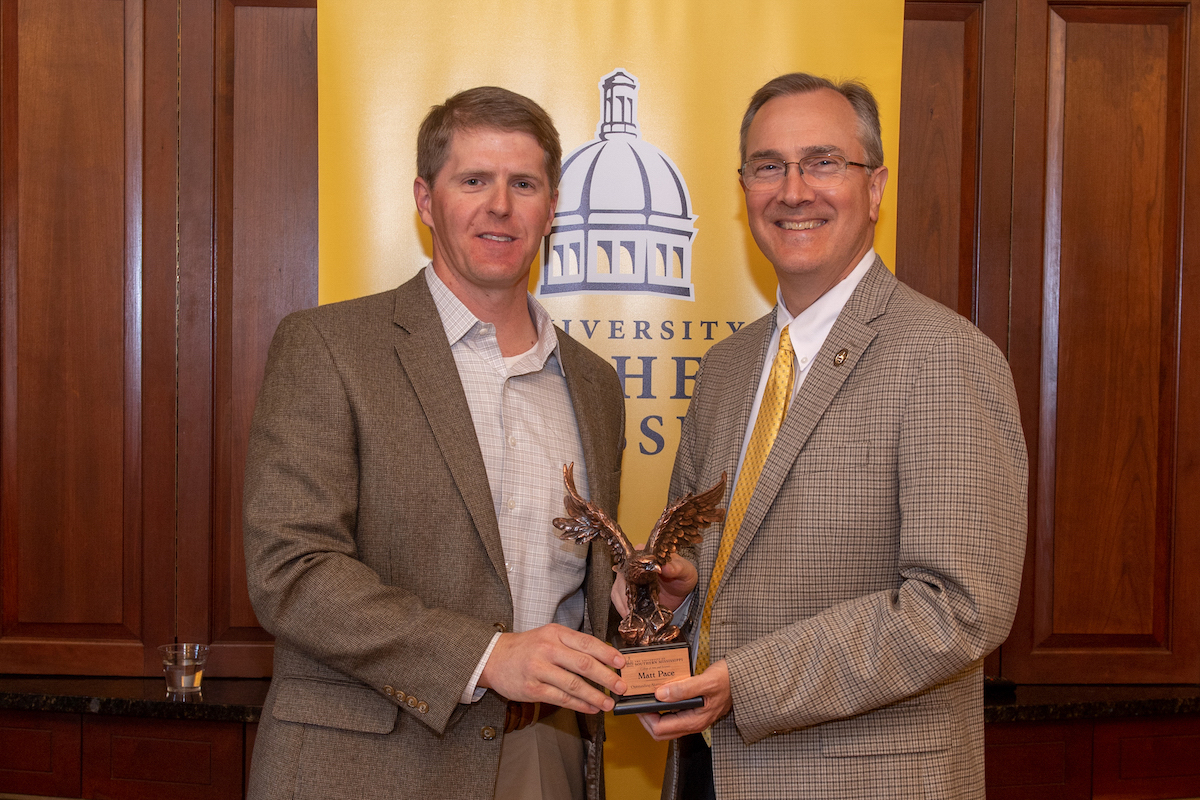 The College of Arts and Sciences (CAS) at The University of Southern Mississippi (USM) and proudly honored Mr. Matt Pace, President of Codaray Construction, as an outstanding alumnus during its annual awards ceremony held last month at the Ogleetree Alumni House on the Hattiesburg campus.
Throughout his distinguished career, Mr. Pace has consistently showcased an unwavering commitment to his alma mater, as well as the field of Construction Management. As an accomplished graduate, he has actively engaged with USM's Construction Management program.
His involvement in a wide range of school initiatives, including serving on our esteemed Industry Advisory Council, participating in mentoring programs, and delivering guest lectures, has played a pivotal role in shaping the careers of emerging talents and fostering a vibrant alumni network.
"I would like to express my deepest gratitude to the College of Arts and Science at USM for bestowing upon me this incredible honor. It serves as a testament to the remarkable education I received at the School of Construction and Design and to the dedication and passion of the faculty and staff who make this institution exceptional," expressed Mr. Pace. "During my time as a student, I had the privilege of being part of a vibrant community that fostered creativity, innovation, and a relentless pursuit of excellence. The foundation laid during those formative years has been invaluable in shaping my character and equipping me with the knowledge, skills, and passion necessary to make a meaningful impact in the field. Being a Southern Miss alumnus fills me with immense pride, and I am committed to upholding the values and ideals it represents throughout my career and beyond."
Dr. Chris Winstead, the dean of the CAS, commended Mr. Pace's ongoing dedication, and stated, "As President of Codaray Construction, he brings a wealth of experience to his interactions with our students and has been instrumental in providing outstanding employment opportunities to our graduates. His success story serves as an inspiration to current and future students, showcasing the transformative power of hard work and a construction degree from Southern Miss."
Dr. Emre Bayraktar, director of the School of Construction and Design, emphasized that this prestigious award is bestowed upon outstanding graduates who have demonstrated exceptional success in their professional careers, made significant contributions to their industry, and shown remarkable dedication to giving back to their alma mater.
"Mr. Pace has undoubtedly exemplified these qualities through his outstanding achievements and continuous support of our program," said Dr. Bayraktar. "His dedication, hard work, and entrepreneurial spirit have propelled him to create a thriving construction company that stands as a shining example of excellence in the industry. His commitment to delivering high-quality projects and embracing innovative practices has not only brought him professional success but has also significantly contributed to the growth of the construction industry in Mississippi.
"Beyond his extraordinary entrepreneurial journey, I would like to acknowledge and express our gratitude for his continuous support," added Dr. Bayraktar. "His willingness to engage with our students, share his valuable insights, and provide them with opportunities for growth and development speaks volumes about his commitment to nurturing the next generation of construction management professionals."
Mr. Pace earned his bachelor's degree in Construction Engineering Technology in 2004. As a student at Southern Miss, he was a member of the ABC Student Competition Team and was inducted into the Sigma Lambda Chi Construction Honor Society.
Since graduation, he has progressively moved up in the field of construction, launching his own company, Codaray Construction, in 2017. He has been a member of the USM Industry Advisory Council for many years and, most recently, assisted our student competition team in preparing for this year's ABC Construction Management Student Competition.
Codaray Construction has completed projects in the commercial, healthcare, industrial, and educational sectors and has established itself as a well‐known commercial general contractor in the Greater Hattiesburg and Central Mississippi areas.
Visit the website of the School of Construction and Design to learn more or call 601.266.4895.